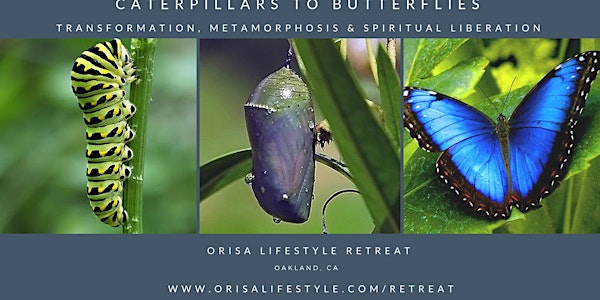 Caterpillars to Butterflies: Transformation, Metamorphosis & Spiritual Libe...
Location
Oakland
Oakland, CA
Description
Caterpillars to Butterflies:
Transformation, Metamorphosis & Spiritual Liberation
Program Overview
It happens in a flash! After prolonged periods of dull suffering, transformation strikes you like a bolt of lightening. You put in countless hours, doing things that seem to have absolutely no effect and then, seemingly out of nowhere, you experience a breakthrough. Call it a paradigm shift. I am reminded of the ori of Caterpillars, which requires that it encase itself in a cocoon. Once inside, Caterpillar basically decomposes into a kind of liquid and then reconstitutes itself. When it emerges, Caterpillar now has wings and brilliant colors. After a period of prolonged darkness, complete dissolution and containment, Caterpillar transforms himself into a butterfly! And so, the elders will sometimes say, "Tinotino tehintehin ni labalaba ifi iyin Olorun," which means, By its beauty, the butterfly praises God within and without (i.e., in all its parts)." The activating agent of personal transformation is personal sacrifice. They say that the soul rejoices for what the body has lost. In order to become a butterfly, you must surrender what it means to be a caterpillar. Live the Medicine.
---

Program Description:
In this retreat you will work closely with other practiioners to co-create the Orisa Lifestyle movement:
Increase your capacity to lead spiritual development and community healing with Orisa Lifestyle as the overarching principle.

Learn from and network with leaders from diverse vantage points who share your passion for supporting Orisa Lifestyle and total wellness.

Gain the tools to integrate Orisa Lifestyle into your family, organization or community

Strengthen your capacity-building skills.

Sketch an Orisa Lifestyle plan for your family, organization or community
This unique workshop:
Offers less lecture and more hands-on organizational and spiritual development.

Strengthens your systems thinking skills so you can switch from reactive problem solving to creating new possibilities for holistic healing and growth.

Provides a common language for talking about National change and building stronger relationships for continuing what we initiate in teh two day retreat.

Provides hands on training in the 16 Agreements (http://www.ola16.weebly.com) of Orisa Lifestyle.
Who should attend:
Spiritual and personal leaders, Orisa priests, health and human services professionals who are interested in the intersection between mental health and Orisa Lifestyle.

People who want to build their spiritual capacity to create positive change in their lives, their familes and their communities.

Groups who recognize various types of trauma in their communities and want to establish effective healing practices.

Leaders who feel a personal commitment to Orisa Economics.

Bring three and a fourth person attends for free!

---
2 Days: October 31 - November 1, 2015
Saturday: October 31
Connection Before Content

Introductions

Increasing Awareness

Emotional Association

Perceived Self-Efficacy

Motivation to Act

Agreement
Gratitude, Reflections & Insights

The Virtuous Cycle

Skills Development

Creating Opportunities to Act

Responding to Demand

Facilitating Change: Orisa Lifestyle Agreements

Celebrating Successes

Commitment Before Closure
---
Register 3, and a 4th goes FREE!
Registration closes October 1