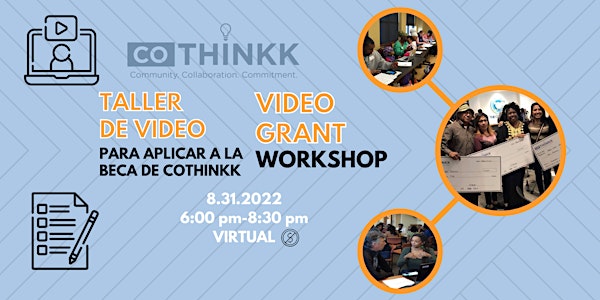 Catching Dreams/Capturando Sueños: CoThinkk Video Grant Workshop 2022
Info/support around the application process for CoThinkk's grant Información/apoyo sobre el proceso para aplicar a la beca de CoThinkk
About this event
CoThinkk Video Grant Workshop
CoThinkk has prioritized connecting people of color to resources that accelerate equitable outcomes. This Video Grant workshop is meant to create an accessible access point for communities to obtain critical resources to do their best work!
This workshop will focus on guiding attendees through the CoThinkk video grant process and assist participants with completing their final video submission for the September 15th grant application submission deadline.
Goals:
Overview of the CoThinkk Grant's Process
Taking the 'Mystique' out of the Video Submission Process
Building Capacity: Crafting Your Message & Picking Your Setting
Each participant leave with a video ready for submission for grant deadline:(Sep. 15, 2022)
Community Building & Collaboration
Read more about the CoThinkk Grant Application
Taller de video para aplicar a la beca de CoThinkk
CoThinkk tiene como prioridad "conectar a las personas de color a recursos que promueven resultados equitativos". El presente taller de video guiará sobre el proceso para aplicar a la beca. Está diseñado para crear un punto de encuentro accesible para que las comunidades afroamericanas y latinoamericanas en Asheville y el oeste de Carolina del Norte obtengan recursos esenciales para realizar y hacer mejor su trabajo.
Este taller se enfocará en guiar a los asistentes sobre el proceso para aplicar a la beca y sobre la preparación del video de CoThinkk, así como para ayudarles a completar la presentación final de su video, que tiene como fecha límite de entrega el 15 de septiembre de 2022.
Metas:
Tener una visión general del proceso de becas CoThinkk
Extraer la "mística" del proceso de presentación del video
Construir capacidades: Crear el mensaje y definir el entorno
Que cada participante tenga su video listo para presentarlo la fecha límite, que es el 15 de septiembre de 2022
Construir y colaborar en comunidad