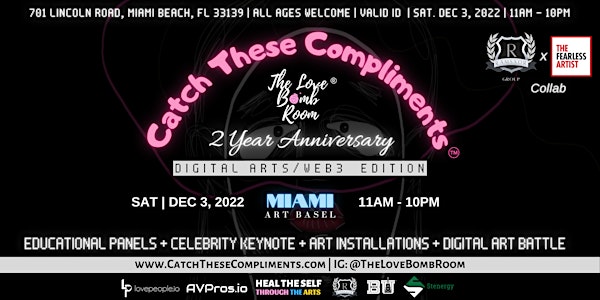 CATCH THESE COMPLIMENTS™️ in MIAMI [Conference + Day Festival] ART BASEL
CATCH THESE COMPLIMENTS ™️ CONFERENCE & DAY FESTIVAL In Miami Digital Arts/Web3 Edition ART BASEL in Collaboration w/ TFAPOPUP
When and where
Location
TFAPOPUP 701 Licoln Road Miami, FL 33139
Refund Policy
Contact the organizer to request a refund.
Eventbrite's fee is nonrefundable.
About this event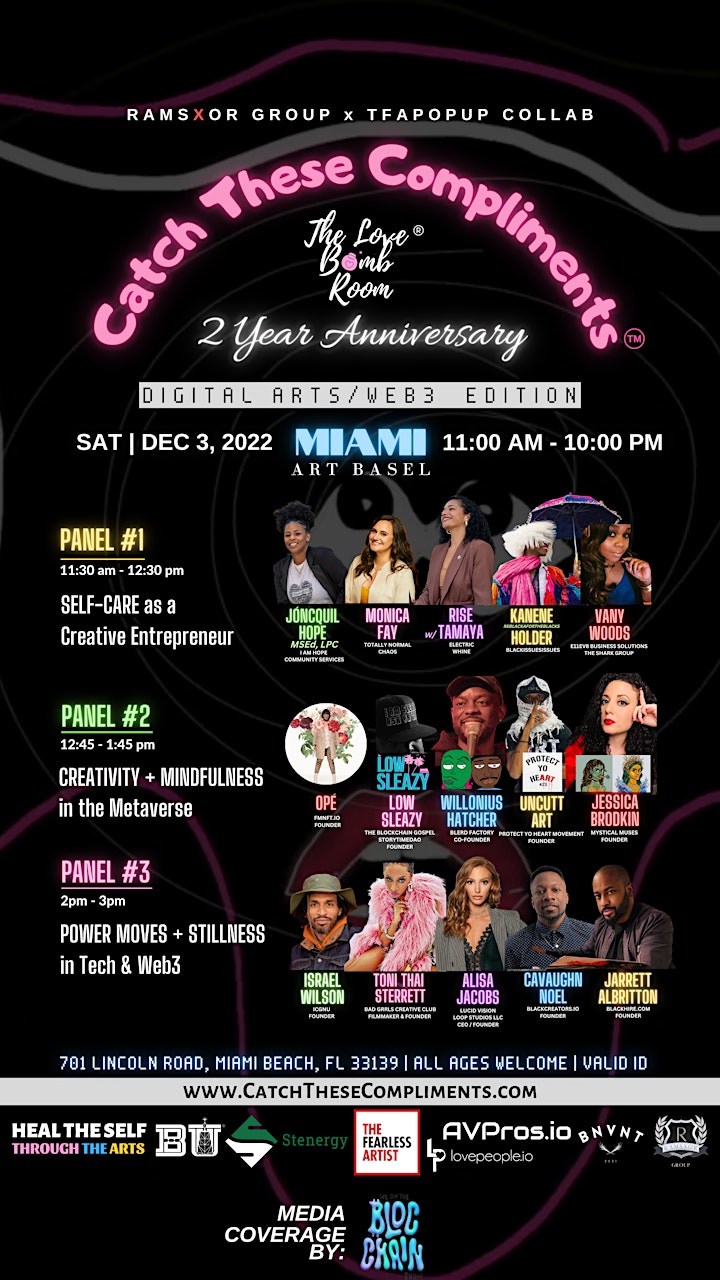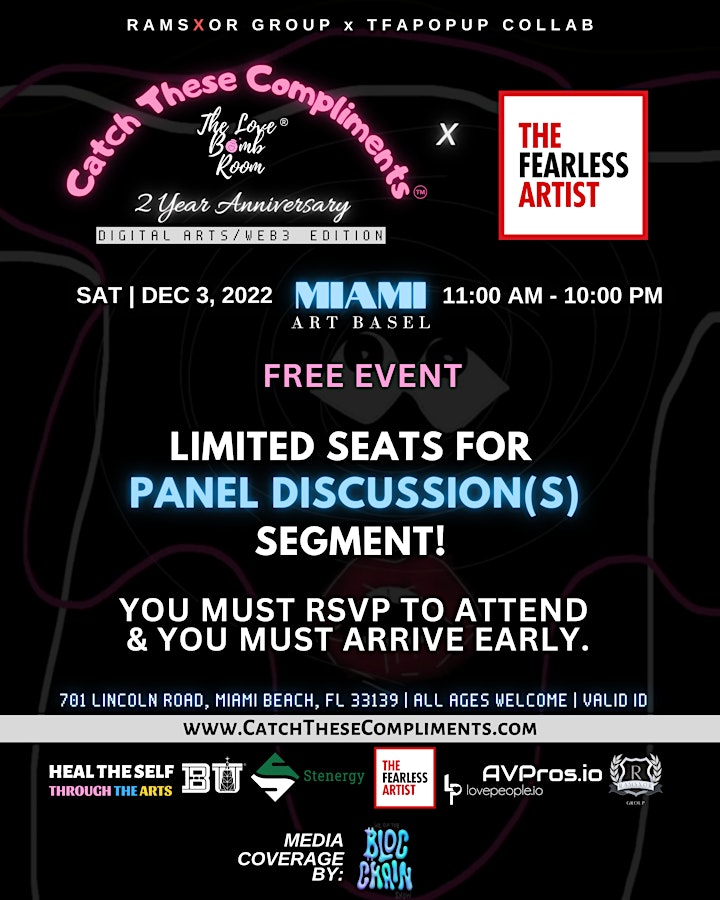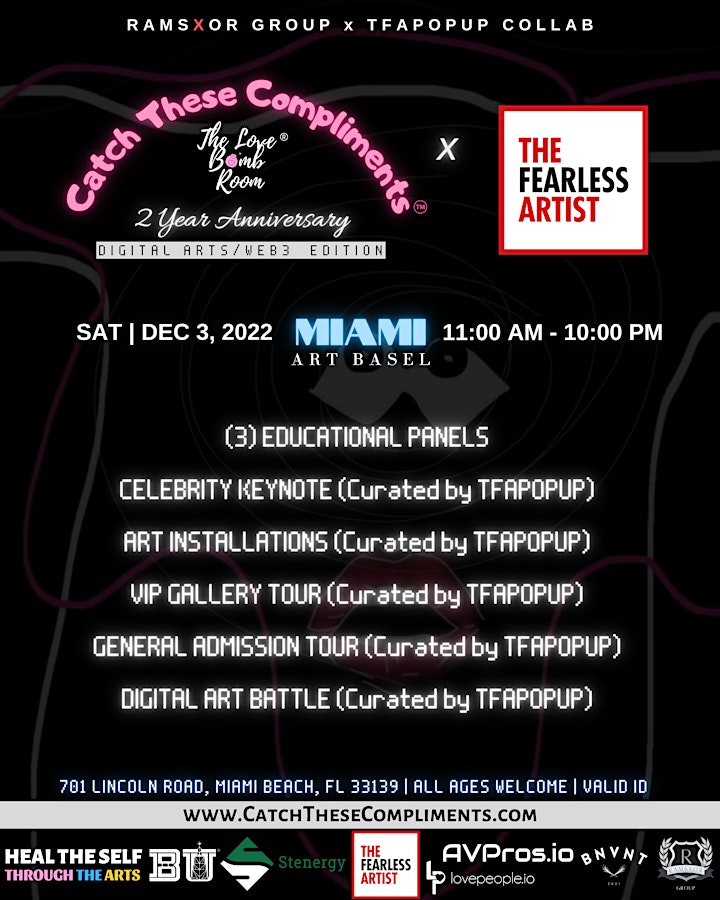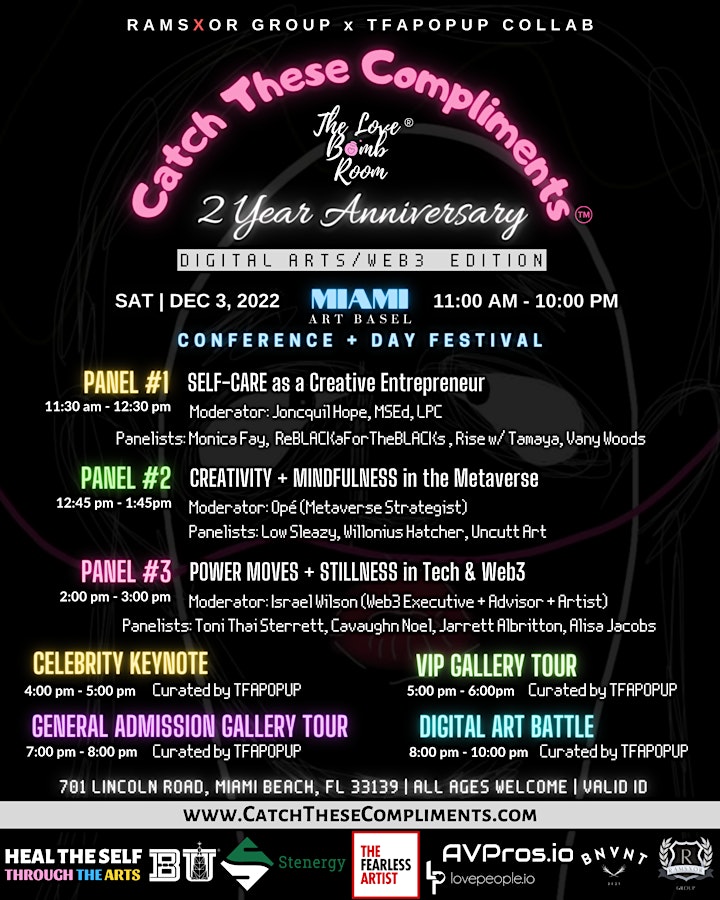 CATCH THESE COMPLIMENTS™️ CONFERENCE & DAY FESTIVAL! IN COLLABORATION w/ TFAPOPUP
www.CatchTheseCompliments.com
IG: @TheLoveBombRoom #CatchTheseCompliments
SAT. DEC 3, 2022 | 11AM - 10PM | DAY FEST
Venue: 701 Lincoln Rd, Miami Beach, FL
ALL AGES WELCOME | VALID ID REQUIRED
HEAL THE SELF through THE ARTS: Digital Arts / Web3 Edition by #CatchTheseCompliments
If you're looking to be INSPIRED, ENERGIZED & ENTERTAINED during MIAMI ART BASEL 2022, Pull Up!!! Come and #CatchTheseCompliments!!!
CATCH THESE COMPLIMENTS ™️ global movement is headed to Miami to hold our classic DAY FESTIVAL. Jampacked w/ art, entertainment & education on how to navigate the personal & professional LIFE w/ MINDFULNESS & STILLNESS. The day festival will include 3 educational panels curated by Bighani, The Love Bomb Room #CatchTheseCompliments, NFT presentations, Art Installations curated by TFAPOPUP, Digital Art Battle (TFAPOPUP), Celebrity Keynote (TFAPOPUP) Special Guests & More!!!
About Us:
Catch These Compliments™️ ©#CatchTheseCompliments by The Love Bomb Room® is a global movement that celebrates life, people & community through the arts.
We curate live events, shows & festivals to educate, uplift, and heal via our #CatchTheseCompliments live events, installations & brand activations.
Our content consists of self-love, affirmations, self-care, and health & wellness discussions. We celebrate life & community through live performances, utilizing laughter, music & all forms of art, including architecture & the culinary arts, to foster healing. We are currently on an independently produced, mini-global tour for our "Heal The Self through The Arts" series.
🚨 CALLING ALL DIGITAL ARTISTS!!! 🚨 TFAPOPUP @tfa_the_fearless_artist #TFAPOPUP is seeking talented Digital Artists to compete at their 8th annual TFAPOPUP Miami: The Liberation of Beauty.
PLEASE CONTACT DIRECTLY: @maggiewa1sh E: maggie@tfapopup2021.com
#CatchTheseCompliments @TheLoveBombRoom is excited to be a part of TFAPOPUP's ART x INNOVATION: TFAPOPUP's Art x Innovation Day and Art x Cryptocurrency Summit is an evening of art, innovative ideas, and conversations with thought leaders in the NFT and digital art space. The Fearless Artist has been discussing art and cryptocurrency since TFAPOPUP 2018, and is eager to follow up on the success of our Art & Cryptocurrency Summits in December 2021 during Art Basel Miami/Miami Art Week and in New York City in June 2022.
Since 2014, The Fearless Artist Popup Gallery has been empowering mission-driven artists by providing access to art buyers who care about social change. We work in partnership with our artists to excite their following and give them a platform to shine and connect with fans at TFAPOPUP.
Age Requirement: All Ages Welcome
Covid-19 Protocol (if any at all) For All Guests will be announced closer to the event date, and will be based on current CDC Guideline and City of Miami's protocols to party safely and responsibly.
Questions? Please email: business@ramsxorbrands.com. We look forward to celebrating with you responsibly.
ATTENTION! FILMING IN PROGRESS!
By entering these premises, you acknowledge that this event will be videotaped for use in an audiovisual production. Your attendance at the event constitutes your consent and grant of rights to RAMSXOR GROUP, LLC, the Producers and their assignees to use and exploit your likeness and image in any and all media, whether now known or hereafter devised, throughout the world and in perpetuity, in connection with any and all uses of the audio visual production, without payment or compensation of any kind to you.
Purchase Policy: By placing an order, you are confirming that you received this policy and are agreeing to abide by the clauses within. This Purchase Policy is a binding contract between you and event Promoter.
Release of Liability: By purchasing the tickets through Eventbrite, you hereby release and forever discharge Promoter from any liability or claims for damages that may arise as a result of your attendance at, and voluntary participation in, the event(s), including claims for personal injury, or damage to personal property, or any other claims for negligence on the part of the event's Promoter. By purchasing the tickets through Eventbrite for this event, you hereby release and forever discharge event Promoter, and their officers and agents, from any liability or claims for damages that may arise as a result of your attendance and participation at the event(s). It is hereby understood that the purchase of tickets by you and your participation in the events shall not be construed as an assumption on the part of Promoter of responsibility, liability, or control of the events.
Indemnity: By Purchasing tickets for this event, ticket purchaser agrees to indemnify and hold harmless event Promoter, said entities officers, owners, employees, and agents, from and against all claims, damages, losses and expenses, including reasonable attorney's fees arising out of or by reason of complying with this Indemnity Clause. Ticket purchaser, their heirs, executors, administrators, successors and assigns, hereby release, remise, and forever discharge event Promoter and its entities owners, officers, employees and agents, from all manner of actions, causes of actions, suits, debts, judgments, executions, claims, demands whatsoever, known or unknown, in law or equity, which ticket-holder has ever had, now have, may have, or claim against event Promoter.