Catapult IP@UT: Workshops for UT Inventors

Thursday, May 24, 2018 from 10:00 AM to 11:00 AM (CDT)
Event Details
Learn how to identify, protect, and commercialize
your inventive ideas & software. 
In the space between "what starts here" and "changes the world", researchers at UT Austin routinely face some of these questions:
How does UT commercialize software?
What's the right way to make it open source?
What about copyrights for software I create?
I think I invented something. Now what?
How do I get a patent? How much does it cost? Who pays?
I don't want to delay publishing papers. Can I still get a patent?
How can UT help with startups?
 Join us at Catapult IP@UT: Workshops for UT Inventors to get answers to these questions and more!
OTC welcomes all UT faculty, researchers, postdocs and graduate students who want to learn about inventing in academia, SBIR funding, or commercialization.
---
— P R E S E N T E R S —

JITENDRA JAIN ("JJ")
Director, Strategic Licensing and Outreach Programs
and Program Director - Software & Copyrights Licensing
Office of Technology Commercialization, The University of Texas at Austin
Jitendra Jain (JJ) leads a team to monetize UT's intellectual property and attract research funding, harvests new ideas, and creates outreach programs. He also specializes in commercializing software and copyrights, and is a resident expert on open source. JJ has worked internationally with various fortune 500 companies, involving significant C-level engagement, and has participated in deals worth over $100 million. Mr. Jain has over 26 years of experience with the hi-tech industry, has been an entrepreneur, and has been in academic tech transfer for the last 12 years. Mr. Jain holds a B.S. in Electrical Engineering and an MBA from Texas A&M University.

ROBERT VILLWOCK, Ph.D.
Program Director, Strategic Researcher Liaison
Office of Technology Commercialization, The University of Texas at Austin
Bob Villwock is Strategic Researcher Liaison in the Office of Technology Commercialization at UT Austin. In this role, Dr. Villwock engages the research community at UT to connect with OTC more effectively. He facilitates and promotes the transfer of research into intellectual property by providing technical analysis, assessments and outreach – especially in the early stages of the inventive process. He is an inventor on nine U.S. Patents, holds a B.S. in polymer science and engineering from Case Western Reserve University, and a Ph.D. in chemical engineering from the University of California at Berkeley.
---
— L O C A T I O N —
The West Pickle Research "WPR" building is located at 3925 West Braker Lane, Austin, Texas 78759, on the Southwest corner of Braker Lane and Loop 1 (MoPac Expressway).
The WPR building requires badge access - the only "public" entrance is on the south, central side of the building thru the sliding glass doors just past the circular driveway. The auditorium is located to right of the south entrance foyer.

PARKING: Any UT parking permit is accepted in lots D, E, and G. If you do not have a UT parking permit, there are pay stations located at the visitor lot in front of the circular driveway on the south, central side of the building.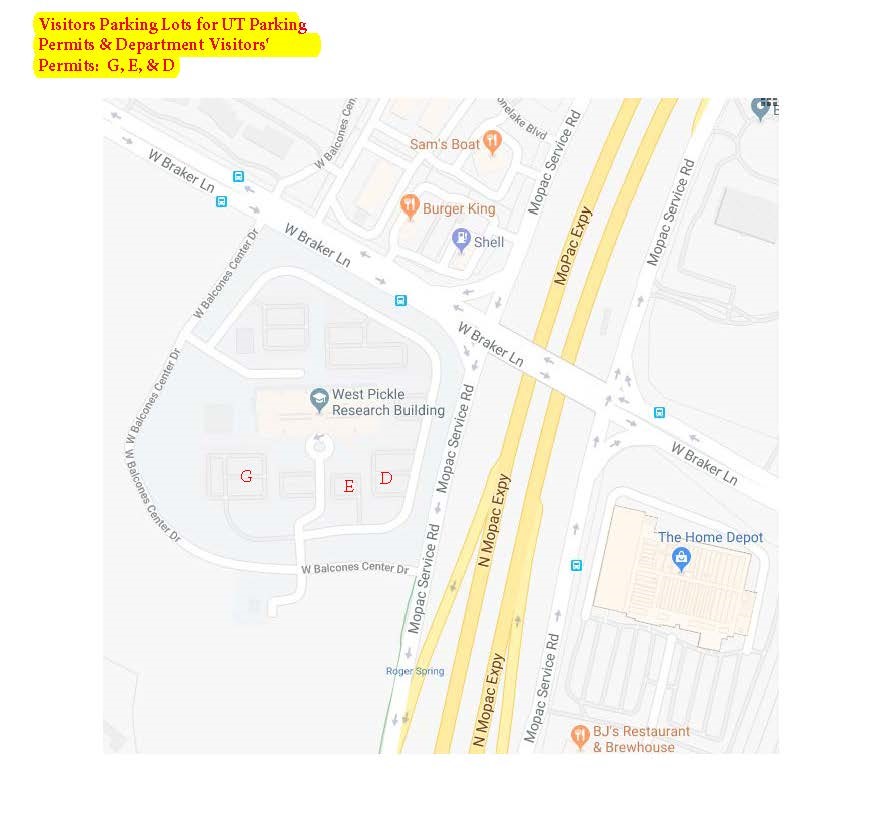 When & Where

West Pickle Research Building - Auditorium
3925 West Braker Lane
Austin, TX 78759


Thursday, May 24, 2018 from 10:00 AM to 11:00 AM (CDT)
Add to my calendar