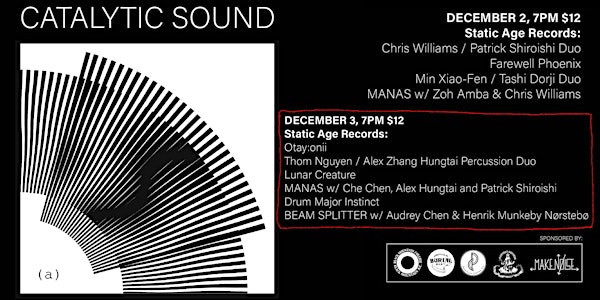 Catalytic Sound Festival: Asheville, NC — Day II, Dec 3, 2022
DAY 2 | DEC 3rd Tix: $12
When and where
Location
Static Age Records 110 North Lexington Avenue Asheville, NC 28801
Refund Policy
Contact the organizer to request a refund.
Eventbrite's fee is nonrefundable.
About this event
The second annual Catalytic Sound Festival is a sprawling international affair, spanning 5 different weekends with versions taking place in Amsterdam, Vienna, New York, Chicago, Washington DC, and Trondheim. All of these various weekends will feature artists who are a part of the innovative Catalytic Sound co-operative, an initiative formed in 2015 to help create a more sustainable working environment for its pool of experimental and innovative musicians across the globe.
Otay:onii
Born in Haining, China, Otay:onii (Lane Shi) is a troubadour, performing musician, multidisciplinary installation artist, working sound designer and film composer currently residing in NY. She is also the vocalist and keyboardist of the punk spit band Elizabeth Colour Wheel (US). Otay:onii 's installation performance piece Unwrap! opened its first edition at Ming Contemporary Art Museum in Shanghai (2021), as well as a series of improvised sound pieces at Himalayas Museum, FanRong Museum, etc. Electronic, ambient, sound collage or noise, Otay:onii breaks down structures that "chains her neck and feet", aiming to be free on the ride of acute instincts and establishing a bodily connection through the synchronization of the heart and mind. She believes in echos, and "solving a puzzle with another puzzle that can't be seen, be touched, but to feel."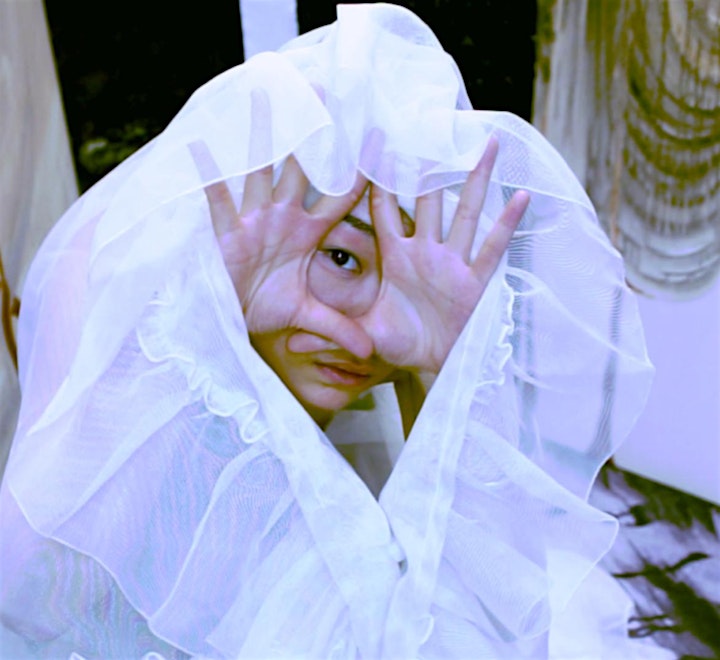 Thom Nguyen / Alex Zhang Huntai Percussion Duo
Thom Nguyen is an Asheville, North Carolina-based improviser and drummer of MANAS and more. Producing energetic bursts and invoking a sensitivity to space that one often associates with Free-Jazz and New Music percussion, Nguyen's approach elegantly bridges works of sonic sculpture with a punk aesthetic of immediacy, aggression, and playfulness.
After retiring his project Dirty Beaches, Alex Zhang Hungtai has been focusing on explorations of improvised music, Free Jazz, film scores and compositions. Zhang predominantly works with saxophone, synthesizers, percussion and piano, furthering his research on ritualistic music of liminality and its correlation with the unconscious mind.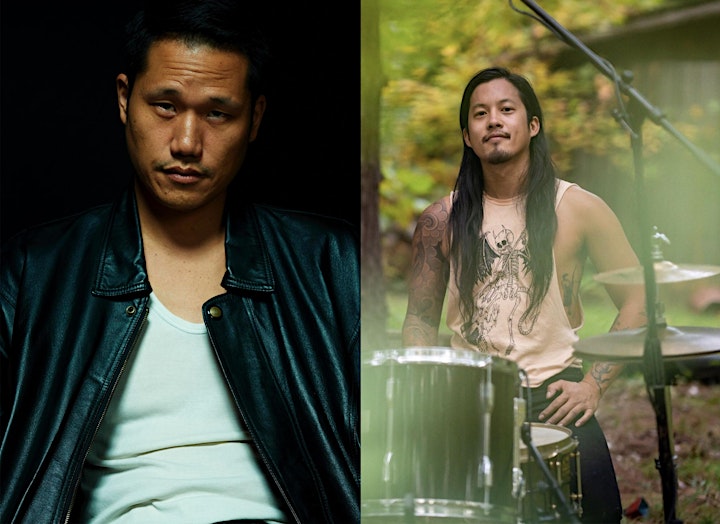 Lunar Creature
Lunar Creature is Meghan Mulhearn and David Lynch. Rich, dark mood music combining violin, guitar, bass and synth in unexpected ways.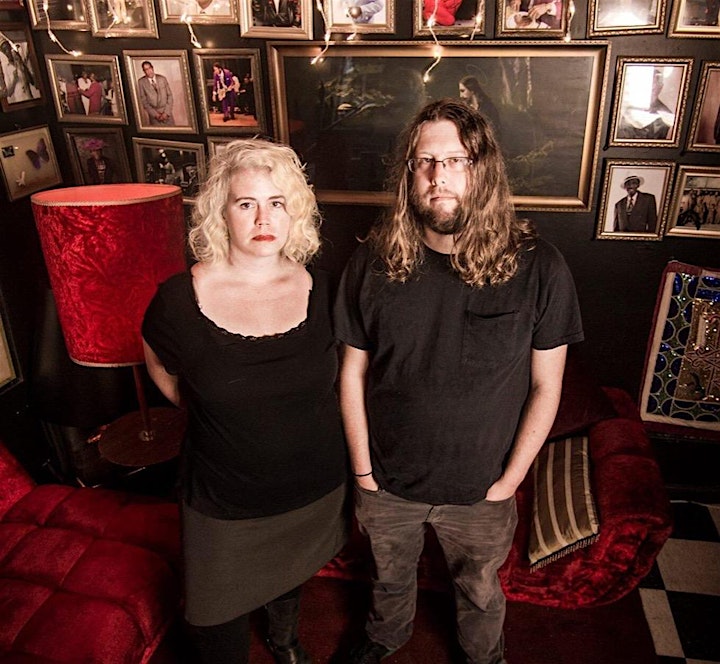 Manas w/ Che Chen, Alex Hungtai and Patrick Shiroishi
Che Chen is a multi-instrumentalist based in Queens, NY. Born in 1978 to Taiwanese immigrant parents, he grew up in the suburbs of Washington DC and played bass in bands before studying painting, printmaking and sculpture. Drawn back to the social and collaborative aspects of music making, he has been an energetic presence in New York City's experimental underground as a band leader, improviser and show organizer since the early 2000s. In 2012 he and percussionist Rick Brown formed 75 Dollar Bill, a community-based, multi-generational, multicultural ensemble that combines free improvisation, rock, minimalism, and African and Asian music traditions. Though primarily a self-taught musician, Chen took a two week crash course in the Moorish modal system with Jeich Ould Chigaly in Nouakchott, Mauritania in 2013, an experience to which his approach to guitar is deeply indebted. Something of a "non-specialist", he also performs and records on percussion, violin, contrabass, woodwinds and crude electronic devices. He organizes concerts at DIY venues throughout the city, including the monthly concert series Fire Over Heaven at Outpost Artist Resources in Ridgewood.
Drum Major Instinct
Drum Major Instinct is an experimental music duo from Asheville, North Carolina. Jeff Arnal plays (mostly) percussion and Curt Cloninger plays (mostly) modular synthesizer. The Wire describes Jeff's drumming as a "highly original concept" having "a balletic sense of time and imaginative deployment of colour;" and Byron Coley says Curt's modular synthesis "moves like blocks of radioactive adobe being shifted around by architects in space suits." But, of course, nothing is ever that straightforward. The resultant music is about waves of energy, patterns within patterns (within patterns), sounds from the natural world, and running the voodoo down.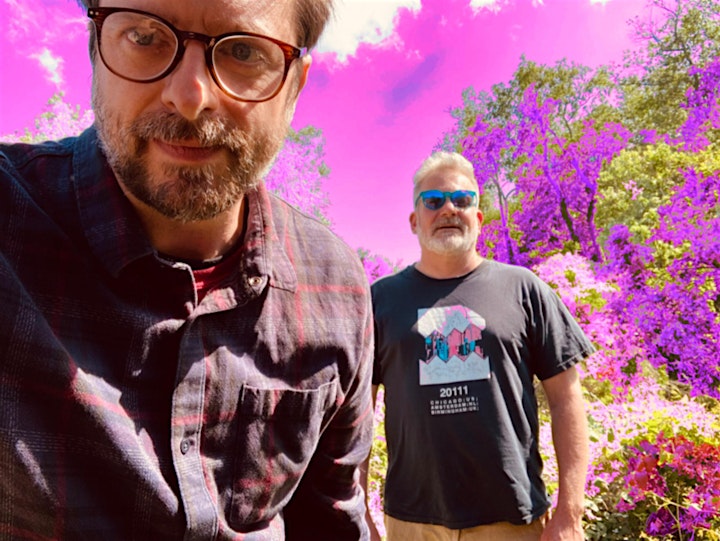 Beam Splitter w/ Audrey Chen & Henrik Munkeby Nørstebø
BEAM SPLITTER is a duo for amplified voice, trombone and analog electronics. Utilizing the pure sounds of acoustic and closely amplified sound sources, the duo joins together two individual voices into a distinct dialog that delves beyond the borders of the corporeal elements of extended technique and sound. There is an intimacy and conflict that becomes evident as the two personas intertwine, in moments joining together seamlessly and in the next, being left with the feeling of irrevocable fracture. The two manage between these extremes with a kind of improvised grace that reveals an effort towards a common goal. It is an honest metaphor for a human relationship in process that even in the most serene moments can leave one raw and entirely exposed.