Description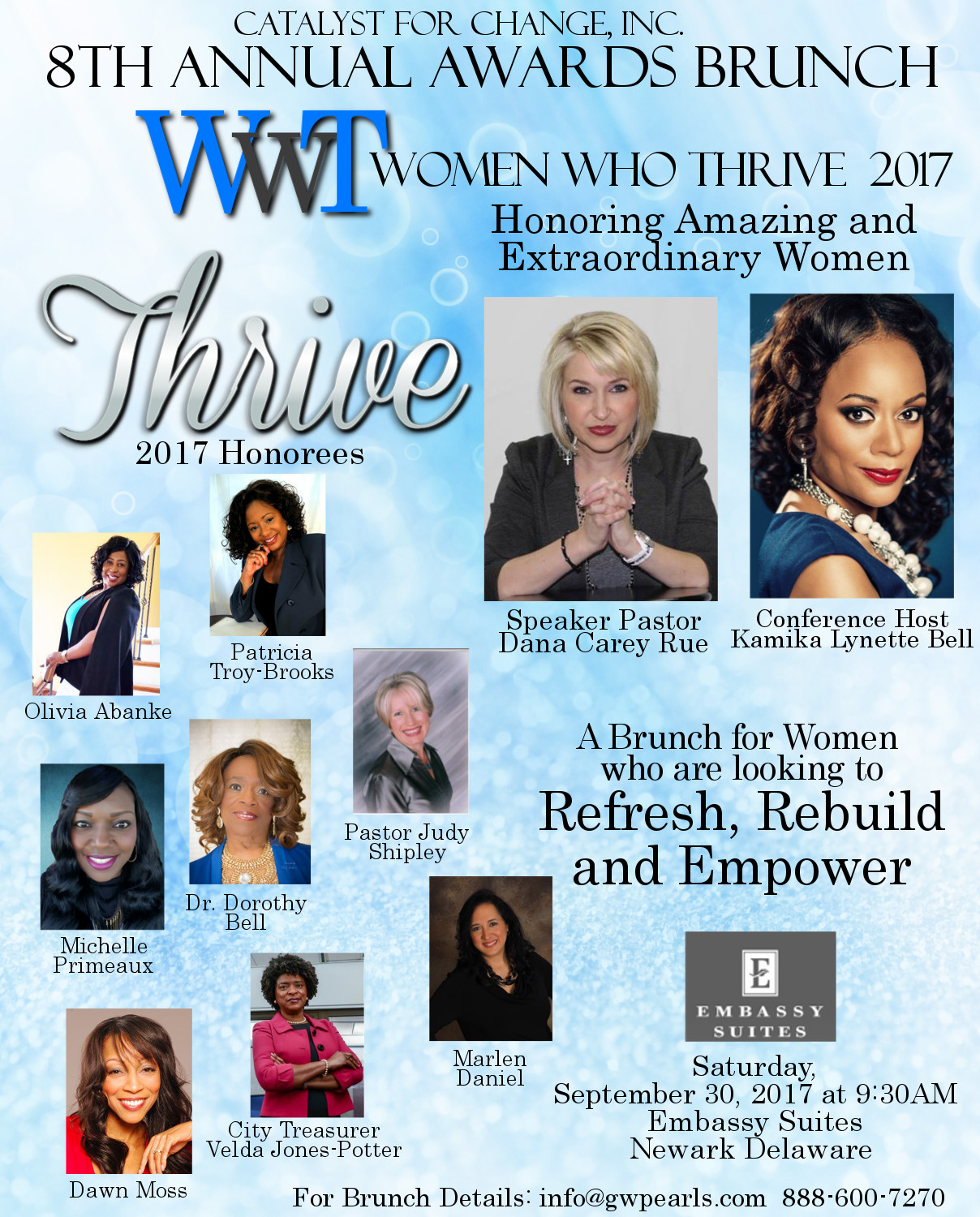 If you have been to a Catalyst For Change, Inc. event in the past, then you know it is a life changing experience and this one day conference will not be any different. If you are new to Catalyst For Change, Inc., we welcome you to our community inspiring and encouraging women to Thrive!
Join us for our 8th Annual Awards Brunch-Women Who Thrive! We will be honoring eight amazing and extraordinary women! We will be blessed to hear amazing stories from our honorees who are living their God-given passions and dreams. You will hear from our dynamic speaker Pastor Dana Rue as she blesses us with an empowering and transforming word! You don't want to miss hearing their stories and feeling God's Love! This is an event for people who are looking to Refresh, Rebuild and Empower.
Who is this event for?
• If you desire a new level with God.
• If you desire a deeper, intimate relationship with God.
• If you want to live your dreams and take action.
• If you are looking to Refresh, Rebuild and Empower.


FAQs
Where will this event be held?

This event will be held at the beautiful Embassy Suites Hotel, 654 South College Avenue, Newark, Delaware 19713

What is the admission? Where can I get tickets?

Tickets are 40.00 Per Person and if you purchase a table of 10 the cost will be

$35.00

Per Person. NO TICKETS WILL BE SOLD AT THE DOOR ON THE DAY OF THE EVENT.

What is the format of the event?

Doors will open at 8:45 am.
What happens when I register for the event?


Once you purchase your ticket, you will be prompted to register for this event. What this does is secure your spot and place you on our list of registered attendees. Upon arrival, you will check-in and receive your event materials and other goodies.
Abundant Blessings,
Kamika Lynette Bell
Founder/Executive Director
Catalyst For Change, Inc.
Girls With Pearls, Inc.