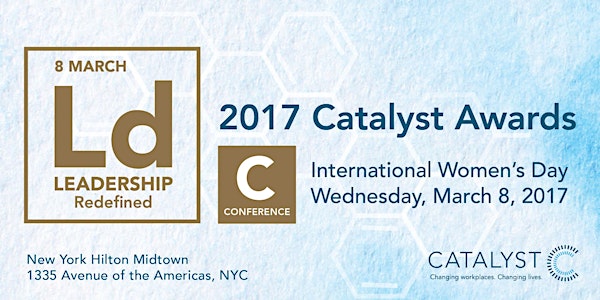 Catalyst Awards Conference -International Women's Day- Leadership Redefined
When and where
Location
New York Hilton Midtown 1335 Avenue of the Americas New York City, NY 10019
Description
Leadership Redefined
On March 8, 2017, the world celebrates International Women's Day, the annual commemoration of women's achievements—socially, economically, culturally, and politically. This year, we are excited that the 2017 Catalyst Awards Conference and Dinner will be held on that special day—honoring organizations doing their part for women. Catalyst has been selected as an official charity partner for the International Women's Day organization in support of their 2017 theme, Be Bold For Change, keenly in line with our own theme of Leadership Redefined! See more here!

For more than 20 years, the Catalyst Awards Conference has brought together experts from around the world to share knowledge and shape the dialogue about inclusive leadership and other critical factors related to women and workplaces around the globe. Last year, approximately 700 corporate leaders and members of the media gathered at this one-of-a-kind event to share innovative strategies, research, and expertise and learn about Catalyst Award-winning initiatives. Over 70% of the attendees were at the Senior Director+ level, including nearly 100 at the C-suite, Board Member, CEO, and President level. The Catalyst Award annually honors innovative organizational approaches with proven, measurable results that address the recruitment, development, and advancement of women.
Who Should Attend the Conference?
Champions of diversity and inclusion

Executives

HR leaders

Individual contributors looking to develop leadership skills
This year's theme is Leadership Redefined!
Gender equality is a central tenet to propelling workplaces and the world to a more inclusive future. We must rethink old definitions and create a new vision, which requires:
Redefining leadership in how we drive inclusion and equal representation at all levels, in all professions, and in all walks of life, including the home.

Redefining leadership in how we "show up" on gender-related issues with our consumers and stakeholders and in how we amplify our voices externally.

And, we are redefining leadership in how we all connect and collaborate across organizations (businesses, NGOs/nonprofits, governments, and society) to amplify and accelerate progress toward gender equality.
Time
Session Description

7:30 a.m. - 8:20 a.m.
(Optional Session, Limited Availability)
Bonus Session: Together for Change: Working With Catalyst Consulting Services
Join this interactive conversation with two organizations that are making sustainable and impactful change as clients of Catalyst Consulting Services. We will hear from an organization that has renewed their focus on change as a result of their Catalyst engagement, as well as a company further along in the journey. The panel of Consultant-Client pairs will present their initial issues, discuss strategic solutions, and analyze subsequent and ongoing impact.
Moderator:

* Katherine Giscombe, PhD, Vice President and Women of Color Practitioner, Global Member Services, Catalyst
Facilitators:
* Deborah Campbell, Senior Director and Consultant, Global Member Services, Catalyst
* Brande Stellings, JD, Vice President, Corporate Board Services, Catalyst

Panelists:
* Jonathan Berger, Vice President, Human Relations, Bimbo Bakeries USA
* Ingrid Jacobs, Head of Corporate Diversity and Inclusion, Raytheon Company
7:30 a.m. - 8:30 a.m.
Check In and Continental Breakfast
Exhibit Hall Sponsor:
UPS


The UPS International Women's Day Hall
Leveraging Catalyst's position as the selected Charity Partner of International Women's Day, Catalyst and UPS bring together the top mission-based organizations that have changed the lives of women and girls globally. The hall is designed to showcase organizations that have contributed to the multi-dimension journey of a woman's life. Engage with over 30 like-minded organizations throughout the day, presenting an opportunity to learn, give back, and pay it forward as a true acknowledgement of International Women's Day.
8:30 a.m. - 9:15 a.m.
Opening Remarks by:
Deborah Gillis, President & CEO, Catalyst and Partnering Sponsor Representative: Teresa Finley, Chief Marketing and Business Services Officer, Global Marketing, UPS and Chair, Catalyst Board of Advisors, and Activity by Second City Works
9:15 a.m. - 10:30 a.m.
2017 Catalyst Award Winner Plenary
Catalyst Award-winning initiatives are examples of the important role that intentional and inclusive leadership plays in ensuring the success of diversity and inclusion at an organization. Hear from leaders from the 2017 Catalyst Award winners on how they have redefined what diversity and inclusion programs can be.
Moderator:
* Laura Sabattini, PhD, Vice President, Research, and Chair, Catalyst Award Evaluation Committee
Panelists:
* Inge G. Thulin, Chairman of the Board, President and Chief Executive Officer, 3M
* Marlene McGrath, Senior Vice President, Human Resources, 3M
* William Downe, Chief Executive Officer, BMO Financial Group
* Daniela O'Leary-Gill, Senior Vice President & Head, Corporate Communications, Government & Investor Relations, BMO Financial Group
* Blake Moret, President and Chief Executive Officer, Rockwell Automation
* Susan Schmitt, Senior Vice President, Human Resources, Rockwell Automation
10:45 a.m. - 11:45 a.m.
2017 Catalyst Award Winner Breakout Sessions (Concurrent)
3M's global initiative, I'm in. Accelerating Women's Leadership, comprises a variety of talent management and leadership development components, including networking, mentoring, talent development, work-life and workplace flexibility programs and external community efforts. More than 70 countries have embraced inclusiveness across their organizations through the I'm in campaign. From 2011 to 2016, 3M's global initiative has accelerated progress for women throughout the company and across the world. Globally, women's representation at the director level increased from 18.2% to 23.0% and at the vice president and above levels from 16.7% to 24.2%. Women leaders have also made progress in traditionally underrepresented roles across regions, including an increase from 19.1% to 23.9% for technical and lab managers and from 11.4% to 17.4% for plant managers.
Moderator:
Serena Fong, Vice President, Government Affairs, Catalyst
Panelists:
* Joaquin Delgado, Executive Vice President, Consumer Business Group
* Rhonda Graves, Chief Diversity Officer, Human Resources
* Felipe Lara, Human Resources Director, Industrial Business Group
BMO Financial Group's initiative, Diversity and Inclusion Renewal for Sustainable Change, is a strategy to identify and remove barriers to advancing diversity and build an inclusive work environment across the organization. The initiative focuses on achieving equitable representation of women and men in senior leadership and building a robust pipeline of women to advance to senior leadership roles. The DIR initiative has helped BMO achieve important results. Between 2012 and 2016, the bank met its five-year goal of 40% women's representation among senior leaders in the United States and Canada, with women in these roles increasing from 33.0% to 40.1% and women of color and visible minority women increasing from 4.4% to 6.5%. Within the same time frame, women's representation has increased from 7.7% to 31.3% among executive committee members and from 32.2% to 35.2% among senior managers and managers overall. Finally, women's representation on BMO's Enterprise Board of Directors has increased from 30.8% to 36.4%.
Moderator:
Emily Cohen, Senior Associate, Information Center, Catalyst
Panelists:
* Sonya Kunkel, Chief Inclusion Officer and Vice President, People Strategies and Insight, Human Resources
* Kona Goulet, Director, Inclusion, People Strategies and Insights, Human Resources
* Francois Hudon – Head, North American Customer Contact Centres, Canadian Personal and Commercial Banking
Rockwell Automation's The Culture of Inclusion Journey is a culture-change initiative that comprises programs and strategies executed throughout the company's businesses and functions. In the United States, the initiative has impacted more than 8,000 employees in 100 locations. Results demonstrate that this contributed to advancing women across businesses and functions at the company. Between 2008 and 2016, women's representation in the United States has increased from 11.9% to 23.5% among vice presidents, from 14.7% to 23.2% among directors, and from 19.3% to 24.3% at the middle-manager level. At the most senior leadership levels, women's representation doubled, increasing from 11.1% to 25.0% among the CEO's direct reports and from 11.1% to 20.0% on the board of directors.
Moderator:
Maighan A. Moody, Senior Director, Human Resources, Catalyst
Panelists:
* Michele Matthai, Director, Culture of Inclusion
* Rachel Heidenreich, Vice President, Quality and Continuous Improvement
* Mike Hutchings, Vice President, North America Western Region
12:00 noon - 1:45 p.m.
Remarks by Lead Sponsor Representative:
Caroline A. Wanga, Chief Diversity Officer, Target Corporation
Luncheon Panel: Redefine Leadership, Redefine the World
Through their Sustainable Development Goals, the UN seeks to achieve gender equality and empower all women and girls by 2030. One proposed target is to ensure women's full and effective participation and equal opportunities for leadership at all levels of decision-making in political, economic, and public life. As Catalyst knows, the impact of more women in leadership is immense (see Catalyst's Ripple Effect infographic), and the effects extend beyond the workplace. Truly, when you redefine leadership, you redefine the world. Join us for an inspiring discussion among leaders with various perspectives for how to accelerate toward the goal of 50/50 gender equality by 2030 through policy, philanthropy, and corporate initiatives.
Moderator:
* Deborah Gillis, President and CEO, Catalyst
Panelists:
* Dr. Phumzile Mlambo-Ngcuka, United Nations Under-Secretary-General and Executive Director of UN Women
* La June Montgomery Tabron, President and CEO, The W.K. Kellogg Foundation
* Mark A. Weinberger, Global Chairman and CEO, EY
2:00 p.m. - 3:15 p.m.
Catalyst Breakout Sessions (concurrent)
Session Sponsor:
Edward Jones
Listen, Learn, and Lead: Engaging in Conversations about Gender Race and Ethnicity in the Workplace

Differences don't have to create divides. Effectively communicating across genders, ethnicities, races, and other aspects of our identities can potentially be difficult, yet the benefit to inclusion is worth the challenge. Learn how organizations and individuals set up conversation ground rules and take action to create productive dialogues in this illuminating session.
Moderators:
* Alixandra Pollack, Director, Research, and Regional Director, Mexico & Latin America
* Dnika J. Travis, PhD, Vice President and Center Leader, Catalyst Research Center for Corporate Practice
Panelists:
* Jennifer Allyn, Diversity Strategy Leader, PwC
* Laura Fuentes, SVP, Talent & Rewards, Hilton
* Susie Nam, Chief Operating Officer, Droga5
* Emily Pitts, Head of Diversity and Inclusion, Edward Jones
* Chris Blum, Principal, Edward Jones
Catalyst Resources:
* Report: Emotional Tax: How Black Women and Men Pay More at Work and How Leaders Can Take Action
* Tool: Conversation Ground Rules
* Tool: Engaging in Conversations About Gender, Race, and Ethnicity in the Workplace
Conference Attendee Bonus: We're here to make these courageous conversations more effective and worthwhile. Take our online CatalystX course, Communication Skills for Bridging Divides, and develop the practical communication skills to mend divides and build a more tolerant and inclusive world. Sign up today for free!
Session Sponsor:
Arconic
Negotiate Your Role, Redefine Your Career
It's all about the money, except when it isn't. While salary is important, ambitious employees negotiate many aspects of their careers, including more satisfying and challenging roles. In this session, you will gain insights from a panel of experts to confidently negotiate your way to success.
Moderators:
* Anna Beninger, Director, Research, Catalyst
* Tanya van Biesen, Executive Director, Catalyst Canada
Panelists:
* Natalie Schilling, Vice President, Human Resources, Arconic
* Gale King, Executive Vice President and Chief Administrative Officer, Nationwide
* Jamie Lee, Negotiation Consultant, She Negotiates
* Rachel Thomas, President, Lean In
Catalyst Resources:
* Report: Role Negotiation And The Pursuit Of Hot Jobs
* Infographic: Seven Tips To Negotiate Your Way To A More Challenging And Satisfying Role
* Infographic: Empower Your Employees To Negotiate More Challenging And Satisfying Roles
* Infographic: Coaches, Mentors, and Sponsors: Understanding the Differences
How Partnerships With Purpose Pay Back
Intentional investment, whether in organizations that support women and girls or in the career of a talented protégé, is crucial for moving toward gender equality. With the recent adoption of the United Nations' Sustainable Development Goals, a new era of international development has begun, with gender as a central feature. Hear from a varied panel of partners in the business, nonprofit, and philanthropic community who recently announced specific Clinton Global Initiative Commitments to Action.
Moderator:
* Terri McCullough, Chief Executive Officer, No Ceilings: Full Participation Project, Clinton Foundation
Facilitators:
* Serena Fong, Vice President, Government Affairs, Catalyst
* Brande Stellings, JD, Vice President, Corporate Board Services, Catalyst
Panelists:
* Gina L. Tesla, Director, IBM Corporate Citizenship Initiatives
* Elizabeth Vazquez, President, CEO & Founder, WEConnect International
* Shelley Zalis, CEO, The Female Quotient
Catalyst Resources:
* Report: Anatomy Of Change: How Inclusive Cultures Evolve

* Quiz: Are You An Inclusive Leader?
* Catalyst Initiative: Catalyst Women On BoardTM
* Report: The Modern Guide To Equality
Session Sponsor:
Dell
Redefining Championship: Engaging Men in Gender Equality
Men have a broad spectrum of experiences in the workplace. In male-dominated, male-led workplaces, some men gain certain advantages from being part of the group that holds the majority of positions of power. Yet at the same time, many also report feeling excluded due to other core aspects of their identities. We invite all to attend this session to learn more about how diverse men—including men of color, LGBTQI men, and others—are bringing their distinct experiences and perspectives to bear in their efforts to champion inclusion.
Moderators:
* Shachi Irde, Executive Director, Catalyst India WRC
* Allyson Zimmermann, Executive Director, Catalyst Europe AG
Panelists:
* Stephen Caulfield, Vice President, GM Dell Bratislava, Dell
* Cliff Jones, Senior Consultant, White Men as Full Diversity Partners
* Ravi Karkara, Senior Advisor on Strategic Partnerships and Advocacy to the Assistant Secretary General and Deputy Executive Director at UN Women
* Brad Kho, Sales Director, Procter & Gamble
* Alysia Reiner, Actress, Producer and Activist
Catalyst Resources:
* Report: Anatomy Of Change: How Inclusive Cultures Evolve
* Tool: First Step: Gender Identity In The Workplace

* Tool: First Step: Engaging Men
* Community and Resources: www.onthemarc.org
Redefining Inclusion: How and Why Measuring Inclusion Matters
Exclusion is the problem. Inclusion is the solution. Catalyst's global inclusion work gauges what inclusion looks like, what drives it, and what its outcomes are. At this session, thought leaders whose organizations piloted the Catalyst Inclusion-at-Work Survey and academic experts will discuss how to create and sustain inclusive norms and behaviors and why this matters. Attendees will also share insights and real-world approaches that work in global settings with the panel and Catalyst experts.
Moderators:
* Julie S. Nugent, Vice President & Center Leader, Catalyst Research Center for Corporate Practice
* Jennifer Thorpe-Moscon, PhD, Director and Panel Manager, Research
Panelists:
* Dr. Ethan Burris, Associate Professor of Management, McCombs School of Business at the University of Texas at Austin
* Cathy Medeiros, Vice President, Global Inclusion & Diversity, Eaton
* Aida Sabo, Vice President, Diversity and Inclusion, PAREXEL
* Karyn Twaronite, Global Diversity & Inclusiveness Officer, Ernst & Young LLP
Catalyst Resources:
* Report: Inclusive Leadership: The View From Six Countries
* Report: The Day to Day Experiences of Workplace Inclusion and Exclusion
* Infographic: Inclusion Matters
3:45 p.m. - 4:30 p.m.
Closing Session
"A Commitment to Redefining Leadership" by Partnering Sponsor Representative: Mike Wirth, Vice Chairman of the Board and Executive Vice President, Midstream and Development, Chevron Corporation
It's a journey. Sustaining a culture of inclusion requires intentional and consistent commitment – a commitment to accelerating change, a commitment to create new opportunities for women, and a strong commitment to consistently stressing the critical connection between inclusion and business results. Learn more about 2015 Catalyst Award winner Chevron's journey.
and Activity by The Second City Works
4:30 p.m. - 7:30 p.m.
Lead Conference Sponsor: Target Corporation
Partnering Conference Sponsors: Chevron Corporation and UPS
About the Catalyst Award
At the annual Catalyst Awards Conference and Dinner, we recognize innovative organizational initiatives that address the recruitment, development, and advancement of all women, including diverse women. Since 1987, Catalyst has recognized 85 initiatives at 79 organizations from around the world. These groundbreaking diversity and inclusion programs have changed workplaces, communities, and lives.