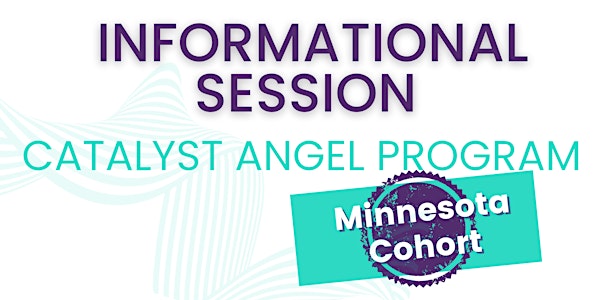 Catalyst Angel Program MN Cohort - Information Session
Groove Investment Group and Forge North are teaming up with TechTown Detroit to empower more Black, Latinx, and woman angel investors.
About this event
The information session will be Monday, August 15th 2pm CST/ 3pm ET via zoom.
About the Catalyst Angel Program
TechTown Detroit's Catalyst Angel Program is on a mission to help emerging angel investors in the Great Lakes Region who identify as Black, Latinx, and/or women gain knowledge about investing.
The Minnesota Cohort, led by Groove Investment Group and Forge North, will connect Catalyst Angel Program participants in Minnesota. Together we will gain a deeper understanding of angel investing, engage in curated virtual courses, and connect in person with peers.
The purpose of the cohort is to provide a community for Minnesota based angels going through the program—angel investing is a team sport after all.
Program Requirements
Self-identify as Black, Latinx, and/or woman
2 years or less of angel investing experience
Reside in Minnesota, Michigan, Illinois, Indiana, Ohio, or Wisconsin
Commit to completing the six require Angel Capital Association basic courses
Be an accredited investor
Not sure if you fit the requirements - this info session is for you!
Program Timeline
September 1st - MN Fall Cohort Registration Deadline
September 13th to October 25th - Angel University Classes (six virtual classes)
November - Graduation and Happy Hour (in person celebration)