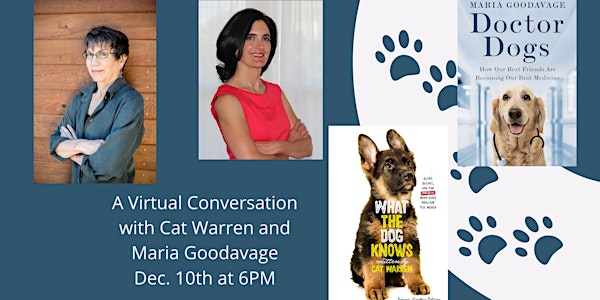 Cat Warren in Virtual Conversation with Maria Goodavage
Join us for a virtual conversation with authors Cat Warren and Maria Goodavage on Thursday, December 10th at 6PM!
By Hub City Writers Project
Date and time
Thursday, December 10, 2020 · 3 - 4pm PST
Refund Policy
Contact the organizer to request a refund.
Eventbrite's fee is nonrefundable.
About this event
Join us for a virtual conversation with authors Cat Warren and Maria Goodavage on Thursday, December 10th at 6PM! Both authors specialize in scent detection dogs and will be discussing their books What the Dog Knows (just out in Young Readers' Edition) and Doctor Dogs. We will also feature a special introduction by Pilley Bianchi, co-trainer of Chaser "the smartest dog in the world." 
What the Dog Knows
by Cat Warren
In this young readers edition of the New York Times bestseller, Cat Warren and her canine companion, Solo, teach readers that the nose knows no bounds when it comes to working together, being persistent, and helping others.
Solo has a fine nose and knows how to use it, but he's only one of many thousands of scent-detection dogs all over the United States. That's a group that includes cadaver dogs, tracking, trailing, and apprehension dogs; dogs that can locate unmarked graves of Civil War soldiers; and even dogs that can find drowning victims more than two hundred feet below the surface of a lake.
All these dogs love to use their noses. They think their job is simply the best, most interesting game they've ever played! What good working dogs can do may seem magical or mysterious, but What the Dog Knows shows the science, the rigorous training, and the skilled handling that underlie these amazing abilities.
This Young Readers Edition is a thorough reimagining and rewrite of the original, with nearly a quarter entirely new material and illustrations by award-winning illustrator Patricia J. Wynne. The adult book, published by Touchstone in 2013, was a New York Times and National Indie bestseller, and won a number of awards, including being longlisted for the prestigious PEN/E.O. Wilson Literary Science Writing Award. It was translated into Japanese, Chinese, German, and Spanish, was a best seller in the United Kingdom, New Zealand, and Australia, and was selected by BBC radio in 2018 as a nonfiction book club pick.
Doctor Dogs
by Maria Goodavage
New York Times bestselling author Maria Goodavage takes us on a thrilling, delightful, globe-trotting journey to discover the heartwarming and fascinating new world of doctor dogs.
In this groundbreaking book, Goodavage brings us behind the scenes of cutting-edge science at top research centers, and into the lives of people whose well-being depends on their devoted, highly skilled personal MDs (medical dogs). With her signature wit and passion, Goodavage explores how doctor dogs are becoming our happy allies in the fight against dozens of physical and mental conditions.
We meet dogs who detect cancer and Parkinson's disease, and dogs who alert people to seizures and diabetic lows or highs and other life-threatening physical ailments. Goodavage reveals the revolutionary ways dogs are helping those with autism, anxiety, depression, schizophrenia, and post-traumatic stress disorder. And she introduces us to intrepid canines who are protecting us from antibiotic-resistant bugs, and to dogs who may one day help keep us safe from epidemic catastrophe. Their paycheck for their lifesaving work? Heartfelt praise and a tasty treat or favorite toy.
The emotional element in Doctor Dogs delivers as powerfully as the science. You don't have to be a dog lover to care deeply about what these dogs are doing and what we are learning from them—although if you're not a dog lover, you probably will be by the end of the book.
About the organizer
The Hub City Writers Project is a nonprofit organization in Spartanburg, South Carolina, dedicated to cultivating readers and nurturing writers through its independent small press, community bookstore, and diverse literary programming.