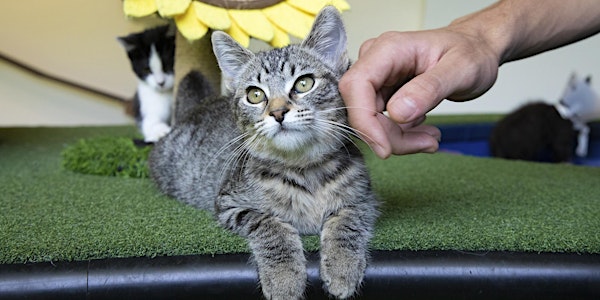 Cat-O-Rama: Adoption Event
Stop by the space to meet and adopt an adorable cat in this special event, celebrating everything feline.
When and where
Location
Wallis Annenberg PetSpace 12005 Bluff Creek Dr. Los Angeles, CA 90094
About this event
We're ready to help you find the feline friend of your dreams! Stop by Annenberg PetSpace for Cat-O-Rama, the purrfect opportunity to adopt a new cat or kitten.
Throughout the day, we'll have adoptable cats on a first-come, first-serve basis. Take part in a meet-and-greet to determine who could be a fit for your home.
Anyone who adopts a cat during Cat-O-Rama will receive a Basepaws Cat Dental Health Test* in their adoption kit.
In the space, we'll have opportunities for guests to meet and play with sweet little kittens, while learning more about how to keep your own cats happy and healthy.
While here, be sure to enter our raffles for cat-themed prizes. Raffle giveaways will include a Basepaws Cat Dental Health Test, a Basepaws Breed + Health Cat DNA Test, cat toys, treats, and other fun feline-friendly items.
Young guests can take part in cat-themed games and activities too!
Interested in fostering kittens? Stop by our info booth to learn more about how you could change the lives of an entire litter of little ones.
Free food and drinks will be provided.
We can't wait to welcome you back for our first major Annenberg PetSpace event of 2021!
*Basepaws Cat Dental Health Test is a screening test for most major dental conditions seen in cats. Get early detection and recommended treatment for dental conditions such as periodontal disease (gingivitis and periodontitis), tooth resorption, and bad breath. It offers a way to be proactive about the number one preventable issue for cats.
Visitor Guidelines for Annenberg PetSpace
During these times, Annenberg PetSpace is implementing additional safety rules and regulations for any guests entering the space.
Please adhere to the following guidelines and processes outlined below:
A mask must be worn at all times while at the space
Per Los Angeles and California guidelines, face masks must be worn by all guests ages 2 and up, and includes those who have been vaccinated for Covid-19. Masks must be worn in outdoor areas as well.
Acceptable masks:
• Can be disposable or reusable
• Fully cover the nose and mouth and secure under the chin
• Fit snugly but comfortably against the side of the face
• Can be secured with ties or ear loops
Not acceptable: neck gaiters, open-chin triangle bandanas and face coverings containing valves, mesh material, or holes
Please practice safe physical distancing
We ask that guests practice safe physical distancing of at least 6 feet in all settings in and around the space. Be sure to follow directions and signs posted throughout the building.
Guest Pets
For the comfort and safety of our cats, we ask that you keep personal pets at home during this day.
Together we can do our part to keep each other safe and healthy during these unprecedented times. We thank you for your cooperation and understanding.