Sales Have Ended
Ticket sales have ended
Please Note: Online sales ended but you can still purchase General Admission Tickets (Standing only-Dance Floor) at Rockefellers July, 21 from 7 PM - Cash Only. ROCKEFELLERS HOUSTON 3620 Washington Ave, Houston, Texas 77007 Door Open 7:00 PM Casuarina Show: 8:00 PM All Ages - 21 + to Drink. ID Required. Brazilian Food will be available for purchase from 7:00 PM Lower Level
Sales Have Ended
Ticket sales have ended
Please Note: Online sales ended but you can still purchase General Admission Tickets (Standing only-Dance Floor) at Rockefellers July, 21 from 7 PM - Cash Only. ROCKEFELLERS HOUSTON 3620 Washington Ave, Houston, Texas 77007 Door Open 7:00 PM Casuarina Show: 8:00 PM All Ages - 21 + to Drink. ID Required. Brazilian Food will be available for purchase from 7:00 PM Lower Level
Description
Present:
Casuarina
Rio Samba Band returns to Houston
"Casuarina", One of the most respected samba bands of Rio at:
3620 Washington Ave, Houston, Texas 77007
Sunday, July 21 door Open 7:00 PM
Casuarina Show: 8:00 PM
About the Event:
Casuarina is one of the most respected samba bands of Brazil. Originally from Rio de Janeiro, the group has played all over Brazil and beyond. They've already brought their "samba made in Brazil" to North America several times, including the globalFEST Creole Carnival Tour in 2016 when they performed more than 35 concerts and workshops in the US and Canada. Besides that, in their 15 years together, Casuarina has toured all over the world, including Angola, Cuba, France, Holland, Israel, Italy, Portugal, United Kingdom, Malaysia and more. Casuarina is the perfect act for world music and folk festivals and a perfect fit on family programs with their Brazilian Percussion Workshop.
The group has recorded four studio albums and two live albums/DVDs and they are coming back to North America on their 2019 Summer Tour to present their new US release album.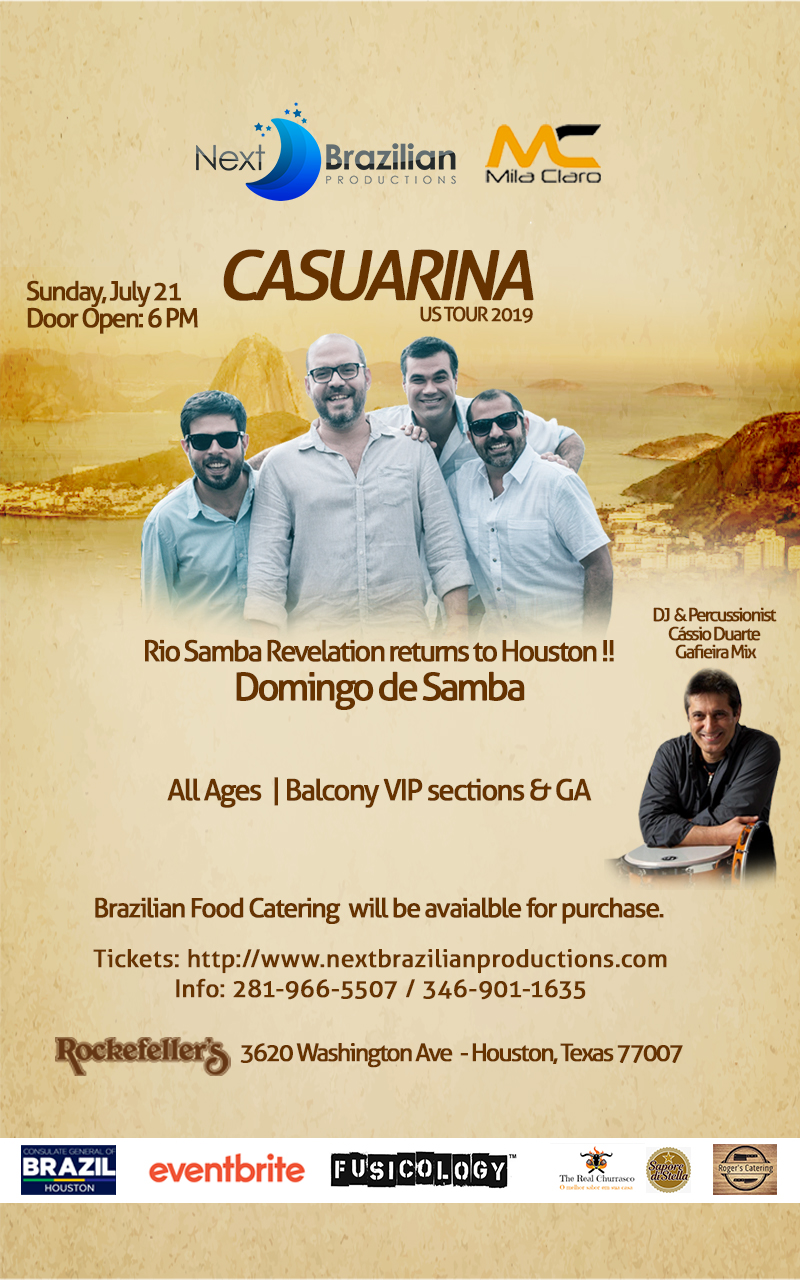 https://www.instagram.com/casuarinaoficial/
https://www.youtube.com/user/casuarinaoficial
---
Opening set by DJ & Percussionist Cássio Duarte
Before and after the show, mixing the best music from Brazil.
Seductive rhythms and beautiful melodies will create the atmosphere of a "Gafieira".
A popular type of dance hall that revolves around different Samba styles.
Enjoy the Brazilian Cuisine available for purchase provided by The Real Churrasco,
Rogerio Catering and Desserts by Sapore di Stella
Drinks by Rockefellers Bars.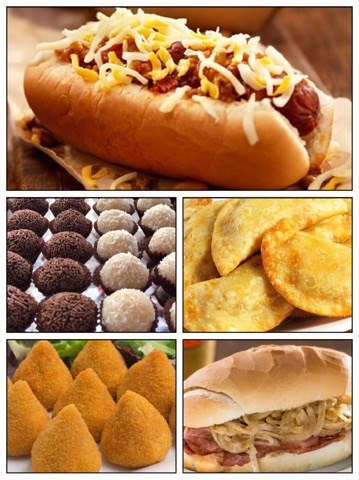 About the Venue:
From the '80s until the late '90s it was a Houston rock staple, and now stands as an iconic music venue & event space in Houston, TX!
http://www.rockefellershouston.com
Valet for a fee & Free Street parking available.
This is all Ages event but Ticket are required for all attending the Concert.
21 + to Drink. ID Required.
Tickets:
Please note that ALL ticket purchases are "ADMIT ONE" if you would like to purchase by the table or group, please contact us 281-966-5507 or 346-901-1635
VIP Mezzanine - Balcony Reserved Table Seat
Lower Reserved Main Floor Rear Table Seat - Limited Available
General Admission Standing Room Only-Lower Dance Floor
Event Promote by Brazilian Women Foundation & Houston Brazilian Carnaval-Carnaval do Brasil Houston & Brazilian Food & Music Festival