Description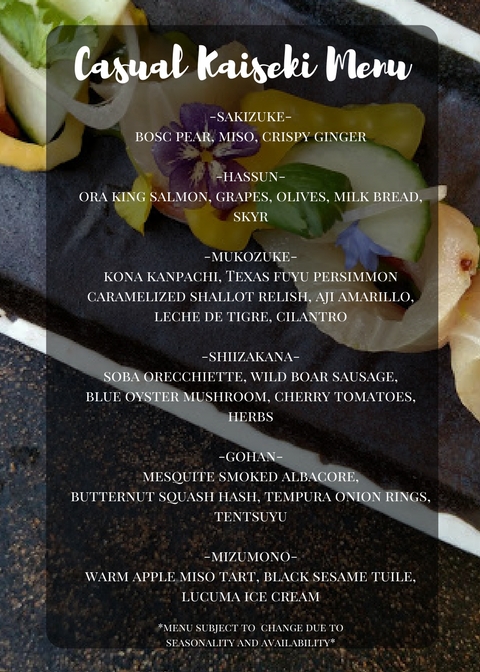 ---
I'm pleased to invite you to our intimate 5 course dinner, Casual Kaiseki! The evening will be a private dinner complete with optional sake pairings. Seating is limited.
The menu is an artful collaboration between Executive Chef Jay Huang, Chef Julio Flores Zaplana and Chef Jacobo Lopez Ramirez, a sensory farewell to Summer and transition to Fall.

---

Notes for reserving your seat:
Ticket price includes tax and gratuity.
Sake pairings available for purchase in advance, curated by Certified Sake Advisor Lora Blackwell.
Dietary restrictions can be accommodated by emailing Lora at luckyrobotagm@gmail.com after purchasing tickets.
FAQs
Can you accomodate group seating?
We would be happy to seat friends together! Email Lora at luckyrobotagm@gmail.com with any specific seating requests, and we will do our best to comply.
How can I contact the organizer with any questions?
Don't hesitate to email Lora at luckyrobotagm@gmail.com with any and all questions.
What's the refund policy?
Because of the level of preparation for each reserved seat, we are unable to offer refunds or exchanges.
Do I have to bring my printed ticket to the event?
You will not need a printed ticket. We'll have you on our list and will usher you to your seat.