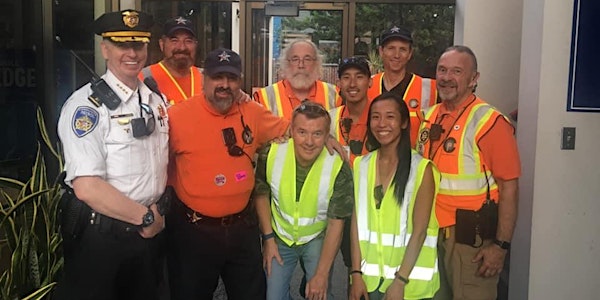 Castro Patrol - Volunteer Basic Training Class - On-Demand Zoom Training
New volunteer remote training class by ZOOM
About this event
365 days 23 hours

Mobile eTicket
IGNORE THE DATE LISTED. IT IS USED SIMPLY TO ALLOW YOUR REGISTRATION DETAILS TO BE COLLECTED. THIS SPECIAL SESSION TRAINING WILL BE SET ON A DATE AGREED WITH YOU.
Patrolling is one of our principal core activities and is one of our most important visibility tasks within the neighborhood.
Trained volunteers patrol in teams of three or more, walking in our brightly colored orange safety vests throughout the neighborhood.  They act as the "eyes and ears" of the neighborhood, providing safety information, distributing FREE safety whistles, checking in with merchants and chatting with visitors, and if needed calling on professional emergency responders as necessary.  Patrollers DON'T make arrests or get involved physically with trouble-makers. We call in the professionals to handle such things. Patrolling is fun, productive, and worth-while for everyone.
We ask our Patrol Volunteers to commit to a minimum of one 3 hour patrol each month or 12 patrols per year. You can select which nights work best for you, and you can even arrange to go out on patrol with friends, family, or loved ones if they are also qualified patrol members. Patrol Volunteer training is a combination of a written training manual which candidates must read, followed by a 3 hour practical certification class which was developed in cooperation with the San Francisco Police Department (SFPD), San Francisco Safety Awareness For Everyone (www.SFSAFE.org) and officers of the Community Patrol Service USA (CPS-USA) organization.  After successful completion of the written and practical training, newly designated Trainee Patrollers must complete four supervised patrols with supervisory Patrollers in order to advance to full Patroller status.
Minimum requirements for CCOP Patrol Volunteers are:
You must live, work or regularly visit San Francisco, California in order to become a Patrol volunteer with us.

You must be 18 years of age or older (no upper limit applies)

You may not have been convicted of a Felony, or a violence or theft related misdemeanor.

You must be able to walk continuously for up to 3 hoursYou must be able to hold a cell phone, radio, and flashlight

You must have a good enough command of English in order to communicate with emergency dispatchers, emergency responders and members of the public
If you meet these minimum requirements, please sign up for our next training class.