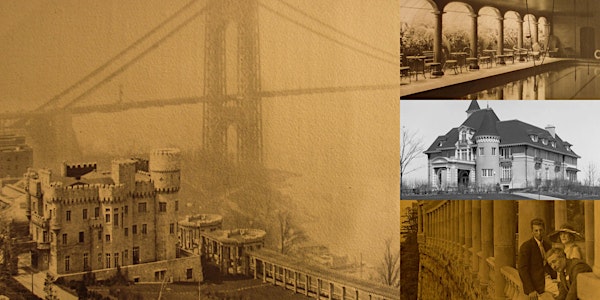 'Castles in the Heights: The Mansions of Northern Manhattan' Webinar
Can't make it live? Register and get access to the full replay for one week! New York Adventure Club | www.AdventureClub.com
About this event
Once upon a time in old New York, glittering castles adorned the high ground of northern Manhattan's rolling hills, occupied by powerful global figures including merchant princes, captains of industry, and real estate titans. Though by the end of the 20th century, most of these gilded palaces had been knocked down and paved over — their legacy all but forgotten. This is the story of the magnificent homes and eclectic characters of a lost era, and how they shaped New York for generations to come.
Join New York Adventure Club as we explore the stunning Gilded Age New York estates that once dotted the Manhattan landscape throughout the northern-most neighborhoods of Inwood and Washington Heights.   
Led by uptown historian and best–selling author Cole Thompson, our virtual experience showcasing both the exteriors and interiors of these lavish properties — and the colorful tales of their former owners — will include:
A look at the Seaman-Drake mansion — built in the 1850s on the Wizard of Oz-like property known as Mount Olympus, remnants of its entry archway can still be found in modern-day NYC (if you know where to look)
A discussion around Industrialist C.K.G Billings and his palace, Tryon Hall, on the current site of Fort Tryon Park — Billings was so crazy-rich that he once hosted a 14-course dinner on horseback, which included caviar, flaming peaches, and champagne served from saddlebags
A virtual walkthrough of the Washington Heights Castle once owned by real estate developer Charles V. Paterno, and what building complex took its place
A peek inside the home of William H. Hurst, President of the New York Stock Quotation Telegraph Company, and the only surviving property from this forgotten Gilded Era
Never-before-seen photos taken by the owners of these real-life castles, inside and out, which include fumed oak bowling alleys, indoor pools, and magnificent art collections
Afterward, we'll have a Q&A with Cole — any and all questions about Northern Manhattan in the Gilded Age are welcomed and encouraged!
Can't make it live? Don't worry, you'll have access to the full replay for one week!
See you there, virtually!
*Immediately upon registering, you will receive a separate, automated email containing the link to join this webinar
**For the best possible viewing experience, please ensure you're using the latest version of your internet browser — Google Chrome is the most compatible. Exact technical requirements and a webinar user guide will be shared in the automated confirmation email upon registration.
***A full replay of the experience will be available to all registered guests for up to a week
About Cole
An award-winning former television producer and best-selling author, Cole has hosted the popular uptown history blog MyInwood.net for nearly fifteen years. Cole has been profiled in the New Yorker in connection with his knowledge of Uptown history. In 2019 Cole co-authored a history of his neighborhood titled, Lost Inwood, with colleague Don Rice. Cole & Don often host a popular history series, also called Lost Inwood, before live audiences.
Testimonials
"Fascinating history, visuals were great and commentary was precise, organized and presented in a charming, informal manner. It held my interest from start to finish." -Sandra
"I liked everything. Cole Thompson had done his homework and knew the history of our neighborhood. The site offered opportunities for us to comment and ask questions. I loved it!" -Regina
"Wonderful photographs and great stories. Discussed a part of NYC history I didn't know much about." -Amanda
"The presenter was relaxed and informative. The presentation was well researched and beautifully executed." -Lisa
"I love Inwood history and Cole is extremely knowledgeable about this topic. Can't get enough." -Charlotte
"I liked not only the KNOWLEDGE about the subject but the PASSION about the subject." -Dolores
"Great info, Cole's research and hard to obtain photos were excellent. Great pace. Good use of maps, and present photo comparisons." -Elke
"Great speaker! Loved the photos, and music! I could really place where these castles stood! Loved the bits on their owners!" -Jennifer
"I liked the detailed research and wonderful supporting visuals. Also, the enthusiasm and knowledge provided by Cole Thompson." -Nicole
"I loved the knowledge and insight of the host. The pictures and history were really nice too. I loved that we could see where these places once stood as they are today." -Elena
"I liked everything, Cole's knowledge and enthusiasm, and his lovely manner. Great presentation. I can't wait to go on a walk with him through the Club." -Joan
"Cole was a terrific tour guide sharing wonderful photos which placed us in the area during these castle's heyday." -Joan G.
"Cole was super friendly & very engaging. He had his material very organized & stayed on topic. He seems like a very nice person." -Carina
"Very thorough and was very well done!" -Susan
"I was born and raised in lower NY state, but never knew of the history of this area of Manhattan! I wish I had studied this while in interior design school at Pratt Institute! The photos from the brag books were so interesting to see!" -Andrea
"I was born and raised in Wash Hts. After college I got my first place in Inwood on Park Terrace East. Cole taught me things I never knew. Loved it!" -Timothy
"Engaging speaker. Interesting content. Well organized. Love the photos!" -Becki
"Our host was so interesting and knowledgeable. His presentation was well organized and the technology worked well. The facilitator did a great job too. It was nice of him to stay on to answer so many questions." -Diane
"I liked everything - the brag books are incredibly fascinating first hand documentation" -Tom
"I liked it a lot! So much detail and wonderful photos" -Lesley
"Very interesting. The presenter was very knowledgeable and pleasant and it was a pleasure to watch. I learned so much. Thank you." -Renee
"The lecture provided a lot of history that I wasn't aware of about the neighborhood I live in." -Mark
"The presenter's knowledge was exciting and complete! I loved the pictures and all the details." -Mary
"The host was natural, so informed, and funny. Very thorough and engaging!" -Lena
Disclaimer
By attending a New York Adventure Club experience, you accept our terms of service.
Categories: Virtual, Gilded Age