| | |
| --- | --- |
| Castle of our Skins and Hibernian Hall Present I AM A MAN 2019 | |
Event Details

Play Songs & Games + Community Gather & Sing
June 2nd: 2:30-4:30PM, Hibernian Hall
Join us for a family-friendly, two-part afternoon of fellowship, song, history, and food.
2:30-3:00PM: Play Songs & Games is an interactive educational workshop for young children and families exploring African American and Caribbean children's songs and games. Come move, sing, and learn! Appropriate for toddlers through elementary-aged youth, parents, and families.
3:00-4:30PM: Lend your voice in this Community Gather & Sing of traditional African American civil rights songs. Appropriate for all ages. Light food and drinks provided.
Community Gather & Sing
June 4th: 6:00-7:30PM, Dewitt Center
Lend your voice in this community sing-along of traditional African American civil rights songs. Join us for fellowship, song, history and food. Free, family-friendly, appropriate for all ages. Light food and drinks provided.
Community Conversation
June 5th: 4:00-5:00PM, Hibernian Hall
"What do you think it means to be a man?"
Join us in a conversation exploring this central question, one that's relevant today now more than ever. From our collective responses, we'll work together to create a poem which will be performed live in our Saturday, June 8th Finale Concert at Hibernian Hall. Participants will be acknowledged as creative contributors at the Saturday evening performance and receive free admission. Free, appropriate for teens and families. Light food and drinks provided.
Seth Parker Woods, cello
June 6th: 7:00-8:30PM, Hibernian Hall
*Pre-concert community talk @ 6:00PM
Presenting contemporary classical cello works by Black composers.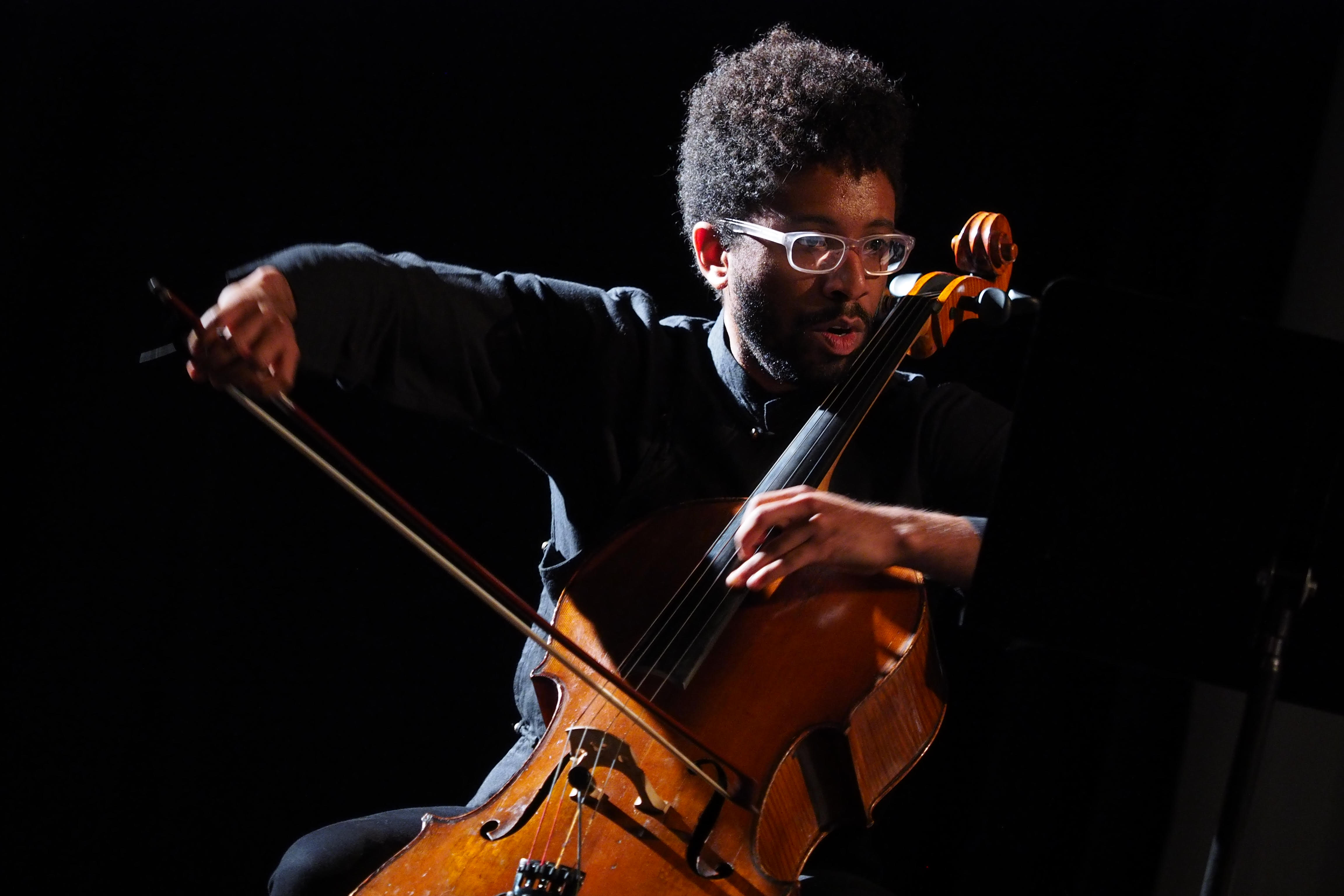 About Seth Parker Woods
Hailed by The Guardian as "a cellist of power and grace" who possesses "mature artistry and willingness to go to the brink," Seth Parker Woods has established a reputation as a versatile artist straddling several genres. IN addition to solo performances, he has appeared with the Ictus Ensemble (Brussels, BE), Ensemble L'Arsenale (IT), zone Experimental (CH), Basel Sinfonietta (CH), New York City Ballet, Ensemble LPR, and Orchestra of St. Luke's (US). A fierce advocate for contemporary arts, Woods has collaborated and worked with a wide range of artists ranging from the likes of Louis Andriessen, Elliott Carter, Heinz Holliger, G. F. Haas, Helmut Lachenmann, Klaus Lang, and Peter Eötvos to Peter Gabriel, Sting, Lou Reed, Dame Shirley Bassey, and Rachael Yamagata to such visual artists as Ron Athey, Vanessa Beecroft, Jack Early, Adam Pendleton, and Aldo Tambellini.
I Am Not Your Negro
June 7th: 6:00PM, Hibernian Hall
A free screening of I Am Not Your Negro by Raoul Peck, a documentary about writer and activist James Baldwin. Light food and drinks provided.
About the film
Master filmmaker Raoul Peck envisions the book James Baldwin never finished, Remember This House. The result is a radical, up-to-the-minute examination of race in America, using Baldwin's original words and flood of rich archival material. I Am Not Your Negro is a journey into black history that connects the past of the Civil Rights movement to the present of #BlackLivesMatter. It is a film that questions black representation in Hollywood and beyond. And, ultimately, by confronting the deeper connections between the lives and assassination of Medgar Evers, Malcolm X and Martin Luther King Jr., Baldwin and Peck have produced a work that challenges the very definition of what America stands for.
Whatever you think about the past and future of what used to be called "race relations" this movie will make you think again, and may even change your mind.
A.O. Scott
The NYTimes
Finale Concert: I AM A MAN
June 8th: 7:00PM, Hibernian Hall
Pay-What-You-Can
*Pre-concert composer talk with Brian R. Nabors @ 6:00PM
Featuring spoken word, dance, multimedia, and music by Black male composers, including a world premiere by Castle of our Skins 2018-2019 Composer-in-Residence Brian Raphael Nabors. The concert will be followed by a reception.
Save This Event
When & Where

Hibernian Hall
184 Dudley Street
Boston, MA 02119


Organizer
Hibernian Hall is a versatile facility with a grand ballroom and a separate meeting room.
It is an ideal venue for a wide range of civic and cultural events. Driven by our mission to offer arts and cultural programming, we make Hibernian Hall available as a flexible space for stage productions, artists' showcases, film screenings, and cultural celebrations. The ballroom is available for community presentations in music, dance, theater, film/video, and spoken-word performance art. The space accommodates audiences of up to 250 people.
The broader mission of Madison Park Development Corporation is supported through the use of the facility by other non-profit organizations. Hibernian Hall hosts fundraisers, community meetings, civic engagement forums, political events, award banquets, and business expositions.
In its third-floor setting, the historic ballroom has 3,600 square feet of useable space and retains its original architecture of high ceilings, hardwood flooring, and ten arched windows that offer a panoramic view of Boston's skyline. In addition to tables and chairs, amenities include a dressing room, adaptable staging and seating platforms, audio/visual equipment, Wi-Fi access, and window shades that can be opened and closed with the touch of a button.
You will find that Hibernian Hall is a true gem in the heart of Roxbury. An all-inclusive experience, any event at Hibernian Hall is indeed a choreography of arts, culture, community and economic development. Our value is unmatched.