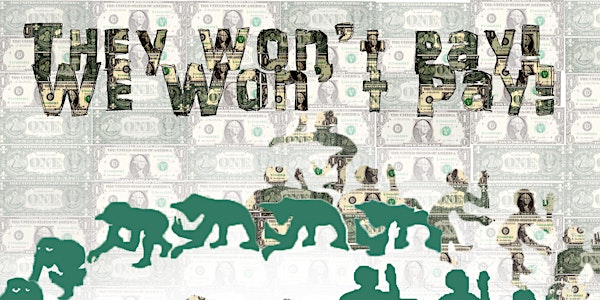 CASTING CALL for "THEY DON'T PAY? WE WON'T PAY!
When and where
Location
Flashpoint 916 G Street Northwest Washington, DC 20001
Description
AMBASSADOR THEATRE CASTING CALL:
THEY DON'T PAY, WE WON'T PAY by Dario Fo
Directed by Joe Martin
MONDAY, DECEMBER 14, 2016 6-8 PM and 8-10 PM
At FLASHPOINT, 916 G Street, NW, Washington DC 2001
Please register for one of the time slot online and be ready to read from the script!
Send your photo/resume via e-mail: ambassadortheater@aticc.org and also bring one with you to the audition!!!
The scheduled run, March 1-26, 2016, Wednesdays - Saturdays at 8 PM, Sundays at 2:00 PM
First Preview: Tuesday March 1.
Second Preview: Wednesday, March 2
Opening: Thursday, March 3, 2015
Rehearsal Schedule: Actors are not called to all rehearsals, and sometimes only for a portion of rehearsal until the runs and tech.
Sat/Sundays: Generally 1pm-6 pm No evenings until tech week February 21-February 28, 2016
Weekdays: 6:30pm – 10:30 pm
(After the first two weeks of source work—reading, workshops, and ensemble work, this will be only 3-4 weekday nights until runs and tech)
The Play:
One of the great European comedies of the 20th Century, which caused Nobel Prizing winning playwright Dario Fo to be brought to trial for incitement in this play about women a mass movement of shoplifting from food stores, due to price hikes, throughout a city. The result is a peculiar number of pregnant-looking women in coats being pursued by the authorities everywhere. It is both physical comedy and a comedy of wit, sometimes in the "boulevard" style. Fo has roots in Commedia dell'Arte, and the influence shows in this modern farce.
The characters:
ANTONIA is a middle-aged (40s-50s) working class woman who knows how to live dangerously in a crisis—but prone to disastrous mistakes of judgment. She acts like she wants her husband's approval in all she does – just enough to keep him fooled.
MARGHARITA is a working class woman in her mid-20s to mid-30s (give or take) who often follows her friend Antonia's lead; who both enjoys mischief, but is quickly frightened in a corner.
GIOVANNI (age 40 – 55 for actors), Antonia's husband, works in a factory. He is angry about the outsourcing of jobs by companies overseas, and unemployment at home. He is a moralist insofar as he supports law and order. He thinks himself shrewd – but is easily duped.
LUIGI (late 20s to late 30s) is Marghareta's husband, also a worker, discontent with deteriorating working conditions and prices. Quite frantic when he is told his wife is "pregnant" but just slow enough – or male enough – to believe it.
POLICE SERGEANT, UNDERTAKER, GRANDFATHER, THE STATE TROOPER: all played by the same actor. (20s to 50s) All these characters "look mysteriously" alike.)