CASTING a BUTCH WALKER & THE BLACK WIDOWS MUSIC VIDEO W ALIST STAR CAMEO

Sunday, December 11, 2011 from 7:30 AM to 7:30 PM (PST)
Event Details
BRUCE WALKER & THE BLACK WIDOWS MUSIC VIDEO W ALIST STAR CAMEO
Music Video
NON-UNION




Director: Shane Valdez
Producers: Salome Breziner & Adam Ruben
Cameo from an A List Star in this scene
Casting Director: Susan Johnston
Wardrobe Fitting Date: none
Shoot/Call Date: this Sunday Dec. 11th 2011
Pay Rate: see below
Location: Hollywood, CA

 
SUBMIT ELECTRONICALLY
 
HAPPY HOLIDAY SEASON  

This is one scene of a music video

 

Here is a link to the song we will be creating a music video for:
The song itself can be found at http://www.youtube.com/watch?v=uz0EAMDsyVc

Compensation: Small Perks-Casting Director will sign you in, there will be a raffle of some sponsor gifts including TShirts, Boots, Gift Cards etc  and an A List celebrity will be in a cameo in this scene.

 
[JERSEY SHORE TYPES] The men are lifting up their shirts showing off their six packs, while they arm wrestle each other. The girls are in each other's faces.

 

[KARDASHIAN TYPES] They are all texting on their phones, while ignoring guys try to talk to them.

 

[TATTOOED UFC] They are all tattooed and pushing each other around, ignoring their girlfriends.

 

[RAPPERS] Are all showing off their bling, and popping bottles of champagne.

 

[CLUB GOERS] Club Goers will be hanging and grooving to the music

 

PLEASE EMAIL SUSANJOHNSTONCASTING@GMAIL.COM YOUR NAME, CELL AND A SMALL PIC. THANKS.

 

Should you want to participate in the Pilot Season Breakthrough Seminar this Saturday, here is a link to get the seminar for only $10. Thanks.

 http://www.eventbrite.com/event/2577306794 




 www.susanjohnstoncasting.com




Due to popular demand. We are having a Pilot Season Breakthrough - Casting and Getting The Part with Casting Director Susan Johnston-Sat. Dec. 10, 2012

$10 Online Pre-Sale up until the day before. 


$20 at the door 

List Price: $30.00 

Our Price: $10.00 

Sale Price: $10.00 

You save $20.00!

 Our recent Pilot Breakthrough attendees had this to say:

"I wanted you to know that I really enjoyed your casting seminar last Saturday. It was informative....and entertaining. Thanks especially for showing us what casting directors see when we submit for a role."

-- K. Carlson

 

"Saturday's event was most informative and I have already put a couple of items I learned into practice and am getting instant results." -- S. Byard

 

" Thanks so much for giving so much today in the workshop. Even after 30 years in the business, one can learn something! I'm going to put your tips into practice right after the holiday!" -- Kaye

 

CURRENTLY CASTING: 

 

 Prey: Origin of Species - feature film based on a Marvel Graphic Novel 
Kokoda Trail - a TV show shooting in Austrailia
Dr. Marion - a tv show based with Elder Care Expert Dr. Marion
A Web Series based on a book.
A feature length thriller that will shoot in January 2012
New Media Film Festival Host for June 2012 Red Carpet
I'm slated to cast these two projects once schedule is locked
Film Production: http://www.thecrimegamermovie.com
TV Production: http://www.clubbeverlyhillstvseries.com
THREE HOUR SESSION INCLUDES:
Learn the 'Inside Skinny' no one tells you that prevents you from getting booked. Get steps ahead of everyone else by learning what you need to do to book.

How to get to the next level? Tools to know the part and be the part. You will receive a workbook to take home with you from work shopping it.

Get answers to all of your acting questions. From your agent/manager perspective, casting director, producers and heads of studios. This will be an active participation class with Q &A's.

See what Casting directors see when you submit. We will go online and view an actual casting breakdown, the process, the submissions and who booked.

How do you get out there and get seen? What's appropriate and what's not?

Cold Reading of an actual project I am casting. The Director will be here as well.  Sides provided when you arrive to class. 
Bonus!! You can buy the NEWLY REVISED, twice as many pages Ebook version of The resource book (as seen on ABC and CBS) packed full with info on How to Make and Save Money in LA for only $5. above.. www.DidYouKnow.la

Held at Showbiz Store & Cafe 500 S Sepulveda Blvd. Ground Floor in the Seminar Room LA CA  90049

ABOUT SUSAN JOHNSTON:
Judge Daytime Emmys 2011
Susan's casting and producing credits include feature films; television shows; music videos and commercials. In addition to running her own casting and production companies, Susan has taught and spoken at USC School of Cinema and Television summer program, Sherwood Oaks College, during Sundance, Marina Del Rey International studies, Van Mar Academy, Los Angeles Film School, Beverly Hills Adult Education and for several years at Young Actors Camp, voted top 5 acting camps in the world by Yahoo.
Susan Johnston has helped over 60 non union actors become SAG during her Casting Director career which started in 2000. Recently interviewed for both Suzanne Lyon, David Heavener's upcoming books as well as "Hollywood Drive-What it Takes to Break In, Hang In and Make it in the Entertainment Industry" by Eve Light Honthaner, "Career Opportunities in the Film Industry; 2nd Edition" by Jan Yager and finally, the successful Italian Industry book, "Ciao Artiste!" by Fioretta Mari and Manuella Metri.
____________________________________________________________________________________
PAST ATTENDEES HAVE SAID:
"Once again, you did a fantastic job, and the film is better for your involvement." -- Stephen Israel, Producer 
"You are fantastic Susan! I am so glad you can take on 65 kids for the day.....You know the industry so well and the kids love you!"  Nichelle, CEO Young Actors Camp
"I walked away from Susan's seminar with inside industry info and direct feedback on how to keep my career moving forward....a true value that I'm definitely telling my friends about." -- D.J. Pierce
"Just wanted to say thank you so much for a wonderful experience in your workshop. Your down-to-earthiness is much appreciated as well as your generous knowledge to fellow actors and thank you for inspiring me to be mindful of "doing the right thing." -- Kali Chung
"Thank you for your time tonight. Your class was both informative and engaging. I really appreciate your hands-on approach to learning, as well as providing the opportunity to cold read in front of producer".
-- Bri Jones
"Your expertise is soooooooo valuable" -- Joan Lucas (actress, Dreams Awake, Singing In The Rain)
"I thank you for taking the time to speak to us and share with us the many ways to approach a casting session and book the jobs. I feel a lot more confident than I did before your seminar. I love the fact that you speak the truth and don't hold back and I hope I get the opportunity to work with you and learn from you in the near future. Thank you again for all the information that you provided." -- Bibi Amos
BUY YOUR TICKETS TODAY!  http://www.eventbrite.com/event/2577306794 
Organizer
Susan Johnston Casting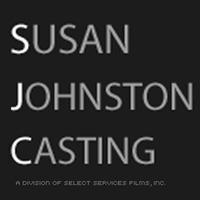 to advance actors in thier career
CASTING a BUTCH WALKER & THE BLACK WIDOWS MUSIC VIDEO W ALIST STAR CAMEO