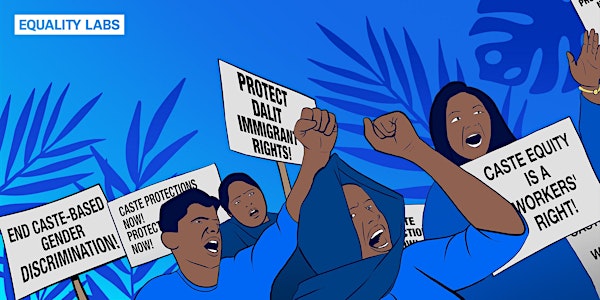 Caste Equity: An Intersectional Civil Rights Movement [FUNDER BRIEFING]
Caste Equity: An Intersectional Civil Rights Movement [FUNDER BRIEFING]
About this event
Join us for a closed-door funder briefing to learn about the emerging worker-led movement for caste equity that is transforming institutions, race and immigrant relations, and democracy in the US.
Confirmed Speakers:
Thenmozhi Soundararajan, Equality Labs
Michelle Miller, Coworker.org
Aleyamma Mathew, Collective Future Fund
Supriya Pillai, Hidden Leaf
Prachi Patankar, Foundation for a Just Society
Who Should Attend this Briefing?
This briefing will feature presentations and remarks from Equality Labs staff including ED Thenmozhi Soundararajan; organizers and union members; and philanthropic leaders. This event is especially for partners, organizers, & funders who are focused on:
Racial justice, equity, and inclusion
Civil rights
Gender justice
Labor: Workers' rights and employment inclusion
Immigrant and minority rights and representation
Cultural narrative, storytelling, and organizing
Healing justice
For more information, contact Sarita Sagar, Director of Development at Equality Labs at sarita@equalitylabs.org.
Why Caste Equity? And Why Now?
Caste apartheid is a structure of oppression that affects more than 260 million people worldwide, including 5.77 milion Americans. This exclusionary system ranks people at birth with a caste determining every aspect of their life from their job, where they can live, whom they marry, and even where they worship.
Caste is not restricted to South Asia, but it is transplanted into its diasporas. Very often caste discrimination manifests among South Asian Americans in the United States in workplaces, educational institutions and places of worship. Some of the most egregious documentations of caste in the diaspora have started in workplaces where Dalit and caste-oppressed workers have been subject to caste slurs, untouchabilty practices of segregation, harassment, gender-based violence and termination. These cases are not one-time events but an ongoing, structural manifestation of caste hierarchy and violence.
Our seminal survey on caste in the United States (https://www.equalitylabs.org/castesurvey) was a pivotal shift in our focus to improve the generational, limited ways of engaging and dealing with caste. This path-breaking research highlighted that 25% of Dalits reported facing assault based on their caste in the US. These findings have been used when the State of California sued Cisco for caste discrimination and have led to congressional briefings, and the Santa Clara Human Rights Commission working with our team to conduct a hearing on caste discrimination in the Bay Area.
Caste-oppressed people are subjected to caste-based slurs and derogatory remarks, discriminatory hiring processes, disparate salaries and benefits, attempts to "out" or identify another's caste background, caste-based workplace sexual harassment, bullying, and even termination, gender-based violence, housing, and educational discrimination. These workers come from multiple sectors from tech and medicine to hospitality, education, and building trades.
Caste Equity: An Urgent and Emerging Civil Rights Movement
Caste discrimination is an intersectional civil rights issue – issues of caste are also workers' rights and have impacts on gender and economic equity too. Over the past two years, Equality Labs has served as an incubator for inter-caste, multi-racial workers' collectives, spanning across 10 different corporations, including Amazon, Google and more. Simultaneously, we have created and run several Dalit survivor circles that help create safe spaces for survivors to ground themselves in healing, community, and training to enable them to emerge as effective leaders in their communities. We have also been strategically building relationships with the American Bar Association to think through the legal approach to stopping caste-based discrimination.
As the nation's first anti-caste campaign, we are utilizing worker advocacy and research, policy advocacy, and cross-industry solidarity to establish caste as a protected category and create safer work environments.
Our caste equity program addresses this issue with the pillars of advocacy, case management, counseling, training, and networking to help uplift members of caste-oppressed communities while also helping them with housing, workplace issues, university issues, and other institutions where caste discrimination is taking place. Our hope is that this pilot can model a national approach to support the caste-oppressed community across the country.
About Equality Labs
Equality Labs is the first and largest civil rights organization working to empower caste-oppressed people in the US and globally. As a Dalit (formerly known as the "Untouchable" people)-led organization, we are dedicated to ending caste apartheid, Islamophobia, gender-based violence, and white supremacy. We build power through multiple strategies including advocacy, community organizing, research, digital security, and training. Our membership centers cultural and religious minorities including Dalit, Adivasi (indigenous people of South Asia), Bahujan, Muslim, Buddhist, Sikh, and Christian South Asians.