Castafari Virtual Fishing School - Casting & Jigging For Tuna & How To Get Finicky Fish To Eat - Capt. Terry Nugent
About this Event
This will be the 5th Zoom featured Castafari Fishing Seminar online broadcast. There will be 7 presentations total. Each week there will be a new subject, and each subject can be purchased separately. A list of all 7 presentations can be viewed by clicking this link https://castafari-virtual-fishing-seminar.eventbrite.com. All broadcasts will be held live at 7pm every Thursday evening starting on February 25th. The presentations will encompass a narrated Powerpoint slideshow presentation followed by an interactive Q&A session and product raffle(s). During this event, we will be giving away a Shimano Saragosa reel and Grappler rod combo as well as Costa Del Mar sunglasses, and other premium prizes by Deep Ocean Apparel. The raffle alone is worth the price of admission!
Questions can be texted in by all viewers, and all questions will be answered by the speaker once the presentation is finished. We ask that you please keep your questions clear and concise. All registered viewers will be assigned a ticket number and entered into the raffle drawing which will be held live. Prizes will then be mailed out to the winners.
These broadcasts will be live only. They will not be available to record, and can only be accessed by registered viewers. All registered viewers will need to use the same email account they used when registering to access a purchased event. Tickets can be purchased here on Eventbrite at $25.00 each. This price includes all processing fees. Each of the 7 Zoom featured presentations will have it's own "event" on Eventbrite. Upon registration each ticket holder will be emailed log in access info and instructions on how to get into the online event they purchased. You will need a downloaded Zoom app to view this event.
This particular presentation will offer a detailed breakdown on jigging and casting for bluefin tuna by captain Terry Nugent. For the passed several seasons, bluefin tuna of all sizes have frequented waters around the east side of Stellwagen Bank, Provincetown, and Chatham. Captain Terry is widely known as one of the most proficient captains in the light tackle offshore game in the northeast. We are excited to have him back in the Castafari Seminar line up. Captain Terry will discuss what set ups work best, and how to outfit your boat with the tools and tackle you will need to connect to a tuna with spinning and jigging tackle. Learn how to entice finicky fish that are focused in on small baitfish., especially butterfish. Captain Terry has some tricks that work on days you need some extra magic. This will cover what to look for out there, where fish are congregating, and how to target them effectively.
FOR ALL OF OUR CUSTOMERS PURCHASING ACCESS TO ANY OF THESE EVENTS...we will be providing you complimentary access to our final virtual broadcast sale tour at J&B Tackle on April 8th. Once you are registered for any of our events, you will receive a access link in your purchase confirmation email. This will allow you to view and access the Episode 7 event page. There will be an access code posted on this Episode 7 event page which will allow one person to participate in the sale. This particular event Episode 7, will encompass a virtualized tour and sale at J&B Tackle. J&B Tackle is the primary retailer partner at the annual Castafari Big Game Fishing Seminar. J&B Tackle is one of the best and biggest tackle centers in the northeast. They have been around for over 30 years for good reason. For this event, they are offering a very exclusive opportunity for all of our event viewers to take part in a one time storewide sale which will highlight some big ticket items and products related to the material featured in our events. Store owner, Kyle Douton, will be hosting this event, and walking everyone through on how to take advantage of this unique opportunity. We will be updating this page and featuring some of the product sales being offered as the event approaches. All viewers will need a one time/one person access code to participate.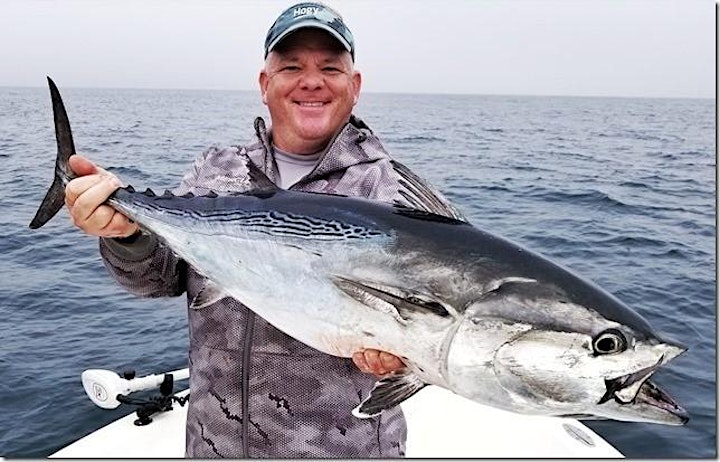 Originally from Holbrook MA, Captain Terry Nugent has been fishing offshore waters for over 30 years. In 1998 his relentless saltwater fishing experience was put to good use, and Riptide Charters was born. Capt. Terry is a USCG Licensed 50 Ton Master with Assistance Towing Endorsements. As the Navionics and Raymarine Tournament Team Captain, Capt.Terry has earned several tournament top placements. He has also guided his clients to a Massachusetts Governors' Cup trophy and back to back IGFA World Records.
Capt. Terry is best known for his success in helping to develop and enhance the New England Bluefin tuna topwater fishery. Having the uncanny ability to put novices and experts alike within casting reach of trophy Bluefin Tuna has made him one of the true faces of Cape Cod's tuna casting industry. As this world class fishery evolves at an exponential rate, Capt. Terry continues to foster innovation by serving on the design and field testing teams for Navionics, Salty's Lures, Ocean Saltwater Lures, Offshore Innovations, Hogy Lures and Stormr . Captain Terry has also been busy creating his own line of inshore Tuna spinning rods (Riptide Big Gun). An IGFA certified Captain, Terry is on the Pro Staff for Mercury Marine, Raymarine, and Costa Del Mar.
Capt. Terry has appeared in numerous TV shows from the local "On the Water" on NESN programming to international TV with Bob Izumi's Real Fishing on Versus, The Obsession of Carter Andrews and world reknown, The Spanish Fly on ESPN2. Terry has also been featured in several books and publications including "Tuna on the Fly" (Gilmore, 2006), Saltwater Sportsman, Sportfishing Magazine, Center Console Angler, Northeast Boating, On the Water, Field and Stream, Fishing Boats Registry, Coastal Angler Magazine and The Fisherman Magazine.