CAST-USA GNY Entrepreneurship Series, Fireside Chat with Serial Entrepreneu...
Description
CAST-USA GNY Entrepreneurship Series
Fireside Chat with Malcolm Elvey, an Accomplished Entrepreneur and Businessman at Columbia Business School
Time: Monday, June 5th, 2017, 6:30 pm - 8:00 pm EDT
6:30 pm - 7:15 pm Fireside Chat
7:15 pm - 7:30 pm Q&A
7:30 pm - 8:00 pm Networking
Place: Uris 140, Columbia Business School, 3022 Broadway, New York, NY 10027
Special Thanks to Columbia Business School Greater China Society (GCS) for co-organizing this event.
Interviewed by Coco Kee, Co-founder, KGA
Have you wondered how to decide whether a startup idea is good or not? When is the best time to start your own business? How to tell whether you are fit to be an entrepreneur? What are the most common mistakes entrepreneurs make? What are the ingredients fundamental to turn an idea into a successful venture?
If you are interested in finding out the answers to the above questions and more, please join us for a fireside chat with Malcolm Elvey, a serial entrepreneur and an accomplished businessman who will share his insights and personal experiences.
Mr. Malcolm Elvey
Malcolm is both an angel investor and a business coach. He's served as CEO of Metro Cash and Carry during the early '70s and grew the publicly held South African warehouse club company from zero to 60 outlets. In 1976 under his leadership Metro opened Jetro Cash & Carry in Brooklyn, N.Y., pioneering the warehouse club model which inspired the creation of Sam's Club, Costco and BJ's. He later founded Esquire Communications which became the nation's largest court reporting and legal services company; and also Groundlink, a ground transportation company. Earlier he spent time with the Hawley Group where he managed 7 divisions: Food Service, Hospital Housekeeping, Car Auction, Cleaning & Building Services, Communication Services and ADT, the largest provider of electronic security services in the United States.
Malcolm has served on the Boards of 8 public companies from Italy, the U.K. South Africa and the U.S. including The Children's Place, Inc. (Nasdaq: PLCE), a leading specialty retailer.
An advocate for entrepreneurship, Malcolm has judged business plans at Columbia Business School for 17 years. His one-page business plan format remains the standard. He serves as director or advisor for 10 early stage technology companies including werk.place, AsYouStay, Eventmate, OpportunityNetwork.com, Pypestream, Dashbid, Epibone, and RealConnex. He's a Chartered Accountant and holds an MBA from the University of Cape Town, South Africa.
He's been active in YPO (The Young President's Organization) since 1973.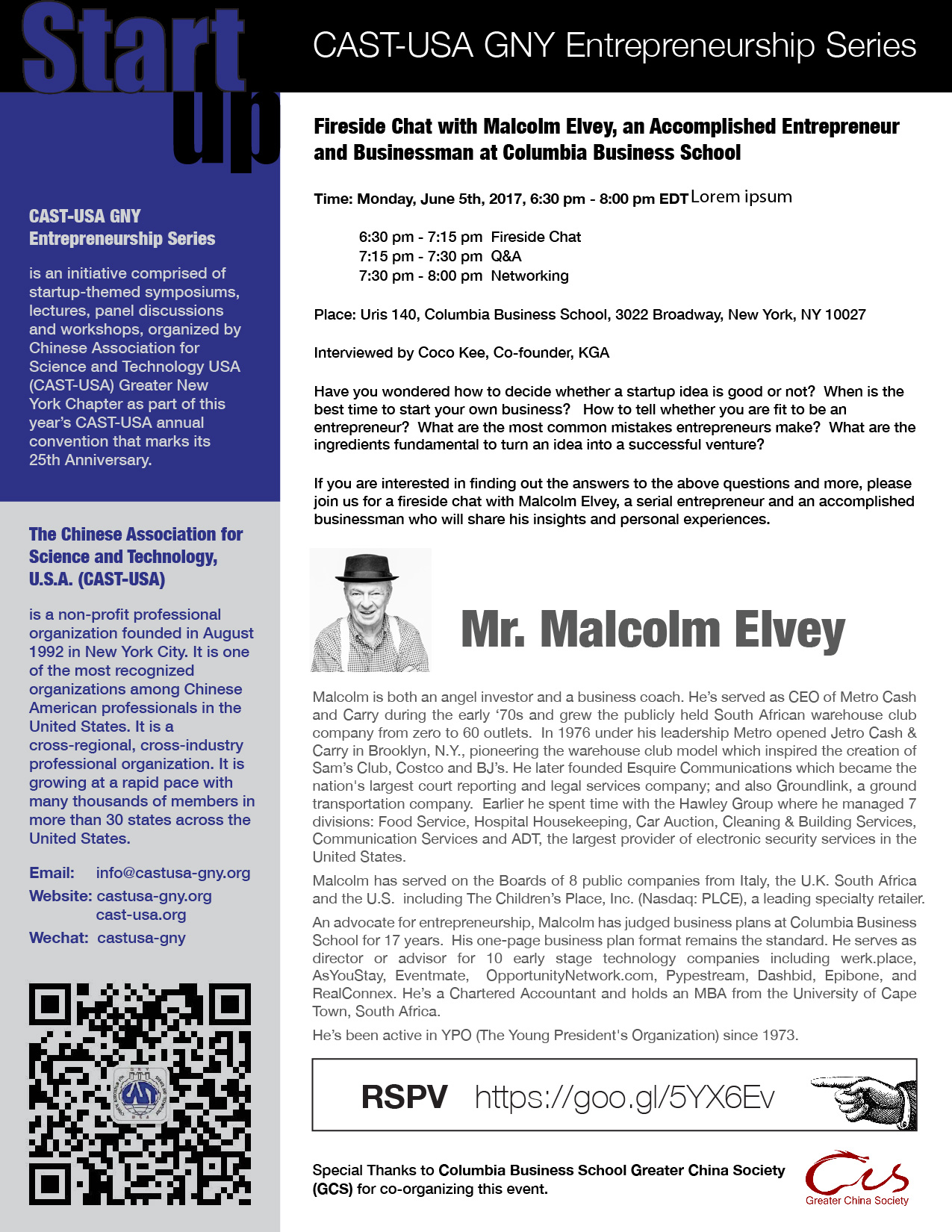 CAST-USA GNY Entrepreneurship Series
CAST-USA GNY Entrepreneurship Series is an initiative comprised of startup-themed symposiums, lectures, panel discussions and workshops, organized by Chinese Association for Science and Technology USA (CAST-USA) Greater New York Chapter as part of this year's CAST-USA annual convention that marks its 25th Anniversary.