About this Event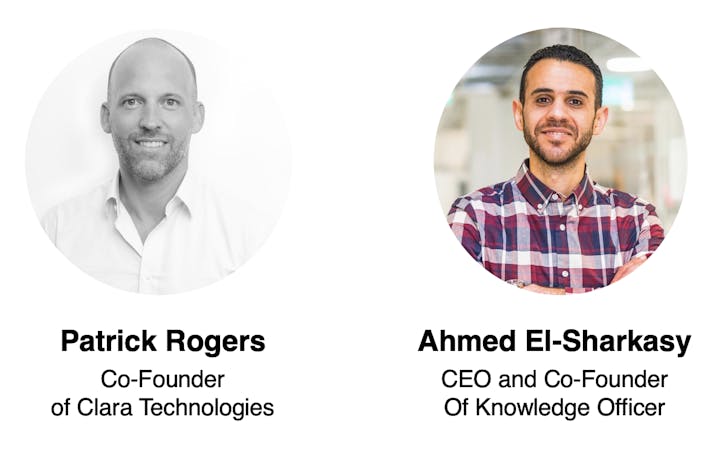 Highlights of Interviews at this event!
Patrick Rogers - Co-Founder @ Clara Technologies ($2M Seed Investment) www.clara.co
Clara is a legal operating system that digitizes and automates startup legal expertise. Clara empowers founders, ensures a startup's venture-readiness and provides unmatched portfolio management and market intelligence to its investors.
Ahmed El-Sharkasy - CEO and Co-Founder @ Knowledge Officer ($1.3M Seed Investment) www.knowledgeofficer.com
Knowledge Officer is a London-based startup with the mission of organizing the world's knowledge and adding context to context. We build personalized and dynamic learning paths to help individuals reach their career goals.
Cass Entrepreneurs Network - Fireside with a Founder
This event is relaxed and fun, encourages conversations, and gives you the opportunity you've been looking for-- meet interesting startups and companies, hear interesting talks, and network with other experienced founders and coaches who can help you reach your goals.
Check out the link to our Entrepreneur podcast here!
Our event is designed for startups and aspiring founders
We design our event to offer value to startups. That's why high quality, experienced speakers and coaches attend our events and every event is sold out :-) After the three talks, you have the opportunity to network with other startups and founders who are in your city. Along with free drinks and snacks, how could you ask for more?
We have snacks, drinks, interesting talks, small-group discussions and of course plenty of time for you to network
Agenda
6:30pm -6:45pm Check-in and networking :-)
6:45pm - 8pm Interview with Patrick Rogers, Co-Founder @ Clara Technologies and Ahmed El-Sharkasy, CEO and Co-Founder @ Knowledge Officer
8pm -9pm Networking with Founders, Startups and Students
*Beer and crisps
9pm Event Ends