CASPA Summer Symposium: Breaking the Memory Wall, the AI Bottleneck

Saturday, July 13, 2019 from 12:00 PM to 5:30 PM (PDT)
Event Details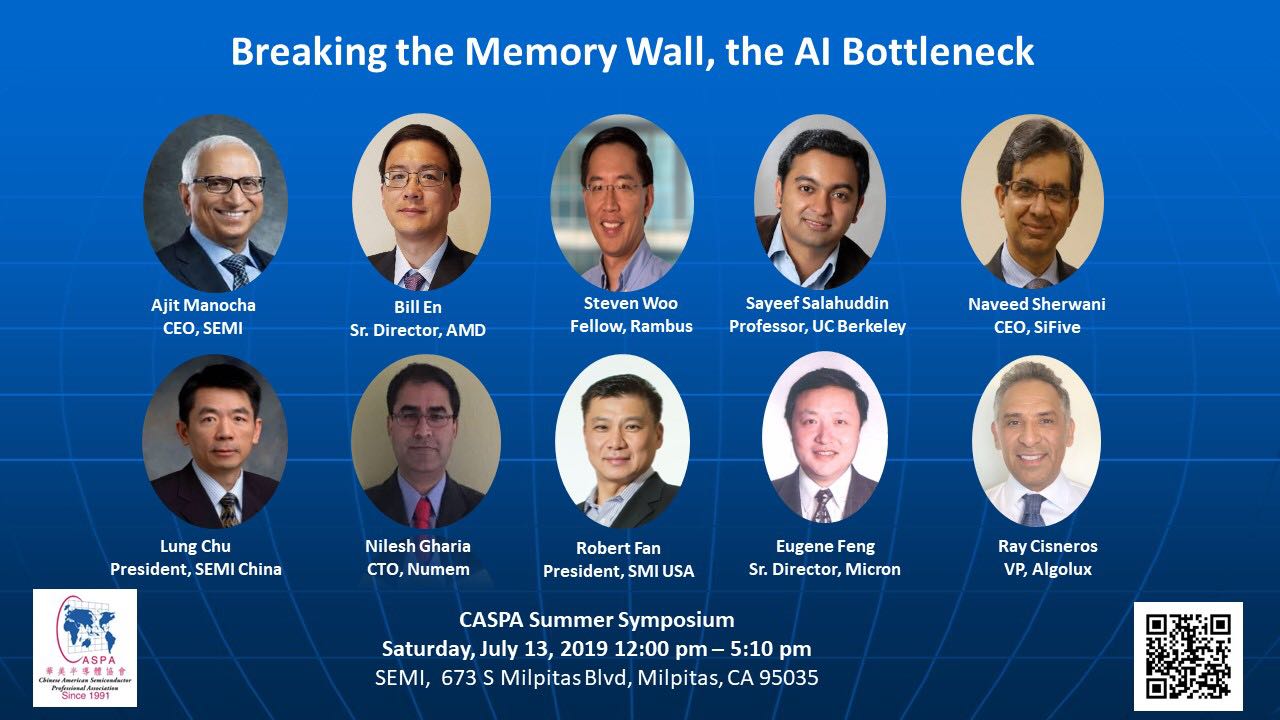 CASPA Summer Symposium:
Breaking the Memory Wall, the AI Bottleneck
Topic: Breaking the Memory Wall, the AI Bottleneck  

Agenda:  
12:00pm – 1:00pm    Registration & Networking
1:00  pm – 1:10pm    Welcome from Semi & CASPA chairman  
1:10  pm – 1:40pm    Ajit Manocha, CEO,  SEMI  
1:40  pm – 2:10pm    Steven Woo, Fellow and Distinguished Inventor,  Rambus  
2:10  pm – 2:20pm    Break  
2:20  pm – 2:50pm    Sayeef Salahuddin, Professor of EECS Dept., UC Berkeley  
2:50  pm – 3:20pm    Naveed Sherwani, President and CEO,  SiFive  
3:20  pm – 3:50pm    Bill En, Sr. Director, AMD                        
3:50  pm – 4:00pm    Break                        
4:00  pm – 5:00pm    Panel Session :  Breaking the Memory Wall, the AI Bottleneck
                                  Lung Chu, President, SEMI China  (Moderator)
                                  Nilesh Gharia, CTO, Numem
                                  Robert Fan, President, SiliconMotion USA
                                  Ray Cisneros, VP, Algolux
                                  Eugene Feng, Director, Micron
5:00  pm – 5:10pm    Closing Remark
Abstract:
The theme of the symposium is "Breaking Memory Wall, the AI bottleneck", it covers challenges in Artificial Intelligence, how to overcome and the impact in the future of semiconductor industry.  The symposium will enhance participating company's leadership for the revolution happening in our industry around semiconductor and AI.
Speakers:

Ajit Manocha
President and CEO
Speech title: TBD      
Bio: 
Ajit Manocha is the president and CEO of SEMI. Headquartered in Milpitas, California, SEMI is the global industry association serving the electronics manufacturing supply chain. Manocha, an industry leader has over 35 years of global experience in the semiconductor industry.  
Manocha was formerly CEO at GLOBALFOUNDRIES, during which he also served as vice chairman and chairman of the Semiconductor Industry Association (SIA).  Earlier, Manocha served as EVP of worldwide operations at Spansion.  Prior to Spansion, Manocha was EVP and chief manufacturing officer at Philips/NXP Semiconductors.  He began his career at AT&T Bell Laboratories as a research scientist where he was granted several patents related to microelectronics manufacturing.  
Manocha is active on global advocacy issues and has served on the President's committees for "Advanced Manufacturing Partnerships" and the President's Council of Advisors on Science & Technology (PCAST).            
Bill En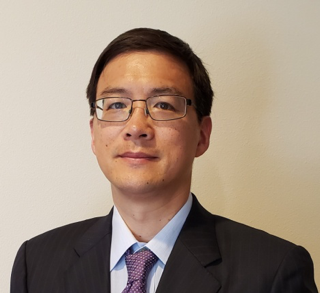 Sr. Director, AMD  

Talk Title: Advanced Computing and Memory Innovation for AI
Abstract: 
The exponential growth of data and the AI to intelligently process that data has pushed the limits of memory capability. The growth of the Internet of Things (IOT) and increasing sophistication of AI tools to provide end user results from rapidly expanding databases, the need for enhanced memory will only grow.  With Moore's law scaling challenges, memory scaling is falling behind computational logic's capabilities and need. New innovations are needed to increase memory capability to support AI requirements.    
Bio: 23 years of experience in the Semiconductor Industry ranging from silicon wafer R&D, process technology, circuit design and foundry technology with over 65 patents and 30 publications.  He graduated from Univ. of California Berkeley with a Ph.D in Electrical Engineering and Computer Sciences in 1996. He is currently Sr Director at Advanced Micro Devices overseeing Foundry technology from initial R&D through production for all AMD products.  
Steven Woo
Fellow and Distinguished Inventor, Rambus Inc.
Talk Title: TBD
Abstract:  TBD
Bio: 
Steven Woo is a Fellow and Distinguished Inventor at Rambus Inc., and works in Rambus Labs on technology and business development efforts across the company.  His current focus is on technology and memory systems for modern computing infrastructures, including machine learning, advanced computing systems, and servers. Since joining Rambus, Stevehas worked in various roles leading architecture, technology, and performance analysis efforts, and in marketing, strategy, and product planning roles.  Steve received PhD and MS degrees in Electrical Engineering from Stanford University, and Master of Engineering and BS Engineering degrees from Harvey Mudd College.                        
Prof. Sayeef Salahuddin
Electrical Engineering and Computer Sciences, University of California Berkeley     
Speech Title: Exploiting New Physics for Next Generation AI    
Bio: 
Sayeef Salahuddin is a professor of Electrical Engineering and Computer Sciences at the University of California Berkeley. Salahuddin is mostly known for the discovery of Negative Capacitance effect. His work has focused primarily on conceptualization and exploration of novel device physics for low power electronic and spintronic devices. Salahuddin received the Presidential Early Career Award for Scientist and Engineers (PECASE) from President Obama in 2016. Salahuddin also received a number of other awards including the NSF CAREER award, the IEEE Nanotechnology Early Career Award, the Young Investigator Awards from the Air Force Office of Scientific Research (AFOSR) and the Army Research Office (ARO) and best paper awards from IEEE Transactions on VLSI Systems and from the VLSI-TSA conference. In 2012, Applied Physics Letters (APL) highlighted two of his papers among 50 most notable papers among all areas published in APL within 2009-2012. Salahuddin is a co-director of the Berkeley Device Modeling Center (BDMC) and Berkeley Center for Negative Capacitance Transistors (BCNCT). Salahuddin is also a co-director of ASCENT,  a multi university research center jointly supported by SRC/DARPA. He served on the editorial board of IEEE Electron Devices Letters (2013-16) and was the chair of the IEEE Electron Devices Society committee on Nanotechnology (2014-16). Salahuddin is a Fellow of the IEEE. 
Abstract: 
Abstract: As conventional dimensional scaling face significant challenges, it is becoming increasingly difficult to sustain the ongoing march of computing hardware. In this context, our work in the recent years has focused on exploiting new physical phenomena that can potentially offer new functionality. In particular, in this talk I shall talk about the Negative Capacitance Field Effect Transistors (NCFET), which has shown potential for extending the channel length scaling beyond the roadmap by offering immunity to short channel effect and could lead to low standby power SRAM circuts. I shall also talk about non-volatile ferroelectric memory which might allow high density content addressable memory cells close to the processor. Finally, I shall describe some of our recent efforts on Spin Transfer Torque MRAM technology which seems poised to become commercially available as an embedded memory technology. 
Naveed Sherwani
President and CEO, SiFive. 

Speech title: Domain Specific Architectures Accelerating Embedded AI for Edge Devices  
Bio:
Dr. Naveed Sherwani, Ph.D is Chief Executive Officer at SiFive, Inc. since August 15, 2017 and its President since May 2019. Dr. Sherwani serves as the Chief Executive Officer and President of PeerNova, Inc. Dr. Sherwani has over 25 years of experience in Entrepreneurship, Technical Engineering and General Management. He co-founded Open-Silicon, Inc. in 2003 and served as its Chief Executive Officer and President. He also founded Brite Semi. Dr. Sherwani was the founder and General Manager of Intel Microelectronics Services. He served in various technical and managerial positions in Intel for 9 years. He Co-architected the Intel microprocessor design methodology and environment, that has been used in various leading microprocessors. Prior to Intel, Dr. Sherwani served as a Consultant for various telecommunications and computer companies, mainly focused on ASIC style design flow and cell library design to improve time-to-market. He also served as a Professor at Western Michigan University, where his research concentrated on VLSI Physical Design Automation, combinatorics and graph algorithms. He served as Chairman Emeritus of Open-Silicon, Inc. Dr. Sherwani served as the Chairman of Brite Semiconductor Inc. He serves as the Head of Advisoy Board of CoinTerra Inc. Dr. Sherwani serves as a Director for the Global Semiconductor Alliance (GSA) (formerly, the Fabless Semiconductor Association). He serves as a Director of PeerNova, Inc. He serves as a Director of Brite Semiconductor Inc. and Touchstone Semiconductor, Inc. He served as a Director of Open-Silicon Inc. and Integration Associates Inc. He served as a Member of the Technical Advisory Board of Pyxis Technology Inc. In 15 years, he is a frequent speaker at DAC, ICCAD, International Conference on VLSI Physical Design Automation. Dr. Sherwani is a Noted Author, with 4 books, focused on Physical Design Automation, in circulation and widely used at major Universities around the world. In addition, he has Authored or Co-Authored 3 books and over 100 articles on various aspects of Physical Design Automation and ASICs. Dr. Sherwani received his Ph.D. from University of Nebraska-Lincoln.                
Panel: Breaking the Memory Wall, the AI bottleneck  
Panel Moderator:  
Lung Chu
President, SEMI China
Bio:
Lung Chu currently serves as Corp VP and President of SEMI China.  He is in charge of the overall operation of SEMI's programs, committees, products, including SEMICON China event which attracted 91,000 people this year.      
Lung has over 30 years of experience in the industry.  Prior to SEMI, Lung served as regional president of GUC, Cadence, Magma in charge of Asia Pacific and China.  He has been based in Shanghai for 15 years, but worked in Silicon Valley for many years as executives of KLA-Tencor, TMA,  Cadence, Apple, and Philips Semi.    
Lastly but not leastly, Lung also served as Chairman of CASPA in 2002-2003, and is still the chairman of CASPA chapters in China and Taiwan.  So he is truly an old friend of CASPA with passionate in serving the IC industry.                 

Panel Speaker 1:
Nilesh Gharia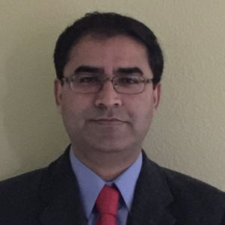 Co-Founder/CTO at Numem
Bio:
Nilesh Gharia is CTO/founder of Numem, an MRAM startup. Before founding Numem, he was an Engineer at Broadcom where he led a 28nm MRAM-based design and worked on MRAM development from concept through silicon production. He has over 20 years experience in memory design. He earned an MSEE from the New Jersey Institute of Technology. He holds 13 patents in memory design.        
Panel Speaker 2:  
Robert Fan
President, SMI USA

Bio:
Mr. Fan has served as President of SMI USA in charge of Silicon Motion's business operations in the Americas and Europe.  In this role, he is responsible for driving expanded business with the company's client and enterprise SSD solutions. He also oversees corporate marcom and PR efforts as well as the graphics business. Mr. Fan has over 25 years of sales and marketing experience and joined Silicon Motion in May 2013.  Prior to Silicon Motion, Mr. Fan served in executive management roles at Spansion, IDT, Staktek, Berkana Wireless (acquired by Qualcomm) and Resonext (acquired by RF Micro Devices). He also spent over nine years at Intel in sales, marketing and management positions. Mr. Fan currently serves as a board member of Monte Jade West Technology Association, an executive mentor and board member in the Monte Jade mentorship program and is a board member of numerous startups.  Mr. Fan holds a BS in Electrical Engineering from the University of California, Berkeley and MSEE from Santa Clara University, and completed the General Management Executive Program at McCombs School of Business, University of Texas.     
Panel Speaker 3: 
Ray Cisneros
VP, Algolux
Bio:
Ray has over 20 years experience in sales and marketing roles in the areas of semiconductors, semiconductor capital equipment and fiber optics. Most recently Ray served as the Senior Vice President of Sales and Marketing at OmniVision Technologies, a leader and pioneer in CMOS image sensors and imaging solutions. Ray was instrumental in growing OmniVision from a small post start-up company to $1.5B in revenues at its peak in a 10 year span, much of which was dedicated to the automotive industry. Ray joined OmniVision in 2002 and was at the onset of the CMOS digital imaging revolution that has permeated countless of end user products and markets. Prior to joining OmniVision Ray held various senior sales and marketing roles at Sagitta Inc., UMC, Novellus and Watkins Johnson. Ray also held engineering roles in materials testing, analysis and quality evaluation for FMC. Ray holds a B.S. in Metallurgical Engineering from Illinois Institute of Technology and an M.B.A. from Golden Gate University. 
Panel Speaker 4:  
Eugene Feng
Director, Micron
Eugene joined Micron Technology Inc. (MU) of Boise, ID in July 2007 as the Director of Memory Innovation to define future Micron memory products for the Asia markets.    
Prior to Micron, Eugene was with Integrated Silicon Solutions Inc. (ISSI) of Milpitas, CA for over four years as the Deputy General Manager of ASSP Design, stationed in Shanghai to staff and lead a team of 40+ designers to develop EEPROM memory IC, wireless HID chipset, Contact-less smart card / RFID chip, CPU smart card IC and network search processor ICs.    
Prior to ISSI, Eugene was with Silicon Storage Technology Inc. (SST, now part of MicroChip Inc.) of Sunnyvale, CA for over 7 years as the Director of Application Specific Product Group (ASPG) and Director of Worldwide Marketing, managing the product marketing, engineering support and business developments of NOR flash products, NAND drive (SSD) products and microcontroller products.    
Eugene also worked at Infineon, Fairchild and IBM in various engineering and management positions during his 20+ years of semiconductor IC development & marketing career.    
Eugene received his MS-EM/EE degree from Santa Clara University and BS-EE degree from Rutgers University.
When & Where

SEMI Milpitas
673 S Milpitas Blvd, Milpitas, CA 95035
CA 95035


Saturday, July 13, 2019 from 12:00 PM to 5:30 PM (PDT)
Add to my calendar
Organizer
I. Introduction of Chinese American Semiconductor Professional Association (CASPA)
Founded in 1991, CASPA has developed into the largest Chinese American semiconductor professional organization worldwide. It is an officially registered non-profit organization with both the Internal Revenue Service and the State of California.
CASPA charters
1. Provide networking and business expansion for corporate sponsors and individual members
2. Facilitate collaboration and communication among professionals and companies in the semiconductor industry
3. Promote the welfare of the members by supporting their interests
4. Exchange information regarding job opportunities and career development globally.
II. Organization
CASPA consists of individual members, corporate sponsors, board of directors, board of advisors, board of volunteers, and honorary advisors. The board of directors consists of 20 members including Chairman, Vice Chairman, Secretary, CFO. Every year after the annual conference, the new board select Vice Chairman from qualified candidates. The Vice Chairman becomes the Chairman in the following year to guarantee continuity of leadership of CASPA. The board of advisors consists of current year's chairman and past six year's former chairmen. In addition, there are 7 Honorary Advisors since 2000. Headquartered in Silicon Valley, California, CASPA has 11 local chapters worldwide: Albany New York, Austin & Dallas Texas; Phoenix Arizona; Portland Oregon; HsinChu Taiwan, Pearl River Delta (Hong Kong, ShenZhen), San Diego California, Shanghai, Beijing and Singapore. CASPA also forms alliance with other associations to promote welfare of its members. In 2004, CASPA reciprocates memberships with two of the largest professional organizations in the industry, SEMI and FSA.
III. Memberships
Currently CASPA has more than four thousand individual members covering multiple disciplines. Most of them are semiconductor professionals working in Silicon Valley, Southern California, Oregon, Washington, Arizona, Texas, New York, China, Taiwan, and Singapore. CASPA also has more than 70 corporate sponsors, including EDA, design, IDM, foundry, packaging / test, venture capital, science and technology development parks, legal and financial service companies located in the United States, Taiwan, Hong Kong, China, Singapore and Japan.
IV. CASPA's activities
1. Bi-monthly dinner meetings
2. Conferences, Seminars, Workshops and Symposiums
3. International and domestic Job Fairs
4. CASPA Delegations to China, Taiwan, and Asia Pacific countries
5. Hosting Delegations from China, Taiwan, and other Asia Pacific countries
6. Annual banquet and special summer program.
V. CASPA's publications
1. Semimonthly eLtters
2. Quarterly newsletters
3. Annual Conference Proceeding
4. Other conference and delegation proceedings