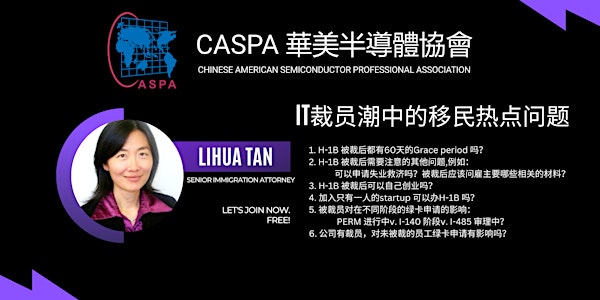 CASPA Law Seminar: Navigating Uncertainty in Tech layoff for Immigrants
CASPA is hosting a law seminar for our members who are holding H1B VISA to navigate uncertainty during recent tech layoffs.
Refund Policy
Contact the organizer to request a refund.
Eventbrite's fee is nonrefundable.
About this event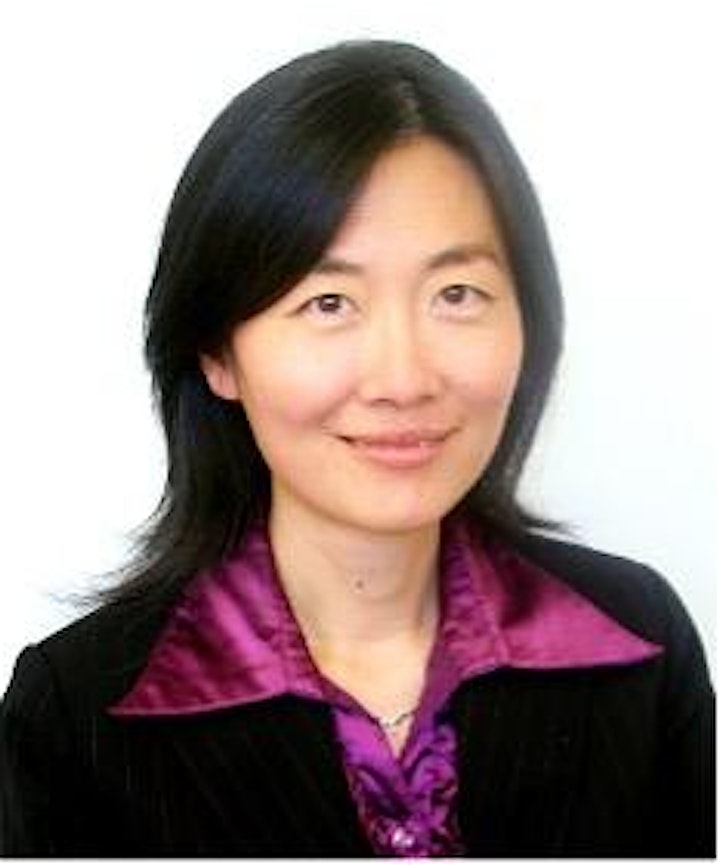 Lihua Tan,
Ms. Lihua Tan is a Partner and Senior Immigration Attorney at the Silicon Valley office of Chugh, LLP. She is specialized in immigration and international practice and has more than 17 years of extensive experience in counseling clients on all matters of US immigration and nationality law. Her corporate clients range from startups to multi-national enterprises. She also conducts immigration compliance audits, provides due diligence consultation on immigration issues in mergers, acquisitions and takeovers.
谭黎华律师是Chugh律师事务所合伙人、资深美国移民法律师。拥有中国政法大学法学博士,美国乔治华盛顿法学院法学硕士学位,为美国纽约州注册律师、美国移民律师协会会员,并拥有中国律师资格。,谭黎华律师也是Chugh律师事务所移民部上诉委员会主席,在商业移民各个领域有着17年的丰富经验,为大型跨国公司、初创公司,及个人提供各种商业非移民和移民签证、企业合规审查,及兼并购中的移民法尽职调查等相关法律业务。
本次讲座:IT裁员潮中的移民热点问题
1. H-1B 被裁后都有60天的Grace period 吗?
2. H-1B 被裁后需要注意的其他问题,例如:可以申请失业救济吗?被裁后应该问雇主要哪些相关的材料?
3. H-1B 被裁后可以自己创业吗?
4. 加入只有一人的startup 可以办H-1B 吗?
5. 被裁员对在不同阶段的绿卡申请的影响:PERM 进行中v. I-140 阶段v. I-485 审理中?
6. 公司有裁员,对未被裁的员工绿卡申请有影响吗?
7. 其他问题