Description
CASPA Education Day 2018
This event is designed for K to 12th grade students and their parents. One ticket per person regardless of age. First 500 tickets are free, so we sincerely invite to registered ASAP.
Agenda
12:30-12:50 pm Registration & networking
12:50-1:00 pm CASPA introduction by Brandon Wang, CASPA President
1:00-1:30pm "Developing a Growth Mindset in Children" by Dr. Ashley Leyba, Head of School, BASIS Independent Fremont
1:30-2:00 pm "How to Cultivate Math Skills for Future?" by Kelly Ren, Co-Founder & Director of Areteem Institute
2:00-2:45 pm "How to Go Beyond Your Comfort Zone & Turning the Tide" by Dr. Shin Wei, Founder of Ivymax
2:45-3:00 pm break time
3:00-3:30pm "Inspire Playful Learning with Educational Robotics", Tony Wang, Founder of Brighter Learning Lab
3:30-4:00 pm "Education in the Era of A.I." by Dr. Eliza Du, CEO of Integem
4:00-5:00pm High School Students Panel session, moderated by Jessica Peng, graduating senior from Lynbrook High School
5:00-5:30 pm Optional Ice Cream Social & Have fun with Rubik Cubes (bring your own cubes) or chatting with students speakers
Speakers Panel and Bio: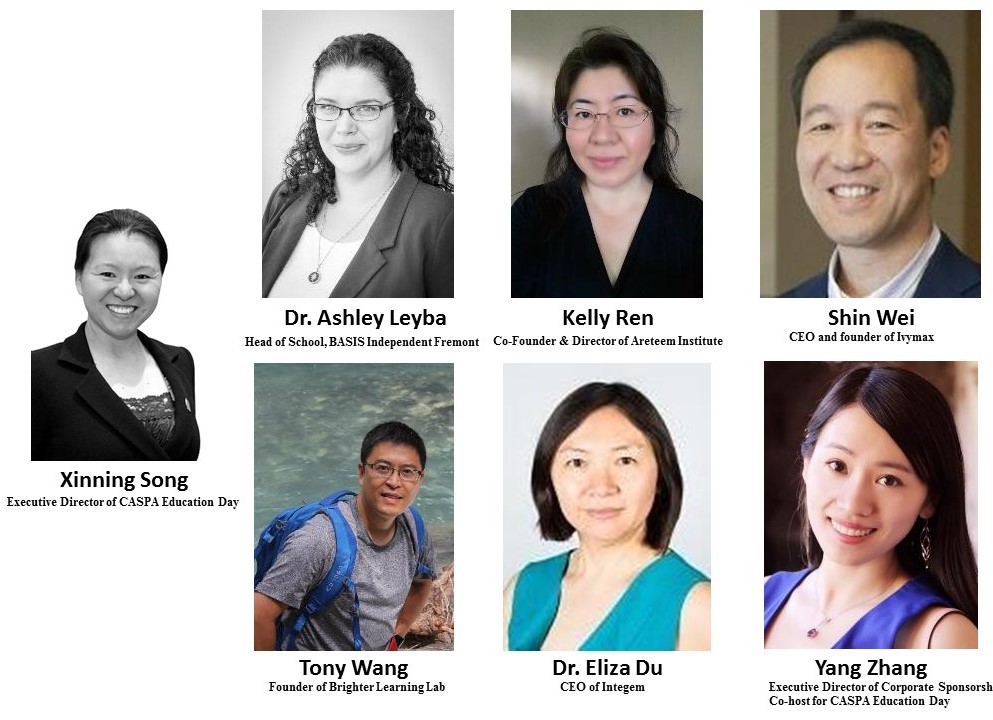 (1 )Xinning Song, Executive Director of CASPA Education Day
XinNing Song hold B.S. in Electrical Engineer & Computer Science degree from University of California of Berkeley, CA. She has been a digital designer for the past 18 years. Currently, she is the director of operations and one of the founding members for PetaIO, Inc, a startup company specializing in enterprise and client SSD controllers. Prior to this, she was a senior manager at SK hynix memory solutions, Inc., where she had managed 35+ people global teams and successfully delivered eMMC SSD controller. During her spare time, she strives to be a life-time volunteer for the community. She had proudly served RotaCare Free Clinic in Mountain View, math tutorial center in Mountain View High School and Shin Shin Educational Foundations. She has been the executive director of CASPA Education Day for the past few years.
(2) Dr. Ashley Leyba, Head of School, BASIS Independent Fremont
Developing a Growth Mindset in Children
Initially following a traditional track into a career in academia, Dr. Ashley Leyba received her Bachelor of Arts degree in history from Furman University (Greenville, SC) in 2005, and a Master of Arts degree in history from North Carolina State University (Raleigh, NC) in 2007. Her research in North Carolina focused primarily on Eighteenth-century intellectual history and culminated in a thesis that analyzed the connection between university teaching and the Scottish Enlightenment. In May, 2014, Dr. Leyba received a Doctor of Philosophy in history from the University of California, Berkeley. Her dissertation, entitled "Theatre, Calvinism, and Civil Society in Eighteenth-Century Edinburgh and Geneva," used the morality of the theatre to explore the changing nature of Calvinist theology and religious practice in Edinburgh and Geneva. It was during her graduate work she realized how much she loved teaching—and how much students loved having her at the helm in the classroom. Teaching undergraduate courses throughout her graduate school career, Dr. Leyba was recognized as an outstanding Graduate Student Instructor at UC, Berkeley, in 2012. She also received the university's Teaching Effectiveness Award in 2012. Currently, she serves the head of school, BASIS Independent Fremont, CA.
(3) Kelly Ren, Co-Founder & Director of Areteem Institute
How to Cultivate Math Skills for Future?
Ms Kelly Ren is the co-founder and executive director of Areteem Institute, a WASC accredited educational institution providing high quality academic enrichment programs to students from 3rd grade to 12th grade. Ms. Ren has a Master of Science degree in Electrical Engineering from The Pennsylvania State University. Prior to dedicating herself to Education, Ms. Ren has worked for high tech companies such as IBM and financial services companies such as J. P. Morgan Chase, and held senior positions in both technical and business management. She has been able to use her professional experiences to set targets for measuring educational outcomes. Therefore the programs developed in Areteem Institute are practical and visionary, and help students build solid foundation and develop strong character to abreast the innovative trend. Ms. Ren is actively involved in the society and has been judges and judging chairs of major math and science competitions including Intel Science and Engineering Fair.
(4) Shin Wei, CEO and founder of Ivymax
How to Go Beyond Your Comfort Zone & Turning the Tide
As CEO, Mr. Wei is responsible for setting the overall direction and product strategy for IvyMax. His industry experience includes 24 years in advanced software design, 15 years as a senior executive, and two decades of college counseling expertise. Mr. Wei began his career on Wall Street while attending graduate school at UPenn. He then joined Andersen's (now Accenture) Advanced Technology Groups in Chicago as Senior Manager before founding Advante, a strategic consultancy where he served as Senior Advisor and Acting CTO or VP of Engineering for Internet startups.
He later joined Brience as Managing Principal and Director of Professional Services. At Brience, a wireless enterprise software company with $200 million in VC funding, he built Professional Services to an 80-person organization that served more than 50 Fortune 100 companies.
In 2000, Mr. Wei started helping aspiring students get admitted to Harvard, Princeton, Yale, UPenn, Stanford, MIT, Caltech, UC Berkeley, UCLA, and other prestigious universities. Subsequently, Mr. Wei co-founded IvyMax to specialize in premier college planning, applications, and test prep services utilizing industry-best experts and state-of-the-art memory engine online technology. Mr. Wei has been frequently featured on Sing Tao Chinese Radio, KTSF TV26, ETTV, LA18 KSCI-TV, the largest Asian language TV station in America, and other leading print and on-air media in the US and in Greater China. Mr. Wei holds a BSE and an MSE in Computer Science & Engineering from the University of Pennsylvania.
(5 ) Tony Wang, Founder of Brighter Learning Lab
Inspire Playful Learning with Educational Robotics
Tony has been a software engineer for 15 years. He used to work for Oracle as a Principle Applications Engineer. Being passionate about serving local communities using technology,Tony created a non-profit organization, Brighter Learning Lab, to help STEM education using robotics, drones and animation. He coaches/co-coaches several award winning robotics teams for competition. After graduating from Carnegie Mellon University in 2002, Tony moved to Bay Area and currently lives with his wife Catherine and two kids in Belmont. Tony is a cycling enthusiast and you can see him often biking around Canada Road and Crystal Spring.
(6) Dr. Eliza Du, CEO of Integem
Education in the Era of A.I.
Dr. Eliza Du is an educator, serial innovator, industry technology leader, recognized researcher, and woman entrepreneur. She published two books, and over 100+ top-tier peer-reviewed journal articles and international conference papers. She applied for over 30 patents.
Dr. Du co-founded Integem Inc. in July 2015 and she is leading her team to develop the Holographic Augmented Reality technology platform for education and other applications. Dr. Du was a professor at U.S. Naval Academy and tenured professor and Ph.D. advisor at Purdue Univ.. Her research projects were founded by the US Department of Defense, the US Department of Homeland Security, the US Department of Justice, the US National Science Foundation, Canada Border Service Agency, etc. Dr. Du received the prestigious young scientist award (ONR YIP) in 2007.
(7)Yang Zhang, Executive Director of Corporate Sponsorship & Co-host for CASPA Education Day
Yang has 10 years of professional experience in RF/analog/mixed-signal chip and system design. She is currently a senior analog/RF ASIC designer at Tektronix specializing in RF PLLs and clocking circuits. Prior to Tektronix, she worked at Texas Instruments (TI), National Semiconductor as an analog IC designer and Emhiser Research as an RF engineer. She received MSEE from Washington State University and BSEE from Zhejiang University. Yang has been a volunteer at various non-profit organizations including CASPA, TI Toastmasters Club and Tzu Chi Foundation, etc.
Wonderful Prize Drawing