CASPA 2021 Science Fair Kick-off Event
About this event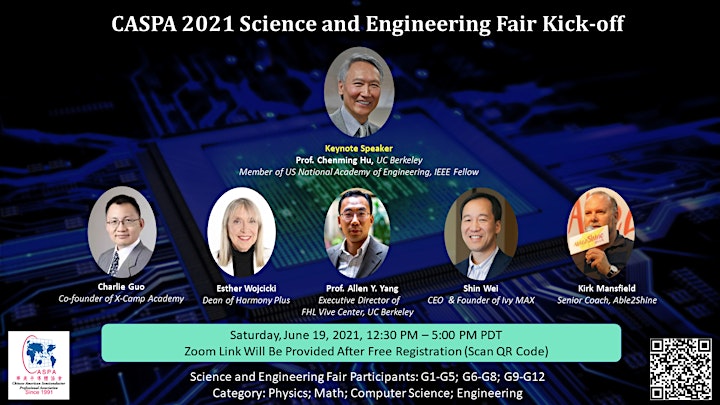 CASPA Science and Engineering Fair is designed for G1-G12 students all around the world. This event aims to cultivate students' scientific exploration, teamwork, interdisciplinary, innovation, and entrepreneurship. It will be held online, and arrangements have been made to take into consideration the time difference between the East Coast (US) and West Coast (US). Spaces are limited, and admissions will be granted on a first-come-first-serve basis.
Date: June 19, 2021
Time: 1:00~ 5:00 PDT
Venue: Online Zoom meeting.
Registration: Here
Participants: All G-1- G12 students and parents are welcome
Cost: Free
Agenda:
12:30 - 1:00 pm Check in
1:00 - 1:10 pm Welcome from CASPA President
1:10 - 1:20 pm CASPA Science and Engineering Fair Introduction
1:20 - 2:00 pm Keynote: Innovation and Technology from Youth by Prof. Chen-ming Hu
2:00 - 2:20 pm Gamification of Modern AI Research by Prof. Allen Yang
2:20 - 2:30 pm Break
2:30 - 2:50pm Art of programming showcase
2:50 - 3:10 pm Build your STEM story in college planning
3:10 - 3:20 pm Break
3:20 - 3:40 pm How to present your idea
3:40 - 4:00 pm How to help students succeed in STEM Entrepreneurship
4:00 - 4:10 pm Break
4:10 - 4:40 pm 1st CASPA Science and Engineering Fair Kick-Off and Q&A
4:40 - 5:00 pm Raffle drawing
To encourage your participation, we will have a surprise gift drawing on the event day. Every participant is eligible.
Organizer of CASPA 2021 Science Fair Kick-off Event
I. Introduction of Chinese American Semiconductor Professional Association (CASPA)
Founded in 1991, CASPA has developed into the largest Chinese American semiconductor professional organization worldwide. It is an officially registered non-profit organization with both the Internal Revenue Service and the State of California.
CASPA charters
1. Provide networking and business expansion for corporate sponsors and individual members
2. Facilitate collaboration and communication among professionals and companies in the semiconductor industry
3. Promote the welfare of the members by supporting their interests
4. Exchange information regarding job opportunities and career development globally.
II. Organization
CASPA consists of individual members, corporate sponsors, board of directors, board of advisors, board of volunteers, and honorary advisors. The board of directors consists of 20 members including Chairman, Vice Chairman, Secretary, CFO. Every year after the annual conference, the new board select Vice Chairman from qualified candidates. The Vice Chairman becomes the Chairman in the following year to guarantee continuity of leadership of CASPA. The board of advisors consists of current year's chairman and past six year's former chairmen. In addition, there are 7 Honorary Advisors since 2000. Headquartered in Silicon Valley, California, CASPA has 11 local chapters worldwide: Albany New York, Austin & Dallas Texas; Phoenix Arizona; Portland Oregon; HsinChu Taiwan, Pearl River Delta (Hong Kong, ShenZhen), San Diego California, Shanghai, Beijing and Singapore. CASPA also forms alliance with other associations to promote welfare of its members. In 2004, CASPA reciprocates memberships with two of the largest professional organizations in the industry, SEMI and FSA.
III. Memberships
Currently CASPA has more than four thousand individual members covering multiple disciplines. Most of them are semiconductor professionals working in Silicon Valley, Southern California, Oregon, Washington, Arizona, Texas, New York, China, Taiwan, and Singapore. CASPA also has more than 70 corporate sponsors, including EDA, design, IDM, foundry, packaging / test, venture capital, science and technology development parks, legal and financial service companies located in the United States, Taiwan, Hong Kong, China, Singapore and Japan.
IV. CASPA's activities
1. Bi-monthly dinner meetings
2. Conferences, Seminars, Workshops and Symposiums
3. International and domestic Job Fairs
4. CASPA Delegations to China, Taiwan, and Asia Pacific countries
5. Hosting Delegations from China, Taiwan, and other Asia Pacific countries
6. Annual banquet and special summer program.
V. CASPA's publications
1. Semimonthly eLtters
2. Quarterly newsletters
3. Annual Conference Proceeding
4. Other conference and delegation proceedings