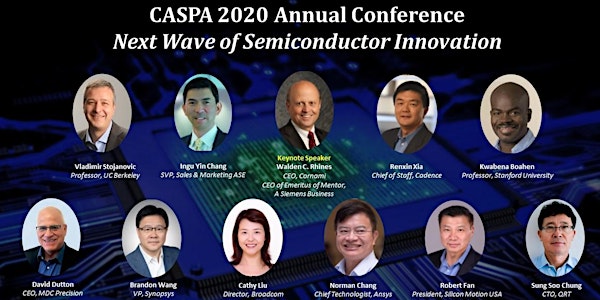 CASPA 2020 Board of Directors Election Voter's Registration
CASPA 2020 Board of Directors Election Voter's Registration
About this event
Agenda
CASPA 2020 Board of Director Election
10:00 am-10:30 am Registration (CASPA Lifetime member only)
10:30 am-11:30 am CASPA Board of Directors Election
11:30 am-11:40 am Announcement of the Newly Elected Board of Directors
CASPA 2020 Board of Directors Election Voter's Registration
Due to the shelter-in-place order for the COVID19 pandemic, our CASPA 2020 Annual Conference will do an online Zoom conference instead. Do not register if you are not our Lifetime or valid yearly paid members. To check your membership status, please send your inquiry to office@caspa.com
Since we cannot meet you in person and handover the ballot to you physically, we will do online voting this time. The vote will take place at 10:00 am on Saturday, 10/17/2020. You will need to attend the Zoom meeting, listen to candidates' introduction, and cast your vote by selecting your candidates in Zoom's polling function. You will have a chance to ask questions for these candidates as well.
After you registered, we will send you a Zoom link with a password. On 10/17/2020, you will use this credential to log in to Zoom. When you were admitted to the Zoom meeting, the CASPA meeting host may ask you questions to validate your identity by providing your full name and email against CASPA's member roll. Only the verified and registered voters can cast, and you can do polling only once. We are looking forward to meeting you!
Regards,
CASPA Board of Directors Election Committee.