Description
This is a fun, insightful and educational night where you'll play a board game designed by investor, businessman and self help author Robert Kiyosaki. Within a safe setting, with fake game money, you can potentially push yourself out of your comfort zone in how you handle the green stuff, meet new people and maybe even make a friend.
Cash flow 101 combines fun, education and some real life surprises (both good & bad) which will affect your finances as you play. You'll discover just how creative and skilled you currently are at handling finances. You'll learn how to get out of the "rat race" by strengthening your skill sets in accounting, investing, deal making, negotiations, leveraging and listening. Find out how much of a risk taker, problem solver and out-of-the box thinker you really are. Playing with finances isn't just a slick technical exercise. It can also become an emotional one.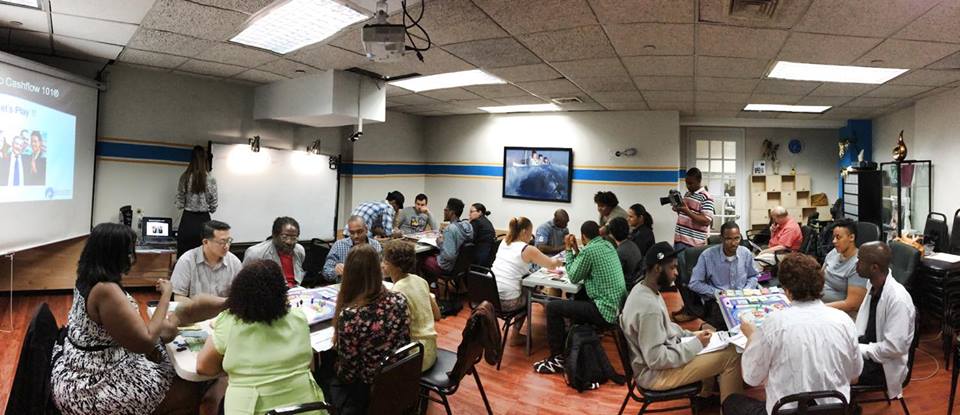 Some lessons you can learn and personal issues that may surface while you play:
1. the difference between an asset and a liabilty
2. you can begin to see different "character types" from your fellow players (and in yourself) in how money is handled as it starts to grow (and is lost).
3. You'll discover your own attitudes and insecurites with money. Are you afraid to lose it, share it, or make mistakes with it?
4. New and different investing strategies
5. The game assigns professions to each player. Are you envious of other's professions in life? You might challege your own assumptions. You may discover that if you're a car mechanic, that doesn't necessary mean that you'll stay stuck in the rat race and just because you're a lawyer doesn't automatically mean that you'll find your way out of it.
6. If you're not ususally financially minded, you'll be introduced to the "income statement" and the "balance sheet." Together, it's what called a "net worth statement" in the real world.
7. Joining Forces - You'll discover that you don't always have to do things alone. You can partner up on deals - and this can bring up "safety, greed & control issues" you may have in learning to work with strangers to solve your problems.
8. the difference between investing for "cashflow" verses "capital gains" and how chosing each at the right time affects your ability to get out of the rat race.
9. Experience paying down bad debt, taking on good debt while investing and knowing the difference between the two. Which strategy, used at what time / situation, will give you the highest return?
10. Financial analysis and literacy - being able to discern what a "good deal" is.
11. How to make money in residential real estate - whether its (single family, duplex, eight plex or large multi-family or in commercial real estate - whether its (car washes, hotels, bed & breakfasts, strip malls , etc.)
12. How to make money with stocks. Do you know some of those tactics already? Do you go in with a plan and knowledge or play by pure instinct, in this arena ?
13. How to make money with small business start ups.
14. Budgeting, allocating funds and creatively moving cash around.
15. You'll learn that you can sometimes get better returns by listening carefully or questioning others playing around you, understanding their current financial situation and offering to solve their problems. By helping them, you sometimes help yourself in the long run too.
16. How well you (and others) bounce back or thrive when the game's life events deal players some light and heavy blows.
17. Opportunities - do they just happen or do you create them for yourself? Do you make the most of them when they arrive? Not all opportunities presented to you may in fact be a "good investment."
18. Emergency funds foresight - Did you sock some away for the rainy days you'll occassionally be dealt as you play.
19. Grey areas in rules - can you find the loopholes? Do you interpret the absence of rules and laws as an obstacle or an opportunity?
20. How receptive or welcoming are you in allowing others to teach you new things? Do you you believe that you know it all?
21. The real difference between regular income (no matter how big or small) and passive income.
22. Your overall attitude toward wealth. How committed are you to wealth accumulation? Or are you disinterested, nonchalant or care-free about it? Do you allow your mind to wander as you play this game? Do you see the process as "a game" or is it for you, "too much work" that you dread and is someone else's job to take care of?
Are you ready to play Cashflow 101?
Please RSVP to attend this meeting in New York City.