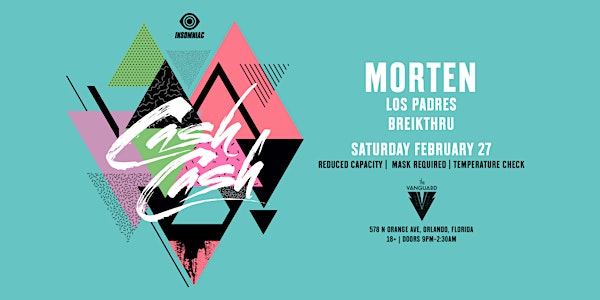 Cash Cash
Insomniac & The Vanguard present
Performers
Cash Cash
Morten, Los Padres, Breikthru
Location
The Vanguard
578 N. Orange Ave
Orlando, FL 32801
Description
Join us February 27th for an electrifying night of music with Cash Cash at The Vanguard in Orlando for a reduced capacity event.
Cash Cash

Cash Cash is a world-renowned electronic music trio who have been making music and selling out shows worldwide for over a decade. Currently signed to Big Beat/Atlantic Records, the group consists of brothers Jean Paul Makhlouf and Alex Makhlouf, as well as life-long friend Samuel Frisch. Together, the three DJ/Producer/Multi-instrumentalists record, mix and master all of their music. 
 Over the past few years they have seen massive success with their slew of single releases. Their song "Finest Hour" (feat. Abir) has been RIAA-certified Gold, and their 2019 collaboration with P!NK called "Can We Pretend" hit Top 10 at AC radio. Their single "Call You" (feat. Nasri of MAGIC!) hit #1 on US Dance Radio, and they were also featured on Billboard's Dance 100 List for 2019. Their smash single "Take Me Home" ft. Bebe Rexha celebrated an RIAA platinum certification; their song "All My Love" ft. Conor Maynard has amassed over 100 million streams on Spotify alone; "Matches" featuring ROZES achieved #1 on Dance Radio, and one of their releases "Belong" was featured on Dashboard Confessional's album "Crooked Shadows". In addition, Cash Cash started 2020 off strong with their release of "Mean It" (feat. Wrabel) which was premiered on PAPER magazine. 
 The trio will continue festival at dancefloor domination, with appearances already confirmed Lollapalooza and Firefly, with more coming soon.

Morten

As one of Denmark's most celebrated DJs, MORTEN is no stranger to the spotlight. Characterized by his eclectic take on progressive, electro-house and dubstep, it's to no suprise he's caught the attention of EDM's biggest trendsetters, and fittingly will be releasing his next three singles on none other than Avicii's own label imprint. His first single, "Look Closer" premiered on SiriusXM to rave reviews and was featured on Avicii's world renowned podcast, LE7ELS. Next, MORTEN has a very special collab with Axwell from Swedish House Mafia up his sleeve, due out later this year on Axtone. 2013 has already been bright for the Danish viking.

From LIV in Miami to XS in Las Vegas to Pacha in NYC, his passion, energy and technical wizardry has ignited every venue he's played. His extraordinary talent behind the decks has been recognized by some of the most respected EDM publications. With the current trends influencing the EDM sphere, an act as wildly versatile as MORTEN is hard to come by and will suit the most discerning of crowds.

Supported and sought after by the most accomplished artists in EDM today – Avicii, Axwell, Chuckie, CAZZETTE to name but a few, MORTEN is not only a phenomenon in his beloved Denmark, but now in the eyes and ears of the most repected players across the globe.

Los Padres

Los Padres consist of 2 multifaceted producers: Carlos "Kameo" Perez, and Gino "Gnote" Souto.

Kameo most commonly produces electronic dance music of all genres and categories. He just reached another level with his most recent collaborative release "Temperatura" alongside Henry Fong featuring Latin heavy hitter, Franco el Gorilla. Kameo calls Therapist music group his base camp and with that he had some outstanding placements such as Nick Cannon's movie, "King Of The Dancehall" on YouTube RED, Devolve ft. Red Rat "Higher" (Kameo remix) which the original record has streamed over 20 million times on Spotify! Kameo has gotten fantastic exposure and support on BBC1 Radio's "Diplo and Friends" with CRESPO, Henry Fong, Devolve, and on SirusXM's "Diplo;s Revolution". His Sia "The Greatest" has hit over 1.3 Million views on Youtube, all thanks to his trap style and latin influences. This milestone has expanded his production palette and is now developing an new sound along side fellow partner Gnote. He was once someone behind the scenes, but now Kameo is taking his "Los Padres" brand to the stage, pulling out all the tricks for this Future / Bass / G House production package with some nostalgic sauce in the soup.

Gino "Gnote" Souto is a seasoned vet of the EDM market. With gigs all over the country from EDC Orlando 2016 & 2018, Life in Color 2017, Das Energi Festival 2015 (Utah) , Create Nightclub (LA), Space (Miami), Bassmnt (San Diego) Gino brings experience to the stage. To think he started back as part of the Nappyboy team with T-Pain, he has also performed and taught overseas in Amsterdam at Pioneer DJ School in 2015. "Gnote" has also gotten amazing support from Above & Beyond, Armin Van Buuren and Paul Oakenfold on trance productions in the past.

Two polished sounds from different ends of the market spectrum, collaborating to make nothing less than quality bangers!

Los Padres promises to take you back to the old school, as they rebirth an era of electronic dance music while paying homage to those who are deeply rooted in the duo. With professional experience in a wide spectrum of production, they break out the break beats, reggae vibes, latin culture and craft them into one solid entity that they can claim as their own. New for the young, and Fresh for the throwback. Recently the duo has opened for Brohug and with Miami Music Week 2019 right around the corner, we can expect to see them all over South Florida.

Breikthru

Breikthru are an American, Orlando Florida-based, DJ/Producer/Songwriter duo consisting of members

Valdemar Crame (aka DJ Chino) and Justin Boller (aka Sky Mareci). The electronic/dance music duo formed in 2018. Breikthru released songs with Brooklyn Fire Records, Hexagon & 3 Beat Records in 2020.