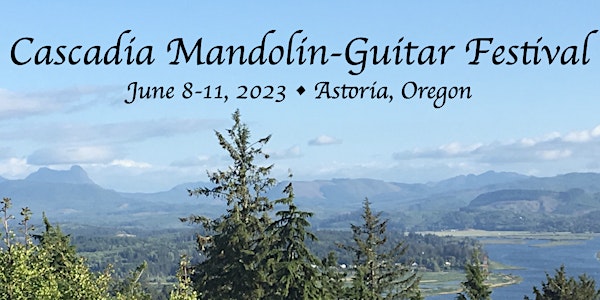 Cascadia Mandolin-Guitar Festival
Rehearse-study-jam-perform at the Pacific Northwest's only mandolin-guitar ensemble festival. Or just hear the concerts in fabulous Astoria!
Date and time
June 8 · 7pm - June 11 · 11pm PDT
Location
Charlene Larsen Center for the Performing Arts 588 16th St. Astoria, OR 97103
Refund Policy
Refunds up to 30 days before event
Eventbrite's fee is nonrefundable.
About this event
3 days 4 hours

Mobile eTicket
Basic Summary:
Register to join the orchestra, rehearse and perform in the Sunday afternoon concert
Rehearse Friday/Saturday, perform Sunday afternoon
Some sheet music available immediately upon registration--all by April 1
Daily workshops by seasoned instructors
New, stylistically diverse music for classical mandolin orchestra
Opening concert (Friday night) featuring the Oregon Mandolin Orchestra
Closing concert (Sunday afternoon) with faculty and all participants
Thanks to the Classical Mandolin Society of America, for its sponsorship and support of the Cascadia Mandolin-Guitar Festival.
From the conductor:
Over the years I have founded (with help from good friends) two mandolin festivals, where I composed, arranged, conducted, and performed music (in many styles) for classical mandolin-guitar orchestra. My upcoming festival will allow me a chance to focus on my roles as composer and conductor.
I hope that many of you, whom I've made music with along the way, will come to magnificent Astoria, for the Cascadia Mandolin-Guitar Festival! To my new friends in the Pacific Northwest, I'm looking forward to making satisfying music with you as we enjoy, renew and advance these foundational traditions of the American mandolin.
See you in Astoria!
Conductor, mandocello, mandolin, tenor guitar
August Watters is a multi-stylistic, improvising mandolinist, composer/arranger, and teacher with formal training in both jazz and classical composition. August is focused on new compositions and arrangements for mandolin and related instruments, in both ensemble and solo formats. He is the author of three instructional books, designed to teach mandolin and mandocello through original concert music.
As an international clinician August has taught widely, and performed with some of the leading figures in today's revival of this elegant instrument, including Carlo Aonzo, Roland White, Matt Flinner, Butch Baldassari, Bill Keith and Marilynn Mair. His work as an improviser, interpreter, composer and arranger bridges contemporary classical music, jazz, bluegrass, folk music traditions, and the historical concert mandolin repertoire.
August is also an Emmy award-winning arranger, and a former Professor of Ear Training at Boston's Berklee College of Music. He has produced and conducted more than 40 concerts of mandolin-guitar ensemble music, primarily through the two mandolin-guitar ensemble festivals he previously founded: Cape Cod Mandolin Camp (Massachusetts, USA), and Festival of Mandolin Chamber Music (Vermont, USA). He was the founder and director of New England Mandolin Ensemble, featuring Marilynn Mair and Jim Dalton, and the community group Boston Mandolins.
At the Cascadia Festival, August will conduct his own musical compositions and arrangements for mandolin-guitar ensemble, to foster an environment of learning and community music performance accessible to all.
Here is August's arrangement of the Astor Piazzola composition "Preparense," performed by MandolineARTE, the plucked orchestra of Athens, Greece:
~~~~~~~~~~~~~~~~~~
"I believe that people are inherently musical, and making music together is a basic human need. Too often, society prepares us to experience music only as consumers, not participants. My central goal, as teacher, composer, and conductor, is to help create opportunities for people to participate in music-making, and to help enable them to engage with the musical traditions that are rightly their own."
—August Watters
~~~~~~~~~~~~~~~~~~
2023 FACULTY (continued)
Mandolinist and domrist Ekaterina Skliar is a winner of the 2019 Astral National Auditions. At the age of 11, she debuted with the Russian Folk Instrument Orchestra of the Buryatia Republic. She has gone on to perform with numerous chamber ensembles and such orchestras as the Kaleidoscope Chamber Orchestra, Munier Mandolin and Guitar Orchestra, and Novosibirsk Orchestra of Russian Folk Instruments, among many others. Her vast repertoire includes transcriptions of classical music, original works for domra and mandolin, and contemporary music.
A prizewinner of international competitions, including First Prize at the International Music Competition "The Hope" and Third Prize at the International Music Competition of Folk Instrument Performers, in 2019 and 2020 Ekaterina was also awarded a Silver Medal Global Music Awards for her domra and mandolin recordings. In 2018, she was one of three winners in the Kaleidoscope Instrumental and Vocal Competition, chosen from more than 2,000 international applicants, after which she was invited to perform with the conductorless, collective Kaleidoscope Chamber Orchestra in Los Angeles.
Ekaterina has concertized throughout the United States, Europe, and Russia, giving solo recitals and performing with chamber ensembles and orchestras. She received her Bachelor's degree with Honors in Music Performance from M. Glinka Novosibirsk State Conservatory.
Here is Katya's performance of Anatoly Beloshitsky's Concert Triptych "In Spanish Style":
2023 FACULTY (continued)
Performer, composer, and Made in NY Jazz Competition Winner, Alexey Alexandrov is a unique artist who plays domra in both classical and jazz styles. Expanding the boundaries of domra, Alexey has integrated the sound of this folk string instrument into the jazz stylistic. He currently resides in Philadelphia and performs solo and with various groups throughout the US.
Alexey has collaborated with musicians all over the world including John Lee, Al Foster, Oliver Lake, Kevin Mahogany, Alain Musichini, Bobby Sanabria, Vadim Repin, Aaron «Professor Louie» Hurwitz, and others. His large repertoire includes transcriptions of classical music, original works for domra, contemporary and jazz music, and his own compositions.
A prizewinner of many international competitions, in 2018 Alexey was awarded the first prize in the prestigious Made in NY Jazz Competition, where he competed with jazz musicians from all over the world. His other accomplishments include I prize at the First and Third International Competitions  "Libertango", Golden prize at the International "Gold Iria" Ethno Music Competition.
Together, Ekaterina and Alexey have performed concerts in numerous venues in the United States and Europe, where their performances got many positive reviews. The duo has become a nominee for the "MIRA" World Music Award and winner of the "Best Instrumental Project" in the International Music Festival "Ustuu-Huree" (Republic Tuva). In 2022, the Alexandrov-Skliar Duo has been invited to perform at the 47th Internation Festival Plectro de La Rioja in Spain, where they presented an eclectic program of their transcription and arrangements for mandolin and domra.
Here are Katya and Alexey playing his original "Shades": Hang on tight!
2023 FACULTY (continued)
"A world class mandolinist" - Mandolin Magazine
A graduate of the New England Conservatory of Music and a virtuoso mandolinist with over twenty years professional performing experience, Tim Connell has created a sophisticated and original global mandolin style.  Regarded as one of the top North American interpreters of Brazilian choro, Tim has also developed his own unique voice for the instrument, described in a recent Mandolin Magazine cover story as "fiery and energetic, soulful and evocative."  
At CMGF, we also love Tim's mandolin playing for his way of bringing new life to the music, using techniques and approaches deeply rooted in earlier chapters of the American mandolin. Tim's subtle use of timing, together with non-measured tremolo, helps the melody to flow across phrases rather than unnecessarily emphasizing subdivisions. The result is a singing approach, most often heard in the playing of great classical soloists, and is also documented in the American mandolin orchestra tradition.
Not enough has been written about Tim's solo playing: Tim's solo mandolin arrangements are always elegant and idiomatic, avoiding unnecessary technical challenges while making clever use of voice leading and fingerings to balance melody and accompaniment. The fluency of chordal vocabulary is well beyond what is often seen in written mandolin music, which should make Tim's solo arrangements of interest to classical and orchestral players accustomed to written mandolin parts.
What better way to say: "Here Comes the Sun" !!
2023 FACULTY (continued)
Celeste McClain, guitar
The Festival
The Festival is an immersive experience, offering participants an opportunity to rehearse, study, jam, and perform on the Sunday afternoon Festival Concert. Music will be chosen, arranged and/or composed with the participants' skills and interests in mind.
Join us for our featured concert, on Friday, June 9! The Oregon Mandolin Orchestra is a vibrant and accomplished ensemble, under the skilled direction of Christian McKee, musical director. OMO explores both the long traditions, and the new possibilities, of this rewarding way to make music together.
The Music
Participants will rehearse music for the Festival Concert (June 11, 2023). All participants will receive some written sheet music upon registering, and all music will be distributed by (or before) April 1, 2023. Web-based learning tools will be available, to help you to prepare. The music will be modeled on the classical mandolin -guitar orchestra, but may stretch to any musical style. Join us!
Parts will be available in any clef, in standard notation only.
The Instruments
The Festival Orchestra is open to all mandolin, guitar and bass players, as well as related instruments: mandola, mandocello, octave mandolin/mandola, etc. Guitarists may choose to prepare classical guitar accompaniment parts, or read melodic parts with the low mando-instruments. Tenor guitars will be featured, if there are enough of us! Questions? Ask!
Bowed instruments and wind instruments (flute, clarinet) can also be easily integrated into the orchestra. In fact, these instruments increase the textural possibilities of the music, so please do contact us with your questions. All the music will be composed and/or arranged to make the best use of the instruments available.
Workshops
All faculty are seasoned teachers, as well as performers. Each will teach one or two workshops, with specific learning goals in mind. Specific workshop topics will be announced in advance, based on participants' interests. The Festival should help you to formulate a specific plan for musical growth and enjoyment!
Accommodations
The Festival does not manage hotel arrangements. Astoria is a desirable tourist location, with many different types of accommodations available.
We recommend these hotels, within short walking distance to the festival venue: Hotel Norblad, Hotel Elliott, Selina Commodore, Grandview B&B, and The Inn at 515.
A bit farther away, you might consider the Atomic Motel, Riverwalk Inn, or many others. Or, if you want to be--literally--right on the water, there's the Bowline Hotel!
Tickets
Festival registrants automatically receive tickets for both concerts:
July 9: Opening Concert: Oregon Mandolin Orchestra & CMGF faculty
July 11: Festival Concert for all participants & faculty
Workshops Only
The Festival experience centers around rehearsing and performing with the festival orchestra—but any participants who wish to attend workshops only, and do not plan to attend rehearsals, are welcome to register for the "Workshops Only" option, by request. The price is prorated to the overall festival content. Concert tickets must be purchased separately, for those attending just the workshops.
Transportation
BUS: Astoria's bus station is right at the waterfront, just one block off the scenic Astoria Riverwalk. Once you arrive, most everything you need is walking distance, within a few blocks (although some hotels such as the Astoria Riverwalk Inn are a bit farther). Several travel options are available through the NW Connector.
CAR: Astoria is less than two hours' drive from Portland, and about two hours from Seattle. We recommend route 30 from Portland, or route 24 over the mountains to the coast. Make the most of the Oregon scenery, and save yourself some highway nail-biting, by avoiding the interstate I-5 !
SHUTTLE: At your request, we will organize (relatively) low-cost shuttles from Portland airport (PDX) directly to Astoria. It may be necessary to coordinate with others who are arriving!
FLIGHTS: We recommend arriving at Portland (PDX). Alaska Airlines is our favorite, for flexible schedules and instrument-friendly vibes.
Family Members
Spouses or other family members who are not participating in the workshops or festival orchestra are welcome to attend the jams, or unstructured activities. Rehearsals and workshops are for paid participants only, and workshop-only passes will be available (please see above).
Minors who wish to participate are welcome—with parental supervision, as needed. Supervising parents are welcome at all activities, but should expect to purchase concert tickets if attending.
Questions?
We'd love to hear from you!
Arriving in Astoria early?
August Watters will join performers at another great Astoria Festival: Tenor Guitar Gathering
June 2-4, 2023