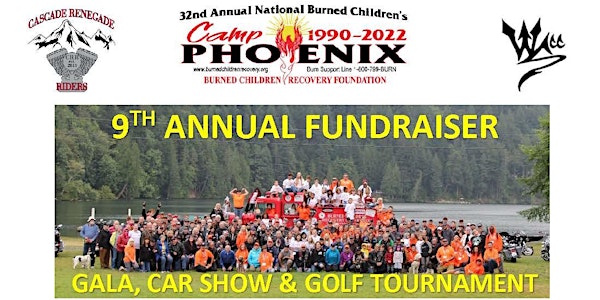 Cascade Renegade Riders and Warped Steel Car Club Fundraiser for the BCRF
***TICKETS ON SALE NOW FOR THE MAY 14, 2022 GALA FUNDRAISER ***
When and where
Location
Lynnwood Eagles 19223 Hwy 99 Lynnwood, WA 98036
About this event
Thank you for your interest in attending the 9th annual Cascade Renegade Riders and Warped Steel Car Club Fundraiser Gala, Car Show and Golf Tournament benefiting the Burned Children Recovery Foundation. The Gala, Golf Tournament and Car Show will be held on May 14, 2022.
The Gala is at the Lynnwood Eagles 19223 Hwy 99, Lynnwood, WA  98036 and is open to the public. Doors open at 4:30 PM and the Gala starts at 5:30 PM.
The Golf Tournament will be the Lynnwood Golf Course 20200 68th Ave W, Lynnwood, WA 98036. Check in starts at 10:15 and Shotgun start is at 11:00 AM.
Warped Steel will be hosting the Car/Motorcycle show at the Senior Services of Snohomish County ( Homage) 5026 196th St. SW, Lynnwood, WA 98036. Registration Starts at 11:00 AM and ends at 3:00 PM with an Awards Presentation. Food will be available for purchase.
Gala: For $40, you will get to enjoy a Social Hour, Dinner, Dessert Dash, Silent and Live Auctions, Raffles, Photo Booth, Dancing to a live band, and other fun activities as we raise funds to help a lot of deserving children.
For $100 you can buy a table, so up to 10 of your closest friends can all sit together.
(You still need to purchase your gala ticket for each of the seats)
Golf Tournament: Cost is $150 per player and will include a round of golf; cart; swag bag and gala entry, raffle and beverage tickets. If you want to play golf but not attend the gala, the cost is $70 per player. That will cover a round of golf, a swag bag and lunch. There are also several sponsorship levels available. See '"Tickets' for more information.
Car /Motorcycle Show: Registration is $20 and includes $5 off the admission ticket to the Gala. Any car, truck and motorcycle can be entered. There will be People's Choice awards for 1st, 2nd and 3rd place.
Introduction:
280,000 children are burned every year in America. How many have you see? Not many, because most severely burned children never leave their home once burned. They go into hiding. They may become suicidal. They eventually become a burden on society when and if they become adults. They are not living life to its fullest. The social perception of a burn survivor is that they are socially discriminated against more than any other group in America. Our goal is to prevent this from happening while they are young by giving them the tools, resource and help so that they can overcome any obstacles that stand in their way of recovery. The Burned Children Recovery Foundation's support and information makes the road to recovery less difficult. Many children are turned away from this help because the funds are not there. We provide support and financial assistance to any child that is burned, age 18 and under and living in the United States. No family is rejected service based on their social, economic status, race, ethnicity or gender.
BCRF Mission:
Our dedicated staff and caring volunteers are committed to effectively helping burned children and their families manage the emotional, social, and psychological effects of being scarred.
Providing Hope and New Beginnings to Burned Children for 33 years. We Let No Child Walk Alone!
History:
Lifelong Everett native, Michael T. Mathis, was burned over 64% of his body at age 11 in 1967 and is the Founder and President of the BCRF. The BCRF has an additional paid staff member who is the Executive Director. The BCRF Board of Directors oversees all programs, implements fundraising programs and provides strategic planning advice. The Burned Children Recovery Foundation has over 780 volunteers who play an important role in fulfilling the BCRF's mission. Many are involved in fundraising efforts as well as volunteering their time and expertise for the BCRF's many programs.
Burns can be physically and psychologically devastating. Unlike many other injuries, those with burn and scald injuries wear the scars of their trauma for the world to see. The need for ongoing support to cope with the emotional, mental, and financial issues is crucial. There is a growing society of hidden children that are lost because of the negative response to their burn scars. To date we have distributed over 135,700 recovery packets to burned children and their families after fire and burns have changed their lives forever!
Services and Programs:
The Burned Children Recovery Foundation has many support programs and activities where the children can come and learn how to deal with what has happened to them. We offer unique support from experienced burn survivors who understand the trauma the children are going through. The credibility of "having walked in their shoes" helps the burn survivor trust, feel comfortable asking questions, and seek support and understanding in dealing with personal difficulties. This support helps the children through the transition from victim to a survivor.
BCRF Provides:
• Transportation, meals and lodging costs for medical appointments or surgeries.
• Financial assistance for out-of-pocket medical costs and counseling.
• Toll free burn survivors helpline.
• National Camp Phoenix for young burn survivors
• School re-entry program that prepares the school so the child can return to a safe
environment
• Funds for school, summer and winter clothing that helps to build self-esteem in the child.
• Costs for activities and hobbies outside the home that prevents reclusion.
National Burned Children's Camp Phoenix – Camp Phoenix provides an opportunity for children recovering from burn injuries to meet other children who share similar feelings and experiences. The week-long camp gives these children temporary freedom from the everyday frustrations of being burned, a chance to share their stories and to bond with each other. It's a week full of friendship, sharing and activities that provide physical and emotional challenges to invoke a feeling of accomplishment no matter how small.
Campers and adult burn survivors share their stories and emotions, especially shame and fear, about their recovery. The shame will remain forever, however the fears can be turned into challenges with support of other survivors and by having a new outlook on life. They become a valuable member of the Phoenix Family, which helps the children feel more comfortable and in control of their anxieties and panic when receiving negative reactions or when asked what has happened. Most of all, camp is place to have fun, learn new things, find acceptance and build self-esteem.
The tools the children learn at Camp Phoenix will help the child stay in school, learn coping tools and develop a high self-esteem and learn to live a full life and not become a burden to society as they become adults.
Counseling & Information - We provided the necessary tools to the children so they can develop the skills needed to cope with the many obstacles that stand in their way of recovery and to stay in school and not hide. Pain and fear of their changed physical appearance, physical limitations, depression, anxiety, and overwhelming panic attacks are some of the feelings we help the burn survivor understand. Many of the children suffer from Post-Traumatic Stress Disorder from the incident that caused their burns. Most will suffer from this their entire life. We pay for counseling for many of the children and require an update after each session from the counselor so we can follow the progress of the child. We offer the families a toll free burn survivors helpline. They can call the BCRF any time when they need assistance or questions answered.
Activity/Hobby Cost - We want the child to come out from behind closed doors and take part in life. We find that when a child takes part in an activity, they can separate their scars from the person and spirit inside of them. This will also help the child stay in school. We provide funding for activities outside the home that helps build self-esteem. Once a child enters our program, we find out what they like to do and help them find an activity for them.
Some of the activities we have provided financial assistance for have been:
Music/singing lessons  Musical instruments  Dance lessons and supplies  Fees for miscellaneous school activities  Fees to join service groups-Boy Scouts/Girl Scouts, YMCA  Sports programs/uniforms  Fees to purchase an animal for 4H  Swimming lessons  Art lessons and supplies  Bikes  Bowling lessons/supplies  Boxing
We will not fund for computers/games, cell phones, televisions, vacations, water parks, driving lessons, dances, etc.
Financial Assistance - Many families become financial devastated from their child's injury. We can help these families by offsetting some of the cost associated with the healing and recovery from the burn injury. We help with transportation, meals and lodging cost for medical appointments or surgeries. We can help with out-of-pocket expenses for medical treatments and prescriptions. Most families we helped said they could have never made it their medical appointment if it was not for the help of the BCRF.
Social Reentry - Anticipation of the return to school and home can be overwhelming and frightening. We give parents positive tools to help guide their child's reentry back into society. We also work with the school staff and students to help them understand what the burn survivor is experiencing. We give the child a clothing allowance that enables them to buy new things that they may never have been able to afford-coats, shoes, school clothing/uniforms, etc. This helps to build self-esteem and makes them feel more comfortable around their peers.
With the programs and the tools that we provide to the children, they learn that they can continue to live full and productive lives behind the scars.
There are 64-burned children's camps, burn foundations, and hospitals from across the nation that we work with to improve the care for the children. We have been a member of the International Association of Burn Camps since 1990. We are also members of the Federation of Burn Foundation and the American Burn Association. We work with fire departments from all over the country. Over 60% of the children we help come from the 23 Shriners Hospitals for Children located across America.
What makes the BCRF unique from other agencies is that we provide one on one care to the burned children and their families while in our programs. We deal with their day-to-day problems through our toll-free burn support line. We help them return to school and provide transportation to the hospital for surgeries and outpatient care. Camp Phoenix is our annual weeklong camp located in Washington State in Whatcom County. We help the children understand what has happened and how they can deal with the problems from being a burn survivor. Most of the other burn camps bring the children to camp just to have fun. We are different in that our camp provides open talks about the problems the children will face in their recovery. The children are asked to stand up and tell their story about how they were burned. This is an emotional moment in their recovery because they need to get used to the question- "What happened to you?" this is where they learn how to respond to the public's negative reactions to their scars and regain control of their emotions and their lives.
The proceeds from this fundraiser will be used to to send severely burned children living in the United States to the Burned Children Recovery Foundations week long National Camp Phoenix for young burn survivors and to support other BCRF programs and services. The cost to attend Camp Phoenix is $1,500 per child. All expenses to attend are paid by our donors.
Love with your heart, not what your eyes see!
This funding is so important to the families the BCRF serves. Please consider attending this great event, we can't help the children without your support. Thank you to all for your support. To learn more about the charity, visit them at: www.burnedchildrenrecovery.org
*****************************************************************************************
Gala Contact:  Don Daves at donbred1@gmail.com or 425.268.8488
Golf Tournament Contact: Kathleen Mathis at bcrfdirector@gmail.com or 253.227.3953
Car Show Contact: Melissa Beach at melissabeach63@gmail.com
BCRF Contact: Michael Mathis , BCRF Founder or Kathleen Mathis, BCRF Executive Director at bcrfdirector@gmail.com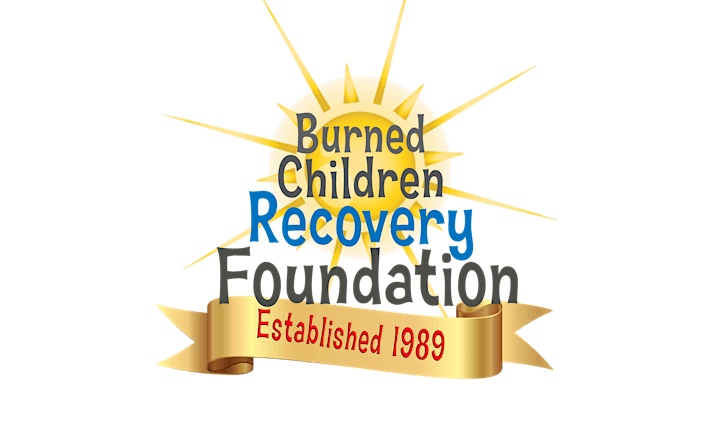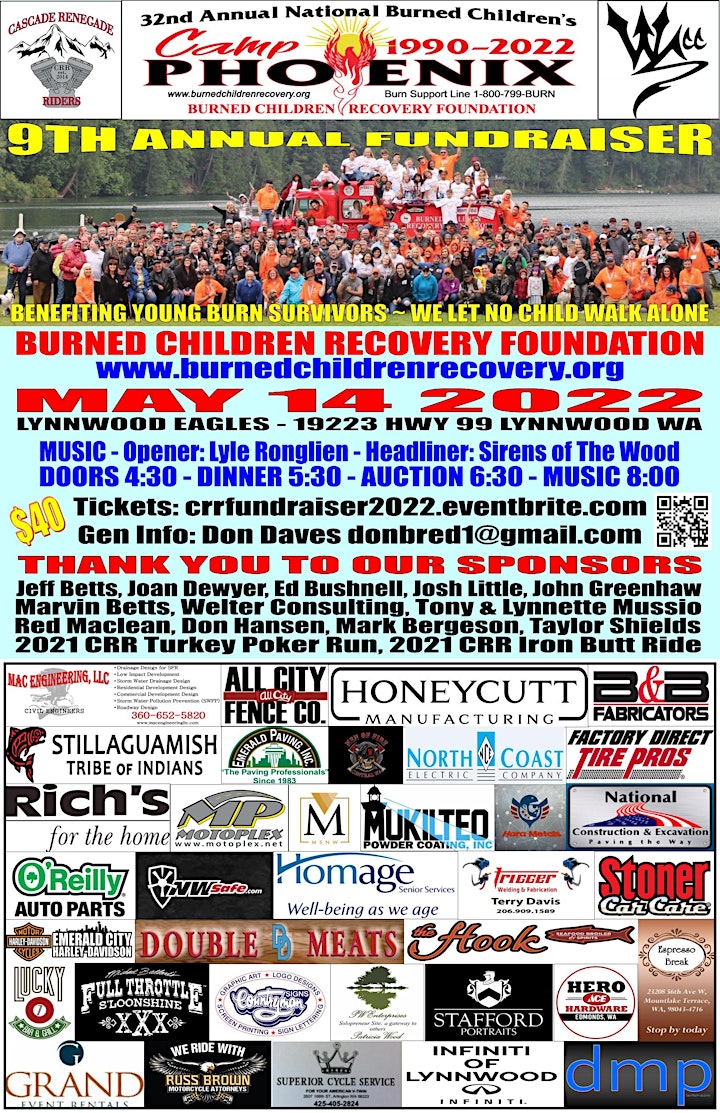 Thank you to all of our sponsors for helping make this event possible. We could not do this event without you.