CASBS Symposium: "Digital Media, the Public Sphere, and Democratic Governan...
Description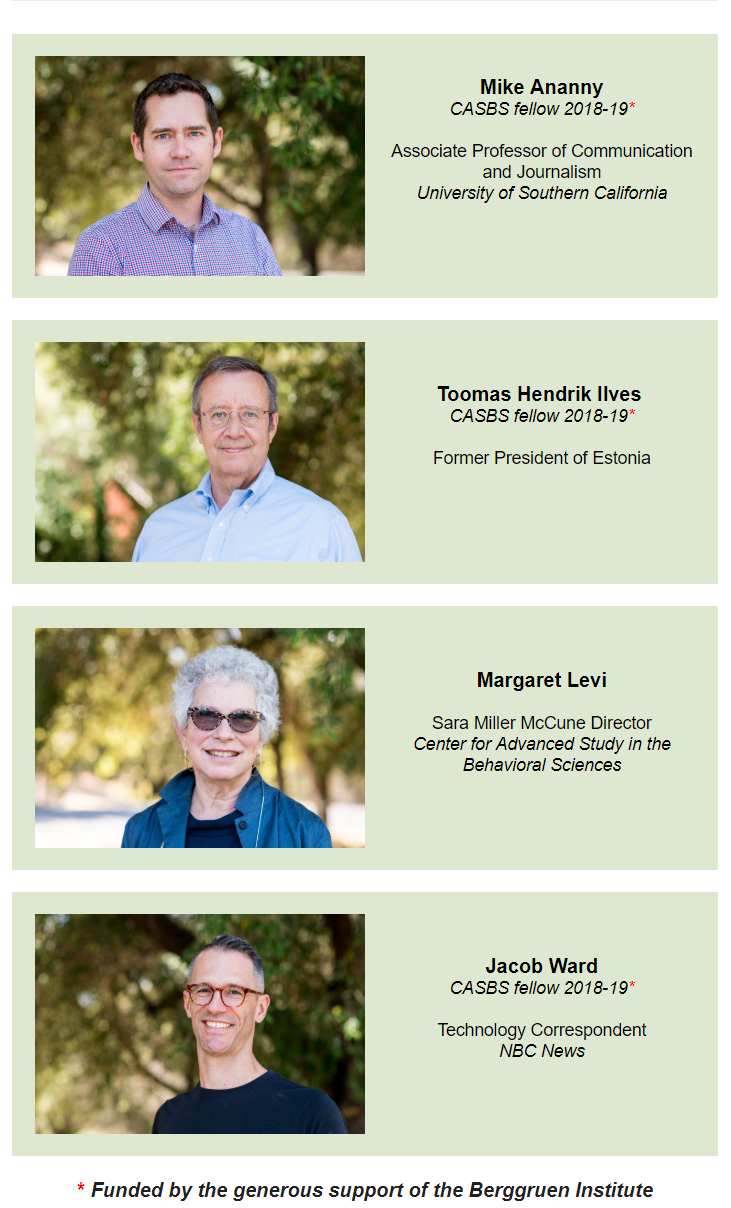 Digital Media, the Public Sphere, and Democratic Governance
By most measures, life in the digital era has been fundamentally transforming and accelerating since the mid-2000s. Some of this change has served the public good, broadly defined, by creating new opportunities for expression, participation, collective action, and social justice. But some of it – "fake news," disinformation, threats to democratic processes, and aspects of what many call "surveillance capitalism" – has not.
Are these problems and threats endemic, permanent features of democratic digital life, or are we in an especially turbulent, transitional moment as we learn how to govern new technologies? Social media and online publishing platforms in particular – with enormous data-gathering capacities and powerful pattern-recognition algorithms driven by machine learning and AI – now find themselves under intense scrutiny. Are these firms technology companies, media companies, or both, and why do these distinctions matter? Are they neutral intermediaries producing generic tools, or do they have vested interests in people, messages, and commerce – interests that are too opaque and complex for the public to know and regulate? They have enjoyed a great deal of de facto immunity as carriers of individual and group speech, but how might this power be curbed, redistributed, or shaped with new obligations and responsibilities? How can we move past the idea that technologies have "effects," and instead see them as part of society, with accountability coming both from within these companies and from outsiders like users, activists, scholars, journalists, and lawmakers? Which changes are easily achievable and implementable today, and which shifts are more fundamental, forcing us to think differently about what it means to survive and thrive with radically new forms of personal autonomy, collective self-governance, and reinvented capitalism?
This panel, consisting of communication scholar Mike Ananny, former president of Estonia Toomas Ilves, comparative political economist Margaret Levi, and technology journalist Jacob Ward brings the cross-disciplinary and cross-sectoral expertise needed to explore and demystify these wicked problems, generative questions, and offer promising solutions.
This symposium is also the third annual Robert A. Scott lecture.
---

Tuesday, April 9, 2019
Reception at 5:00pm. Talk from 5:30pm - 6:45pm.

*There will be valet parking at this event.

CASBS will also broadcast this event via livewebstream. The stream will go live once the talk begins on April 9, 2019 at 5:30pm PST.
Please scroll down the CASBS website homepage – casbs.stanford.edu – to view the livestream.
---

Panelists
Mike Ananny is an associate professor at USC's Annenberg School for Communication and Journalism, where he researches the intersection of journalism practice and technology design, the public significance of networked news infrastructures, and the ethics of algorithmic systems. Specifically, he studies how institutional, social, technological, and normative forces both shape and reflect the design of the online press and a public right to hear. He is also an affiliated faculty with USC's Science, Technology and Society research cluster, and a past faculty associate with Harvard's Berkman Center for Internet & Society. Mike's latest book is Networked Press Freedom: Creating Infrastructures for a Public Right to Hear (2018). @ananny
Toomas Hendrik Ilves served as the president of Estonia, perhaps the most digitized country in the world, from 2006 to 2016. He previously served as Estonia's first post-independence ambassador to the U.S., Foreign Minister, and Vice-president of the European Parliament's Foreign Affairs Committee. Ilves has focused on democracy and digitization for more than 25 years. He served as chairman of the EU Task Force on eHealth from 2011 to 2012, and was chairman of the European Cloud Partnership Steering Board. In 2013 he chaired the High-Level Panel on Global Internet Cooperation and Governance Mechanisms convened by ICANN. From 2014 to 2015, Toomas was the co-chair of the advisory panel of the World Bank's World Development Report 2016 book, Digital Dividends, and also served as chair of World Economic Forum's (WEF) Global Agenda Council on Cybersecurity. @IlvesToomas
Read a 2017 article in The New Yorker, "Estonia, the Digital Republic," here.
Margaret Levi is the Sara Miller McCune Director of CASBS and professor of political science at Stanford. She was a John Simon Guggenheim Fellow (2002-03) and has been elected to the American Academy of Arts and Sciences (2001), the National Academy of Sciences (2015), the American Academy of Political and Social Sciences (2016), and the American Philosophical Society (2018). She served as president of the American Political Science Association in 2004-05. In 2014 she received the William H. Riker Prize in Political Science. View a 2018 talk by Levi on "AI, Automation, and Society" at the Human Intelligence & Artificial Intelligence (HIAI) in Medicine Symposium, hosted by Stanford's Presence Center, here. View a 2018 Levi talk on "Creating Trust and Trustworthiness in Digital Institutions" at a conference on Transparency and Trust in a World of Social Bots, hosted by Stanford MediaX, here. @margaretlevi
Jacob Ward is the Bay Area-based technology correspondent for NBC News covering, among other things, the various ways that technologies push human beings past their physical, mental, and ethical limits. He previously worked as a technology correspondent for CNN, Al Jazeera, and PBS, and is former editor-in-chief of Popular Science magazine. His ten-episode Audible podcast series, Complicated, discusses humanity's most difficult problems, and he is the host of an upcoming four-hour documentary series, "Hacking Your Mind," that introduces a television audience to the fundamental scientific discoveries in human decision making and irrationality. As a CASBS fellow, Jacob is writing a book on how artificial intelligence will amplify, change, and replace human instincts. @byjacobward