CASBS Symposium: "Betrayal and Courage in the Age of #MeToo"
Description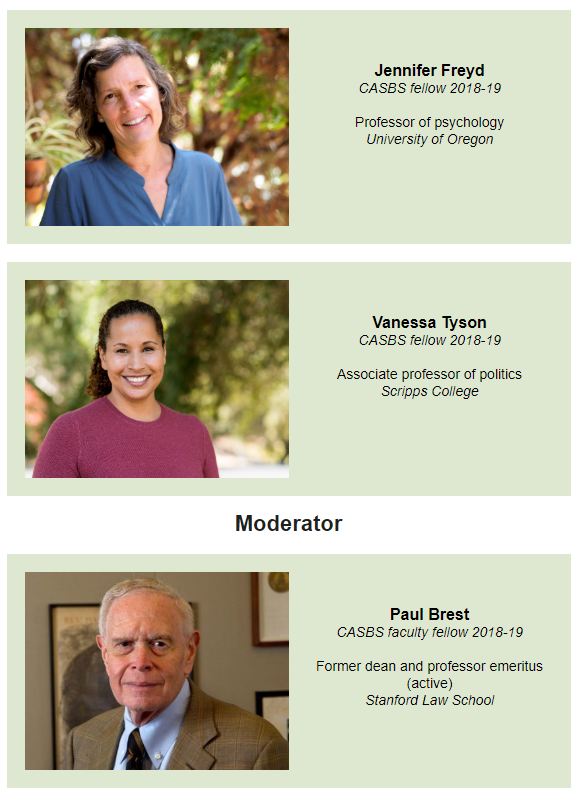 Betrayal Courage in the Age of #MeToo

Throughout the past 18 months, tens of thousands of recollections of sexually violent events have emerged across the United States. In many of these accounts, we also have heard numerous stories of institutional betrayal where college and university administrations, military and church hierarchies, corporate and entertainment industry cultures, and the justice system have failed to support sexual assault survivors, further compounding their trauma. In this public discussion, psychologist Jennifer Freyd will explore the dire need for institutional courage in the age of #MeToo, and political scientist Vanessa Tyson will delineate the connections between sexual violence and the persistent structural inequality that disproportionately impact women and girls. Informed by decades of empirical research and theoretical development, Freyd and Tyson – both 2018-19 CASBS fellows – will bring their cross-disciplinary expertise to bear as they help us understand the underlying dynamics of sexual violence and institutional betrayal, as well as offer essential correctives that can lead us to a more equitable society.
---

Tuesday, February 12, 2019
Reception at 5:00pm. Talk from 5:30pm - 6:45pm.

*There will be valet parking at this event.

CASBS will also broadcast this event via livewebstream. The stream will go live once the talk begins on February 12, 2019 at 5:30pm PST.
Please scroll down the CASBS website homepage – casbs.stanford.edu – to view the livestream.
---

Panelists

Jennifer Freyd is a professor of psychology at the University of Oregon. She is a widely published and nationally-renowned scholar known for her theories of betrayal trauma, institutional betrayal, institutional courage, and DARVO. She researches these topics in the context of institutional behavior, sexual violence, discrimination on the basis of gender, minority status, and sexual orientation, and also disclosures of abuse. She earned her PhD in psychology from Stanford University. In addition to more than 200 journal articles and op-eds, Freyd is author of the award-winning book Betrayal Trauma: The Logic of Forgetting Childhood Abuse (Harvard University Press), and coauthor of Blind to Betrayal (Wiley). In 2014, Freyd twice visited the White House to discuss her research on sexual assault and institutional betrayal. Her numerous awards include being named a John Simon Guggenheim Fellow, an Erskine Fellow at The University of Canterbury in New Zealand, and a Fellow of the American Association for the Advancement of Science. In 2016, she was awarded the Lifetime Achievement Award from the International Society for the Study of Trauma & Dissociation. Freyd currently serves as the Editor of the Journal of Trauma & Dissociation. She previously was a CASBS fellow during the 1989-90 academic year.

Vanessa Tyson is an associate professor of politics at Scripps College. Currently she is researching the politics and policies surrounding sexual violence against women and children in the U.S., specifically the political discourse surrounding sexual assault, corresponding policies, and the unique identities of sexual assault survivors. She earned her PhD in political science from the University of Chicago. As a scholar of policy formulation, race, gender, and social justice, Tyson has an extensive background in both U.S. and California politics. Having worked on political campaigns since her teenage years, she carefully considers how political dynamics affect policy formulation and consequent outcomes. She spent years volunteering as an advocate for sexual violence awareness and prevention, serving as one of the founding members of the Boston Area Rape Crisis Center Survivor Speakers' Bureau, and starting a self-esteem/self-awareness program for female juvenile offenders through the Department of Youth Services in Massachusetts. Tyson's first book, Twists of Fate: Multiracial Coalitions and Minority Representation in the US House of Representatives (Oxford University Press), explores structural inequality in the U.S., and how members of Congress have formed multiracial coalitions as a strategy to provide for their diverse constituencies.

Freyd and Tyson are among a group of 2018-19 CASBS fellows collaborating on a joint project, "Interdisciplinary Perspectives on Sexual Violence: Individual, Institutional, and Structural Forces."

Moderator

Paul Brest is former dean and professor emeritus (active) at Stanford Law School, a lecturer at the Stanford Graduate School of Business, a faculty co-director of the Stanford Center on Philanthropy and Civil Society, and co-director of the Stanford Law and Policy Lab. Brest served as president of the William and Flora Hewlett Foundation from 2000-2012. He is a 2018-19 CASBS faculty fellow; served on the CASBS board of directors (2010-18), including as board chair; and was a CASBS fellow in 1983-84. He is coauthor of Money Well Spent: A Strategic Guide to Smart Philanthropy (2018, 2nd ed.); Problem Solving, Decision Making, and Professional Judgment (2010); and numerous articles on constitutional law, philanthropy, and impact investing.

Brest is a fellow in the American Academy of Arts and Sciences, and holds honorary degrees from Northwestern University School of Law and Swarthmore College. Before joining the Stanford Law School faculty, he clerked for Judge Bailey Aldrich of the U.S. Court of Appeals for the First Circuit and Justice John M. Harlan of the U.S. Supreme Court, and did civil rights litigation with the NAACP Legal Defense and Education Fund in Mississippi.