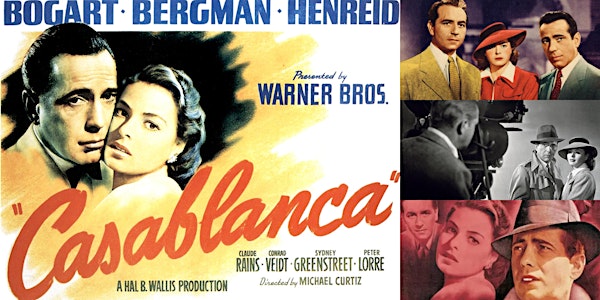 'Casablanca: The Making of Movies' Greatest Love Story' Webinar
Can't make it live? Register and get access to the full replay for one week! New York Adventure Club | www.AdventureClub.com
About this event
Eighty years after its premiere, Casablanca is still one of the world's all-time favorite Hollywood love stories. But behind the movie's onscreen events was an equally dramatic true story — one filled with its own share of passion, heartbreak, and triumph. After decades of myth-telling about its production, it's time to share the true story that spans from the eve of World War II to long beyond the movie's challenging shoot and blockbuster success.
Join New York Adventure Club as we go behind-the-scenes and explore the making of Casablanca, from the launch of its production hours after the Pearl Harbor bombing to its iconic setting of Rick's Café, which was inspired by an actual location in pre-WWII France.
Hosted by award-winning author and Emmy-nominated documentarian Steven C. Smith, our virtual experience of Hollywood's greatest love story will include:
An emotional, deep-dive look into Casablanca's cast, which included many actors who had fled Hitler's Europe
The real-life origins of Rick's Café, a French café whose customers included Americans, anxious Europeans, and Nazi soldiers
A debunking of the many myths surrounding Casablanca's making, and the true stories that are actually better
An exploration of its classic soundtrack, from the songs used ("As Time Goes By") to its Oscar-nominated score
Afterward, we'll have a Q&A with Steven — any and all questions about Casablanca are welcomed and encouraged!
Can't make it live? Don't worry, you'll have access to the full replay for one week!
See you there, virtually!
*Immediately upon registering, you will receive a separate, automated email containing the link to join this webinar
**For the best possible viewing experience, please ensure you're using the latest version of your internet browser — Google Chrome is the most compatible. Exact technical requirements and a webinar user guide will be shared in the automated confirmation email upon registration.
***A full replay of the experience will be available to all registered guests for up to a week
About Steven
Steven C. Smith is a four-time Emmy-nominated producer, and the author of Music by Max Steiner: The Epic Life of Hollywood's Most Influential Composer. The biography was named one of the best books of the year by BBC Music Magazine and Variety.
Smith is also the author of A Heart at Fire's Center: The Life and Music of Bernard Herrmann, which received the ASCAP-Deems Taylor Award. Steven's over-200 documentaries include collaborations with Steven Spielberg, George Lucas, Martin Scorsese, Julie Andrews, and Stephen Sondheim.
Testimonials
"The presenter is not only knowledgeable but he also chooses material which thoroughly interesting." -Ellen
"Everything… this was one of the best NY Adventure club virtual events I've attended. They are all good, but this was excellent! Inside information and so much more! Well done." -Kathleen
"This was by far one of the best webinars I have seen through the NY Adventure Club. He was amazing! So interesting, well-researched, and engaging! More by this presenter, please!" -Judith
"Steven Smith is a true expert -- smart, articulate, and friendly." -Rich
"This presenter was a joy to listen to, a wealth of knowledge and a class act. Bravo" -Karyn
"Steven Smith is a wonderful presenter. Have seen him before. Informative, knowledgeable, entertaining. Time flew by" -Fredric
"The presenter was perfect in his articulation of the backstory and his visuals matched his professionalism" -Celeste
"I liked the back story on the film and the well-placed excerpts to underline the points, also the "intrigue" surrounding putting a film together.. who was tapped to play which roles and why. And who WOULDN'T want Humphrey Bogart as the leading man....??? mmmm." -Elise
"Steven Smith gives informative and fascinating presentations every time!" -Corinne
"Fantastic overall. Stephen is a superb teacher and presenter, and keeps things fun and interesting. Thoroughly researched presentation, with excellent supporting visuals." -David
"Steven is a consummate professional. His understanding of the subject is excellent. The material was carefully chosen and presented coherently. My knowledge of the film Casablanca is much enhanced." -Tom
"This was a terrific lecture by steven smith; a lot of new information on the making of this iconic film." -Ginny
"The multi-faceted approach: explanation of personalities, war history, refugees, Morocco, actual filming issues, the original play, other references, etc. I found it fascinating. Certainly held my interest, as have every one of the NYAdventure Club webinars. I live overseas so really appreciate the access at a time I can watch the movie. Keep these webinars coming! Well done everyone." -Ellen F.
"This was my first webinar with New York Adventure Club after attending hundreds of Zooms and some events on other WebEx and Teams. I think your Livestorm platform is the best and smoothest I've encountered, it's a shame that one didn't become dominant! Steven is one of my favourite speakers whom I've enjoyed hearing in events for other organisations. The host was very good in leading an excellent Q+A, which is where some talks I've attended have been lacking." -Tod
"Speaker was excellent. Great video clips. Great content. Very well presented and maintained my interest throughout." -Helen
"Steven is always an informed and entertaining host who thoroughly knows his subject." -Dorothy
"Steven does a great job of putting tings in context and then following up to tell a big picture story" -Rob
"Steven C. Smith is an absolute treasure ... he is my very favorite NYAC webinar lecturer ! His presentations are ALWAYS packed with fascinating behind-the-scenes details, as well as outstanding photos!" -Harold
"It was well prepared and Steven obviously cares deeply about the film industry and every aspect of making a movie. His research with history, his personal experiences and knowledge all mix to make a wonderful presentation that's inspiring, interesting and exciting." -Argie
"It was very organized, it gave lots of "background" information which showed a good deal of research and covered many aspects of the film" -Prudence
"New info on a classic film I love. Great and rare interview clips with the actors and filmmakers." -Paul
"I loved the behind the scenes details, including details about actors, music, production, history.... I loved all of it!" -Kristin
"Steven is passionate about his interests and he has the ability to communicate great enthusiasm, which is catching. We share a love of great cinema and classic film music, and I already have learned much from him." -Ronald
"The enthusiasm Steven gave into his love for the film." -Scott
"Depth of content. Knowledgeable presenter. Fascinating topic. Excellent, all around." -Patricia
Disclaimer
By attending a New York Adventure Club experience, you accept our terms of service.
Categories: Virtual, Art & Entertainment