Casablanca Hands-on Workshop - Missouri 2012

Saturday, October 27, 2012 at 11:00 AM

-

Sunday, October 28, 2012 at 5:00 PM (CDT)
Event Details
You can join Casablanca expert Chet Davis in Missouri at the end of October 2012.
  Chet will provide you with an opportunity to be coached in intermediate/advanced Casablanca skills and techniques!  Our workshop will be in Belton, Missouri  - a suburb of Kansas City (nearest airport is KCI -- Kansas City International)
NOTE: This will be a Bogart only workshop - there are too many variations between Smart Edit & Bogart now and it would be too much division to teach both platforms together. If you need Smart Edit lessons - Chet will be offering Smart Edit only classes later and on DVD)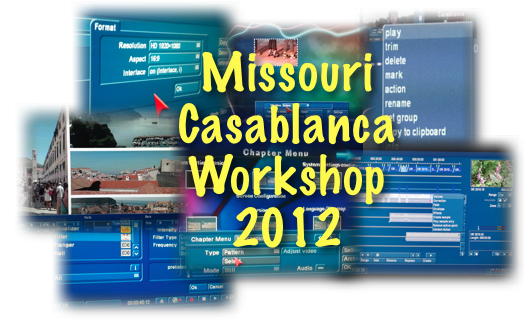 You bring your Bogart OS Casablanca unit and a monitor.  Chet will supply the class footage as AVI files on DVD for use with Disk Transfer.  You load the footage onto your Casablanca editor and follow along with Chet as he leads you through two days worth of exercises to help raise you on the ladder of video enlightenment.
Registration for this two-day hands-on training is just $199.00 per person. The registration fee includes workshop footage on DVD, expert instruction & hands-on training, lunch both days.
* Your Casablanca unit must have Bogart V4 Operating System active as well as the following five add-on software products installed and activated (not in Demo Mode) Disk Transfer, PowerKey, Audio Effects Pack, and DVD Arabesk 4 or Arabesk 5.  Optional but recommended software: Store-N-Share and/or Bogart HD Back-up (Chet will cover the value and use of each of these in the lessons)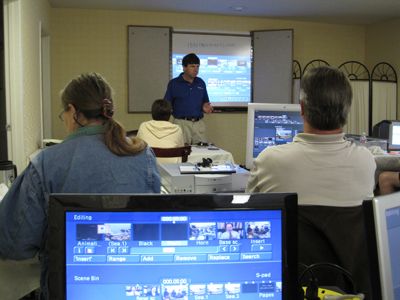 Other software that must be active or installed and in the 'demo' mode includes: BlueBoxWorld, Slivers, PIP Studio 3D, PIP Studio 2, Audio Effects Pack.  You will be provided with the Disk Transfer DVD upon set-up on Wednesday morning. We will load the workshop footage as part of our first day activities.
The workshop host - Ken Smithers of Picture This Video, is offering an event special 20% discount on all Casablanca software for those attending.  Contact Ken (see below) to take advantage of these special Casablanca software prices.
AGENDA
(subject to change)
We begin at 11AM to give you time to drive in!
Saturday October 27th, 2012 11:00AM - 6:00PM
+ System/Project Set-up Options: Understanding project resolutions, limitations of Progressive vs. Interlace, Monitor Set-up Options & Limitations
+ Importing of stream & file video through the current Bogart OS (MOV, AVI, AVCHD, HDV, SD video)
+ Tips for More Efficient Workflow - using enhancements in Bogart V4, PowerKey, etc to improve speed in editing
LUNCH
+ Creative Effects Sequences with Casablanca Slivers, BlueBox World
+ PIP-O-Licious Effects with PIP Studio 2 and PIP Studio 3D
+ Project Sandbox: Building a sample local business profile web video


Sunday October 28 2012   9:00AM - 5:00PM
+ Hard-drive back-up options
+ Editing using Store-N-Share HDD
+ Audio Operations Under Bogart V4 - when to use Timeline and how to use new Audio Shortcuts
+ Audio Sweetening: Internal & External - using the top Audio Effects Pack tools & when/how to export for Audacity on your computer
LUNCH
+ Professional looking DVD menus with Arabesk
+ Burning Blu-ray project using Arabesk 5
+ Foundations of Media Manager for exporting files (Chet successfully uses MM all the time!)
+ Exporting files: For use on other computers, for upload to internet, for mobile device display,


* NOTE: There will be 3 Bogart OS editing stations available for 'rent' during the workshop from Picture This Video.   This editor/monitor set-up can be rented for a convenience fee of $75 additional for the 2-day session.   You will not have to bring any equipment if you choose this option.
The nearest hotel is the Comfort Inn Belton which is less than a mile from our workshop site. You can make your hotel arrangements via their website here or telpehone at (816) 322-8700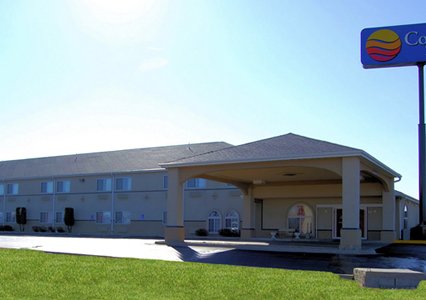 Comfort Inn Belton

You can reach Ken via email <Ken@picturethisvideokc.com> 
I look forward to the possibility of working with you in October 2012!

Please send an email message to chet@chetdavis.com if you have any questions about this workshop

Attendee List
Sort by:

Date

|

First Name

|

Last Name
When & Where
7926 E. 171st Street
Belton, MO MO


Saturday, October 27, 2012 at 11:00 AM

-

Sunday, October 28, 2012 at 5:00 PM (CDT)
Add to my calendar
Organizer
CasablancaExpert.com
Providing expert instruction and resources to help you get the most from your Casablanca digital video editor!
Casablanca Hands-on Workshop - Missouri 2012