Description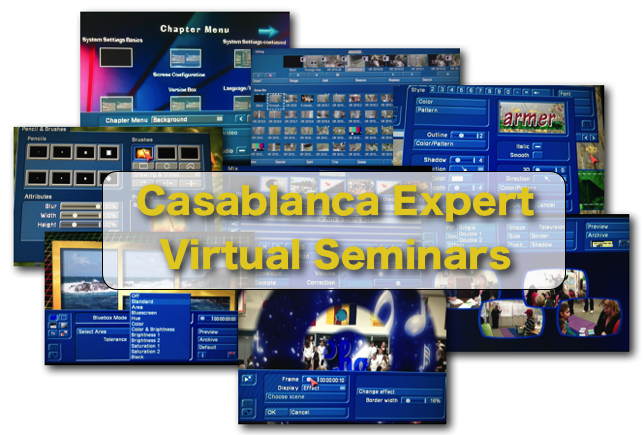 ---
Virtual Seminar 4: Advanced Casablanca Audio

This Session: Tuesday March 5th
Other Topic Sessions: February 12, February 19, February 26,
March 12, March 19, March 26

11:00AM-2:00PM Pacific / 1:00-4:00PM Central / 2:00-5:00PM Eastern
This will be an opportunity for folks to learn intermediate/advanced skills from the Casablanca Expert in the comfort and convenience of your own studio/office, with the cost savings of avoiding travel expenses!

We'll join together using the latest in internet technology (using the GoToWebinar services) and learn directly from Chet Davis. It will be a _live_ seminar where you follow along the instructor, with a front row seat! Chet will be demonstrating & teaching- showing you his Casablanca screen on the web-cam which will play on your computer monitor.
And each session will be recorded so you will have the opportunity to review the lessons and maximize your learning!
"I am holding registration for each of these classes to only 20 learners per session -- it's likely they will fill up fast" You can register today right on this page - click the green ORDER NOW button above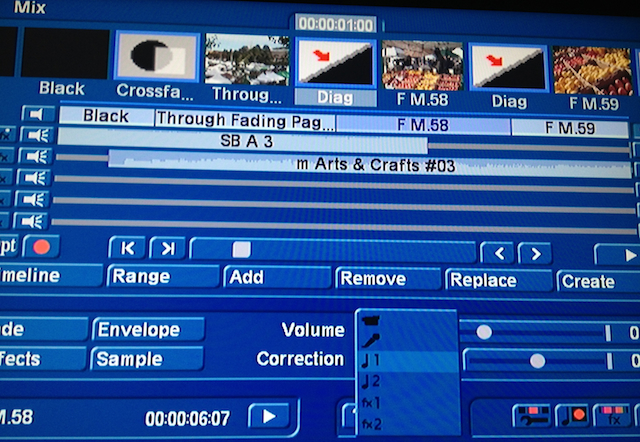 Here's what you will learn in this specific Virtual Seminar
Advanced Casablanca Audio
Interestingly enough - audiences are more forviging of 'poor' video than they are of 'poor' audio. The sounds delivers the emotion on our projects, and often times conveys more subect matter than we realize. Audio is sometimes neglected but so very important to providing your audience with a rich, successful message.

Join Chet Davis - the Casblanca Expert - in this virtual seminar where you'll learn to more effectively use the audio tools nestled in your Casablanca video editor. Here's what you will learn in this specific semianr:

Competency With Audio Range For Trimming & Positioning Samples
Adjusting & Blending Your Final Audio Mix

Creative Use of the Correction Tools
Creating Audio Samples from your Mix Menu Tracks
The Envelope Please... Audio Envelope that is
Select Audio Effects & Tools
Importing Audio from Computer Files & DARs (Digital Audio Recorders)
Specialized Casablanca Audio Functions: Edit to the Beat, Export Audio to CD, and more

---
What will the workshop be like?
You will be seeing the Casablanca screen (monitor) of Chet Davis on your computer monitor while you hear Chet talking and teaching through each session... Chet will pause for questions at regular intervals.
If you have a question there is a place in the on-screen viewer for you to type in your question which Chet will see immediately and can address it. Chet will guide you through some really useful exercises and provide tips along the way to make your video editing more creative and more efficient.

NOTE: This is an Intermediate/Advanced session is not for beginners, you should be comfortable with the use of your Casablanca editor - a recommendation is that you use your Casablanca daily or regularly... that's the kind of fluency or comfort level we are striving for with this workshop. This does
not
mean you can't ask questions or even that you should not have questions... but rather we want to ensure the skills of the workshop participants is at a level that allows us all to reach new heights.
Please see this page to review/confirm what you should already know about/be able to do with your Casablanca editor:
Requirements for Participating in Online (Virtual) Casablanca Workshop.
This session of the Virtual Workshops are for folks using both the Smart Edit and Bogart OS Casablanca editors. You should ideally be operating on one of the latter versions of the Operating System - either Smart Edit 8 or 9; or Bogart V4 or V5.
Select functions from the
Audio Effects Pack 1
add-on software will be demonstrated, which is your option to install (or perhaps after this class you'll make a better, informed decision for your editing needs).
Register today right on this page - click the ORDER NOW button above to take part in this enjoyable, valuable workshop experience.
Here's what others had to say after participating in a Casablanca Expert Workshop:
"I learned a tremendous amount.There were so many features on the new Operating System that I couldn't figure out how to use them. So many short cuts you showed, that help me to improve and speed up the editing process. I learned a LOT more than I anticipated. "
"What a great workshop! I found myself paying close attention to every detail because everything you told us was of such value. "


"Even though I was familiar with several of the areas you covered, you were able to teach me more about it anyway - I learned several valuable tricks. GREAT JOB!"


"I REALLY enjoyed your class. YOU make the class enjoyable and fun and you are so easy-going and an AMAZING teacher"
If you have ANY questions about this workshop - please contact Chet Davis via email or telephone 415-595-9284