Description
North Bay Art & Film Festival 2017
Casablanca Casbah – OPENING RECEPTION
October 6, Friday 6:00 pm – 9:00 pm
Carter' Biz Cafes, Benicia, CA

Fabulous food & drink! The Opening Reception Casino Club will benefit the Benicia Ballet!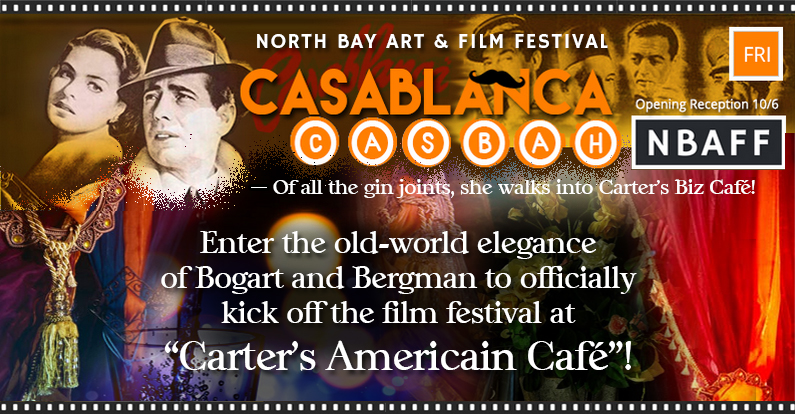 Enter the old-world elegance of Bogart and Bergman to officially kick off the NBAFF 2017 film festival at "Carter's Americain Café"! We'll indulge in sumptuous French-Moroccan small bites, get photographed with filmmakers, while succumbing to the lure of the casino in our glamorous gin joint! And Sam WILL play it again…

The North Bay Art and Film Festival (NBAFF) is an annual three day event showcasing independent films from Northern California and around the globe. The event was created by independent filmmakers with the sole purpose to showcase and screen new and upcoming talent.

Join our community of Filmmakers and Film Lovers for an unforgettable evening of fun and games & gambling for a good cause.
MORE INFO: www.northbayartfilmfest.com