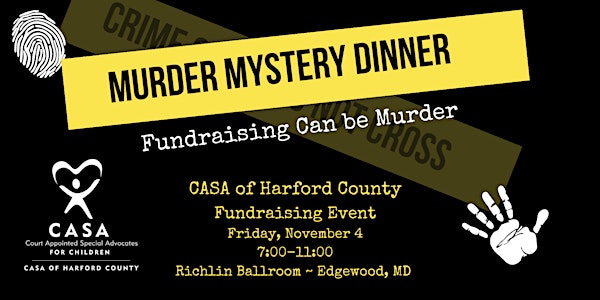 CASA Murder Mystery Dinner
Join CASA of Harford County for our first ever Murder Mystery Dinner. Lots of food, fun and prizes for all.
When and where
Location
Richlin Catering & Event Center 1700 Van Bibber Road Edgewood, MD 21040
About this event
"Fundraising Can Be Murder". Picture this, you are attending a fabulous fundraiser for CASA of Harford County. The room is filled with great people, a wonderful buffet meal, an open bar, then suddenly, someone winds up dead. Oh my! You are in the middle of a crime scene and asked to help solve a whodunnit. Join Whodunnit for Hire at the Richlin Ballroom in Edgewood, Maryland for this laugh-out-loud event that supports a great cause. But watch out. You might die laughing all while helping to support children in foster care in our area.
Admission includes:
Open Bar
Fabulous Four Course Buffet Dinner with Entrée Options
Murder Mystery Game with an opportunity to be a suspect
Raffle packages| Fundraising Games
Advance reservations required by midnight Nov 1. Limited seats.
Please contact Ross DiEdoardo. Executive Director for sponsorship opportunities 410-638-4938.
FREQUENTLY ASKED QUESTIONS
Q: Does this event include a full open bar or just beer and wine? A: This event will include complete open bar to include Seagrams 7, Dewars Scotch, Jim Beam Bourbon, Beefeaters Gin, Grainger Organic Vodka, Tequila, Orange & Cherry Vodka, Bacardi Coconut and Spiced Rum, Amaretto, Peach Schnapps, Coffee Liquor, Triple Sec and Vermouths. The bar will also include light and regular draft beer, pinot grigio, chardonnay, pinot noir, cabernet sauvignon, and champagne. Assorted sodas, juices and iced tea will also be available.
Q: What is on the menu? A: We are so excited about our menu this evening. Hors d'oeuvres will include gourmet cheeses, artisanal crackers, bruschetta, crostini and dips. The salad will be crisp romaine with feta cheese, cucumbers, olives, tomatoes, red onion and Greek vinaigrette dressing. The entrees are a sautéed chicken piccata and Tuscan salmon with herb roasted red potatoes and roasted Brussel sprouts. Assorted fruit cobblers will be offered for dessert with coffee, decaf or tea.
Q: I'd like to sit with my friends. Could we purchase our tickets separately? A: Yes. Choose a Party Name and give it to your friends. Everyone who uses the same Party Name will be seated together. We'll ask for the Party Name after you sign up for tickets.
Q: Can I get a refund? A: There are no refunds. Plan accordingly. If an emergency (such as COVID or death in the family) prevents you from attending, please give your ticket to a friend.
Q: Is this a comedy? A: Yes.
Q: Could I volunteer to be a suspect? A: Yes
Q: Should I bring cash for the fundraisers? A: Yes
Q: Are taxes and gratuities included? A: Yes
Q: Is parking free? A: Yes. Parking is free in the large lot around the building.
Q: I cannot attend the event but would like to contribute to CASA. A: Thank you! You could purchase some tickets and donate them back to us. Or mail a check. Call Ross DiEdoardo to arrange your donation 410-652-9998. We are also accepting donations for our auction.
Q: Are there discounts for groups? A: Yes. A single seat is $85. If you purchase two seats the price is reduced to $80/person. If you purchase a private table of ten seats the price is reduced to $75/person.

Special Thank you to our Presenting Sponsor

Special Thank you to our Whodunnit Sponsors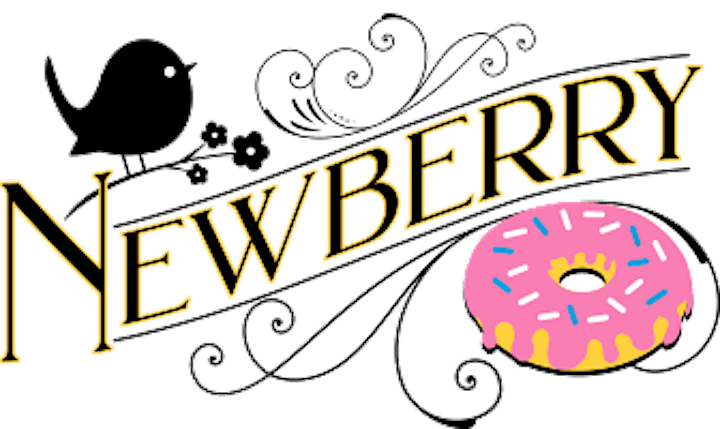 Special thanks to our Lead Detective Sponsors