Description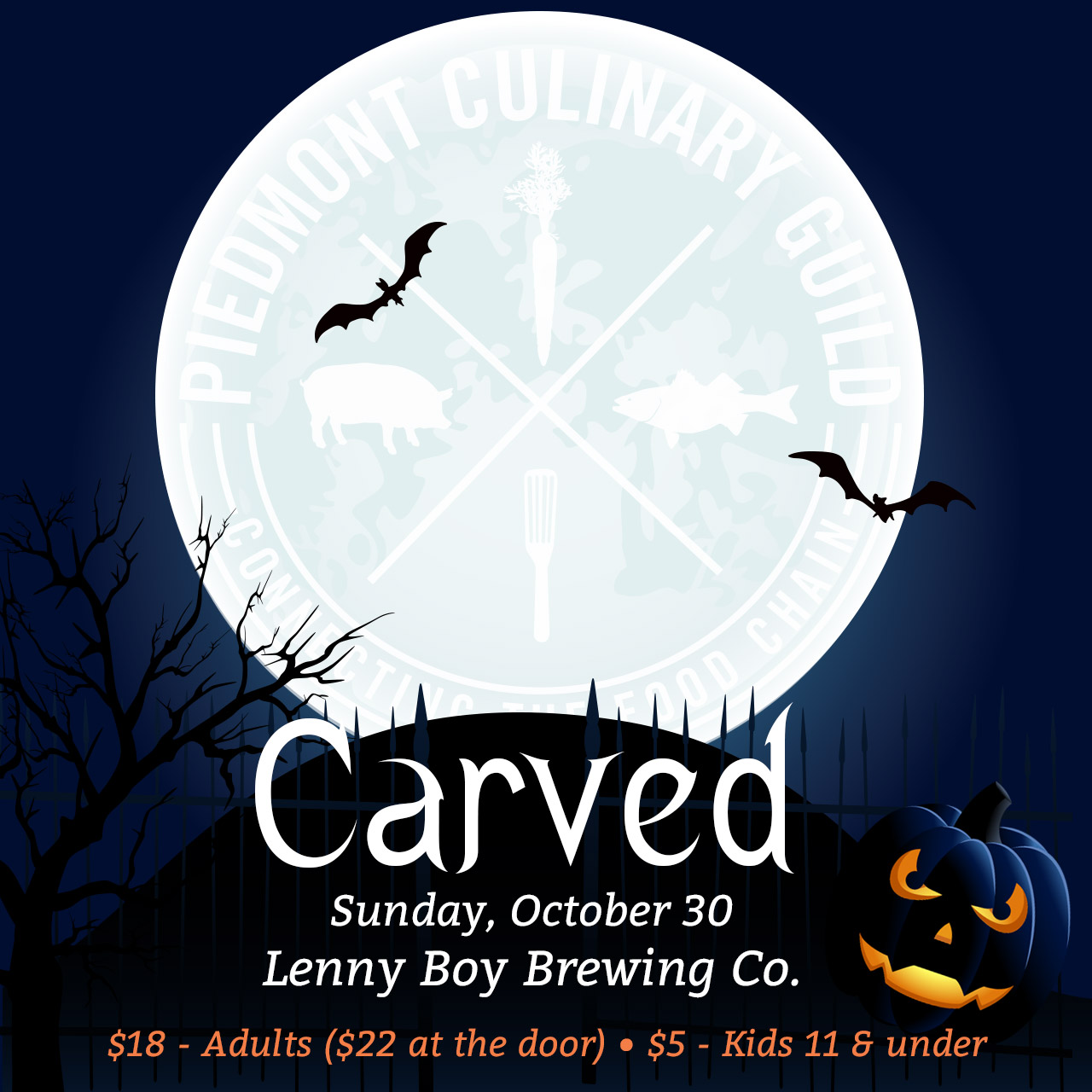 Advance Ticket Sales are Closed. But You Can Buy Tickets at the Door. See you there!
Once again, Piedmont Culinary Guild is bringing together the area's best chefs, farmers, mixologists, food artisans, food educators, and other culinary professionals to see who is the best pumpkin carver in the region! And you will vote to see who gets the title of CARVED 2016 Champion!
PCG Member Townes Mozer is the host of this year's competition at his new Lenny Boy Brewing Co. location on South Tryon Street. Sunday, October 30, 2016 will be a day packed with fun and activities for the entire family.
In addition to seeing your favorite culinary pros wield their knives, the day will also feature three farming demos/attractions:
A corn-sheller for popcorn-on-the-cob, courtesy of PCG Member Brent Barbee of Barbee Farms.
An apple press to create fresh cider using North Carolina apples, courtesy of PCG Member Eric Williamson of Coldwater Creek Farms.
An antique John Deere tractor "ice cream machine" to sample and demo fresh ice cream, courtesy of PCG member Bo Sellers of Allee Bubba Farms.
PLUS:
Magic and amazing balloon creations by Scott Link.
Artistic caricatures created by Sarah Pollack on site.
Tin-type photographs developed on site by Jeff Howlett.
Silent auction
For the Kids
There will be a separate Kids Competition – those 11 and under who bring a pumpkin they carved themselves get in FREE and will be eligible for special prizes.
PCG Member Megan Lambert of Johnson and Wales University will have a table of sugar skulls for kids to decorate, plus there will be games and other activities for children to enjoy.
Tasty Eats
You will have two options available to purchase and enjoy delicious food on site:
PCG Member Tara Diamante will have her Bleu Barn Bistro food truck at Lenny Boy – offering dishes created from locally-sourced meat and produce.
PCG Member Courtney Buckley will have her Your Mom's Donuts cart on site – offering sweet treats made from milled flour, pastured dairy, and eggs – all from North Carolina farms.
Your ticket includes, entrance to the event, a souvenir Carved 2016 cup, one Lenny Boy beverage (with supplied ticket) and one voting ticket – which doubles as an entry to the Carved raffle to win one of the carved pumpkins created at the event.
Tickets are non-refundable.