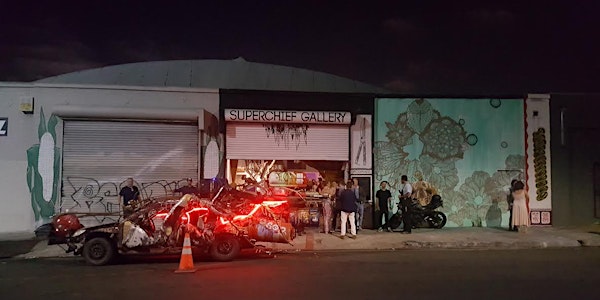 Cartwheel Art Tours x Superchief Gallery with Ryan C.Doyle: Food, Drinks & an immersive Art Experience!
When and where
Location
Superchief Gallery 739 Kohler Street Los Angeles, CA 90021
Description
Join Cartwheel Art Tours x Superchief Gallery on September 10th from 4:00pm - 8:00pm, with "Triptych: Trippy Threesome" exhibition artist, Detroit's detritus sculptor Ryan C. Doyle, VR, digital artist Lyon Doyer, and master of ink on paper Darth Lloyder, for an exclusive, private and unique immersive art and food experience, at Superchief Gallery in the Downtown Los Angeles Arts District neighborhood.
The event features include the following:
- Walkthrough and art talk about the exhibition by Ryan C.Doyle. The work is displayed in an impressive and availablist 'Detroit styled burned-out building' installation, using materials salvaged from the recent DTLA fire next door to the gallery. It contextualizes the style and narrative of Doyle's work, and also reflects the atmosphere of the gallery and neighborhood.
- A Virtual Reality experience called #Frozen_in_a_Detroit_wonderland
- The Carcroach: Doyle's completely customized and functional Honda Civic made into a giant metal roach with recycled materials, with a soundsystem, neon lights, and a flamethrower. Award winning Burning Man project.
- The Regurgitator: A rocket-powered ride that shoots flames and subjects the rider to multiple G-forces. Banned from Burning Man.
- Food from Comfort LA. A local neighborhood late-night spot, serving conscious comfort food such as waffles and fried chicken, mac n' cheese, cornbread and other southern favorites.
- Cocktails created with Stolen Rum and Aguas Frescas by Califia Farms, who are based in the neighborhood.
- Beer from Lagunitas.
More about the exhibition: This collection of collaborative and interactive work will engage your aural, intellectual, and physical self with pieces constructed to terrify and empower you deep within your safety bubble.
Also featuring Ryan Doyle's art cars and large sculptures; the Carcoach and the Regurgitator.
via Artprize.org:
Ryan C. Doyle's artwork can be described as huge, massive, loud, dangerous, and thought provoking. Doyle's aim is to engage his audience and push the limits of personal "safety." If art's true nature is to change the emotions of the viewer, he offers an exciting relationship for the audience to be terrified, exhausted and hopefully empowered; after courageously volunteering to "engage" his works. Doyle has been profiled in numerous publications including the NY Times, The Guardian, The Telegraph, Popular Mechanics, MAKE, Wired, Detroit Metro Times, New York Magazine, the Village Voice, and Free Amsterdam. Doyle has appeared on popular TV shows such as Junk Yard Wars, Monster Garage, Junkies, and was a member of the creation team/cast for Rock'n Roll Acid Test. Doyle has exhibited extensively across America, Australia and Europe being included in many festivals such as: The Venice Biennalle, AND festival, The Influencers, Big day Out, Device Art, RoboDock, Performa, and Coachella
@doylehuge @lyondoyer and @darthlloyder @superchiefgallery @cartwhhel_art
More about Superchief Gallery: