About this Event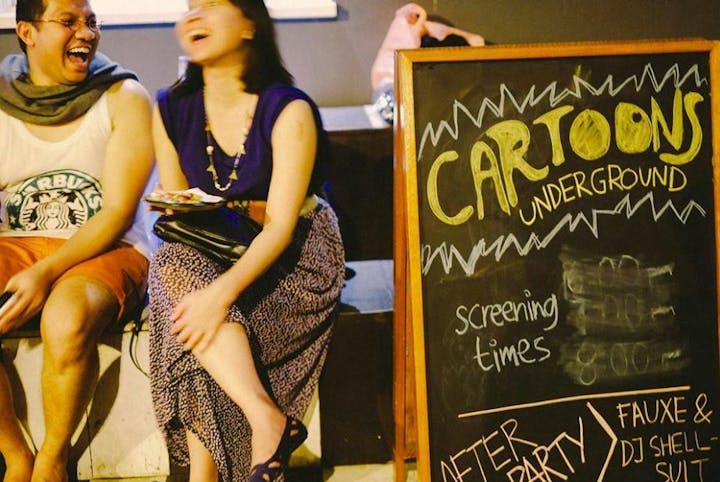 We are back! Cartoons Underground (www.cartoonsunderground.com) celebrates more than half a decade of independent, underground, adult-friendly animation for you adult-kids!
Get ready for heart palpitating scenes, and plots that will drive you to the edge of the seat while hanging out with the directors themselves!
Celebrating our 8th year, 19 works have been selected from 1,416 entries submitted from 80 different countries and will be competing for the Golden Durian Awards featuring Best animation, Audience Choice and Special Mention!
Catch award-winning animated films by directors from Ottawa Animation Festival, Zagreb Animation Festival and Edinburgh international film festivals.
You can look forward to three programs, our very first Women in Focus program, an International program, and Best Student Films from Singapore!
Check out the full Program list here
Admission is by donation, so if you enjoy the films please help contribute to ensure the future of our artists and the festival!
Showtimes
This year, we are doing three 30-mins blocks:
International Competition 1: Look at Us
International Competition 2: Focus on Women in Animation
Singapore Student Animation: Adventure Time!
WARNING: We are Adult-Friendly, not for kids :)
-------------------------------------------------------------------------------
This community-driven festival was founded by Patrick Smith, Director of MTV Daria, and Vicky Chen in 2012, and has grown through crowd-funding and artists' contributions. The festival has expanded to a community of 1000 members, not limited to the arts and animation community in Singapore.
www.cartoonsunderground.com
www.sideshow.sg
Cartoons Underground 2019
-------------------------------------------------------------------------------