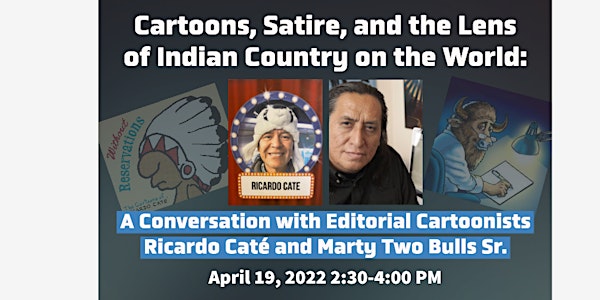 Cartoon, Satire, and the Lens of Indian Country on the World:
Cartoons, Satire, and the Lens of Indian Country on the World: A Conversation with Editorial Cartoonists Ricardo Caté & Marty Two Bulls Sr
By UCLA American Indian Studies Center
Date and time
Starts on Tuesday, April 19, 2022 · 2:30pm PDT
About this event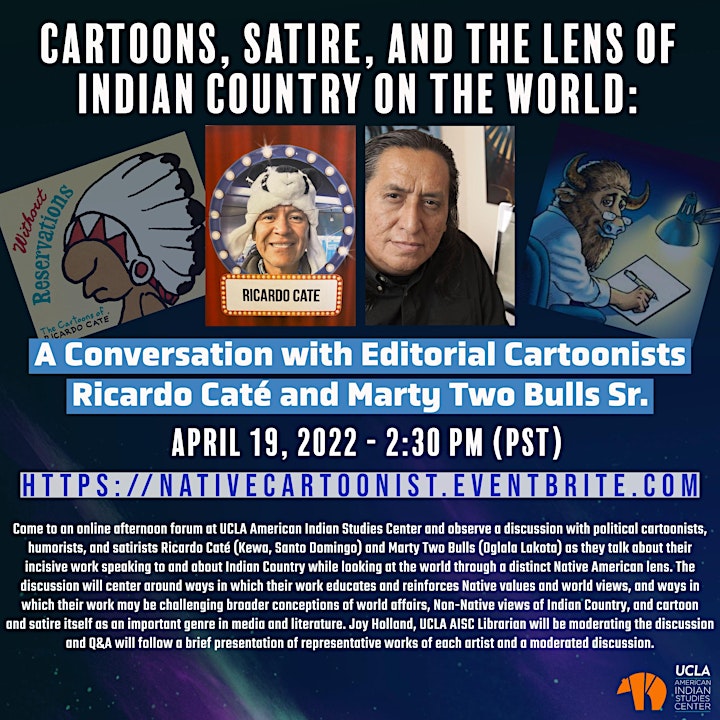 Come to an online afternoon forum at UCLA American Indian Studies Center and observe a discussion with political cartoonists, humorists, and satirists Ricardo Caté (Kewa, Santo Domingo) and Marty Two Bulls (Oglala Lakota) as they talk about their incisive work speaking to and about Indian Country while looking at the world through a distinct Native American lens. The discussion will center around ways in which their work educates and reinforces Native values and world views, and ways in which their work may be challenging broader conceptions of world affairs, Non-Native views of Indian Country, and cartoon and satire itself as an important genre in media and literature. Joy Holland, UCLA AISC Librarian will be moderating the discussion and Q&A will follow a brief presentation of representative works of each artist and a moderated discussion.
Artists Bios:
Ricardo Caté has been drawing the daily cartoon Without Reservations for the Santa Fe New Mexican since 2006. His wry and often poignant humor pokes fun at both the white man and the Indian. Ricardo follows the ways of his Kewa Pueblo heritage and teaches on the reservation. He has three children and lives in the Santo Domingo Pueblo, New Mexico.
Marty Two Bulls Sr. is an Oglala Lakota originally from the Pine Ridge Indian Reservation in South Dakota. He started drawing editorial cartoons for Rapid City's Central High School newspaper as a hobby, but within a few years, the hobby turned into a career. His work has appeared in the Rapid City Journal, the Argus Leader, Indian Country Today, Mandan Hidatsa Arikara Times, News from Indian Country, GoComics, and the Andrews McMeel Universal syndicate. His work has recently been honored with a Pulitzer Prize nomination.
Moderator Bio:
Joy Holland is the Librarian at the UCLA American Indian Studies Center Library. Joy is non-Native, raised in Hawaiʻi, and working in areas of community collections, Indigenous Librarianship, and museum archives and collections. She previously served her community as Executive Director of Kona Historical Society, a multi-site Smithsonian affiliated museum in Hawaiʻi. She has served on a variety of boards and panels including Hawaiʻi Council for the Humanities, Hawaiʻi State Foundation on Culture and the Arts, Association of Hawaiʻi Archivists, and is currently an Advisory Board Chair at LACMA and a project Advisory Board Member at the Autry Museum pertaining to Pacific and Indigenous collections and to repatriation in repositories. Joy's research and writing focuses on a variety of issues in Indigenous collection spaces, including what constitutes "academic" or "reliable" resources in Native and Indigenous Studies scholarship.