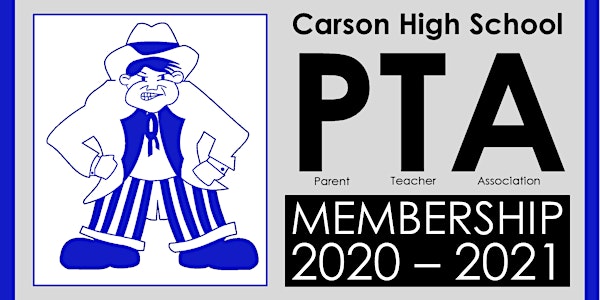 Carson High School PTA Membership 2020 - 2021
Become a member of the Carson High School PTA (Parent Teacher Association) for the 2020 - 2021 school year (01 Jul 2020 - 30 Jun 2021)!
By Carson High School PTA (Parent Teacher Association)
When and where
Location
Carson High School 1111 North Saliman Road Carson City, NV 89701
About this event
The Carson High School PTA is an important part of Carson High School and the Carson City community. The PTA connects parents, teachers, students, area businesses, local law enforcement and citizens. Our focus is creating the best educational environment possible, one that provides the community with students who have both the academic abilities and life skills to succeed.
You can become active in our meetings and activities, or just be a "silent partner." Either way, you support our efforts, including events like the Reflections Art Contest and College Night Panel.
There are benefits for you, too. Members of the PTA receive discounted entry into most sporting and club events.
Become a member today! You can register on EventBrite, or complete our paper Membership Form. For more information, please visit our website, or view the information video below: