Location
1625 Bankhead Hwy
1625 Bankhead Highway
Carrollton, GA 30116
We're back with stunning sights, sounds, and tastes of the fair! Funnel Cakes, Corn Dogs, Turkey Legs, Fresh Squeezed Lemonade, & More
About this event
The Carrollton Fair returns this fall Sept 16--24 with tasty food, great rides, and a whole lot of family-friendly fun. Admission gives you access to our petting zoo, Firework shows on Saturdays, as well as access to your favorite fair rides from Paradise Amusements (Ride Tickets/Wristbands Sold Separately)!
____________________
FAIR HOURS:
MON – THURS: 5PM – 10PM
FRI: 5PM – 11PM
SAT: 4PM - 11PM - Fireworks Show at 9:00PM
SUN: 4PM – 10PM
____________________________________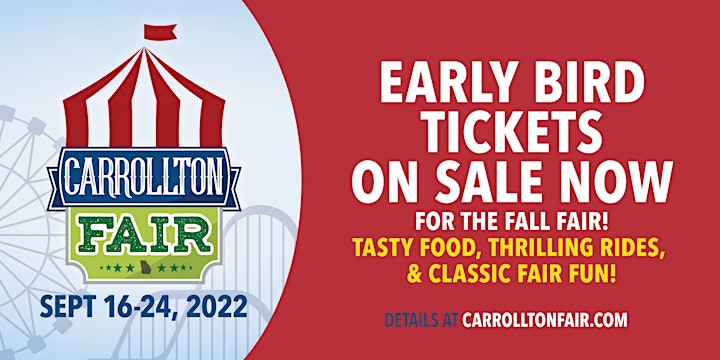 Ticket Options Fall 2022:
We're excited to welcome you back to the Carrollton Fair!
Family Four-Pack | (Good for any one day) | *Online Only
4 admission + 4 wristbands for $120 + fees
Early-Bird ROCKETPASS | (Good for any one day) | *Online Only
Available Now-Sept 8 
1 admission + 1 unlimited ride wristband for $28 & no fees
Early-Bird Price Admission Ticket (NO FEES) :
Available Now-Sept 8 
* Adults: $8
* Children (5-11): $4
* Under 4 is FREE (Ride Tickets Sold Separately for All Ages)
Prices increase September 9th!
Handbill Days (Every day!) - Fairgoers who bring in a Carrollton Fair Flyer/Handbill (found in dozens of retailers city and county-wide) will receive $5 off unlimited rides wristband coupon! (no coupons/handbills can be combined)
University of West Georgia/College Night (Monday, Sept 19) - Anyone wearing UWG/any University branded apparel OR with a UWG Student ID gets in for $5 instead of $8! (This deal also applies to West Georgia Technical College students.) Wristbands = $25
2 Dollar Tuesday benefiting Carroll County Humane Society (Tuesday, Sept 20) - Bring in (2) cans/bags of pet food, leashes, or pet toys for donation to CCHS and receive admission for $2 and $25 unlimited ride wristbands! These donated items will benefit the Carroll County Humane Society. (2 item minimum per person, per discount) Wristbands = $25
Wild Child Wednesday (Wednesday, Sept 21) - Children get in FREE! (Ages 11 and younger) Rides/Wristbands not included. Wristbands = $25
'Thrifty Thursday' benefiting Carroll County Mental Health Advocates (Thursday, Sept 22) - Admission goes from $8 to $5 for all! Wristbands = $25
Keep Carroll Beautiful Friday (Friday, Sept 23) - Help out Keep Carroll Beautiful and save some green! Bring in a pair of old shoes (Wearable or not! No flip flops) to donate and receive a $5-off wristband coupon at the entry gate! Donations are recycled or donated locally to those in need! (1 coupon per pair of shoes. No coupons/handbills can be combined) Wristbands = $30
PLEASE NOTE: Ride Wristbands are sold separately (via our ride partner, unless you purchase one of our packages.) Pricing vary, specified below.
Monday - Thursday: $25
Friday - Sunday: $30
*Coupons Work Everyday
Carrollton Fair integrates rides, food, and fun, while also providing a positive, lasting impact on the greater Carroll County community. In support of that mission, a portion of the proceeds from the event benefits Keep Carrollton Beautiful, Carroll County Humane Society, and Carroll County Mental Health Advocates.