A family friendly virtual performance by Carrie Ferguson & friends celebrating the release of her award-winning album, The Grumpytime Club.
About this event
Welcome to The Grumpytime Club! The Shea and CouchMusic.Live present a family friendly virtual concert by Carrie Ferguson celebrating the release of her award-winning album, The Grumpytime Club. She comes packed with a full band featuring members of The Gaslight Tinkers! Plus additional special guests!
We are so grateful to have this virtual event supported in part by a grant from the Orange, Montague and Wendell Cultural Councils, local agencies supported by the Massachusetts Cultural Council, a state agency.
********************************
CARRIE FERGUSON & FRIENDS
SUN ~ June 13, 2021 ~ 6pm
Suggested Entry: $10 - $25+ (Pay From The Heart)
****REGISTER TO GET THE LINK!!!****
SUPPORT LIVE MUSIC! Please support our live music community and the art that keeps our culture vibrant and robust! While it is not required that you pay in order to enjoy this event, we encourage you to give what you can to support the artists, venue and production crew bringing you these exciting live music experiences!
********************************
::: THE BAND (FRIENDS!) :::
Garrett Sawyer | bass ~ organ ~ cuatro
Joe Fitzpatrick | drums
Peter Siegel | guitar ~ mandolin
Samara Sawyer (11) | trombone
Ajika Sawyer (15) | fiddle ~ bass
Elizabeth Donahue | harmony vocals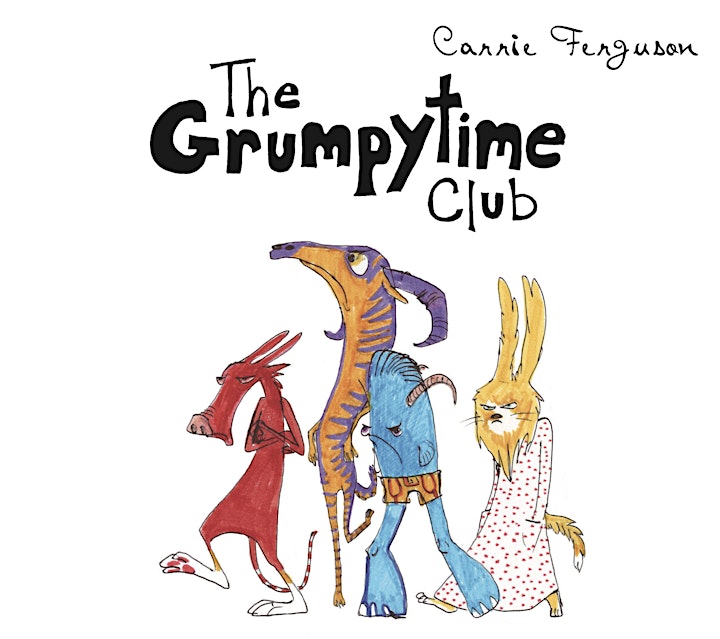 PUT A SMILE ON THE GRUMPIEST OF FACES
WITH AWARD-WINNING MUSICIAN, CARRIE FERGUSON'S,
THE GRUMPYTIME CLUB
SET FOR RELEASE JUNE 11, 2021
"Devilishly catchy folk-pop tunes and melodic ballads, exuberantly heartfelt lyrics … infectious joy"– The Valley Advocate
"(Carrie) has a really, really gorgeous voice" - Sacha Pfeiffer, NPR
The Grumpytime Club, a new album from Northampton-based singer-songwriter Carrie Ferguson, offers children and families welcoming and inclusive messages about accepting feelings, celebrating differences, and loving themselves exactly as they are. The Grumpytime Club will be released on June 11, 2021.
"As a queer and gender nonconforming artist, I've learned that inner strength derives from knowing, accepting, and loving yourself. I know how important it is to use that strength to celebrate and show up for other people and the world in general," says Carrie Ferguson. "I hope this album will give young people and all listeners a boost of love and confidence on their own journeys."
The songs on The Grumpytime Club focus on the different building blocks of confidence, from accepting "grumpy" feelings without judgment to working through obstacles with persistence and enthusiasm. The album's catchy melodies and sing-along choruses, enhanced by plenty of vocal harmonies and brass, showcase Carrie Ferguson's versatility in traversing musical styles as eclectic as rollicking ska, bluegrassy folk, thoughtful adventure ballads, and tender lullabies. The Grumpytime Club inspires silly dancing one minute and contemplative stillness the next.
For Carrie Ferguson, one of the most exciting aspects of The Grumpytime Club was the collaboration that happened with kids, both as co-writers and musicians. Ferguson notes, "Two of the songs were inspired by ideas that children in my life had. 'The Puppy Song (You and I)' was based on improvisation sessions with Madelyn, a 7-year-old piano student, and 'The Grumpytime Club' was invented by Samara, my producer Garrett Sawyer's youngest daughter, when she was 6 years old. Samara, who is now 11, plays multiple trombone parts throughout the album, and her older sister, Ajika, plays electric bass on 'The Puppy Song (You and I).'"
"Tavi's Song," the emotional center of the album, is a particularly special recording. Carrie Ferguson wrote the song 19 years ago to honor the birth of her dear friends' son. Tavi grew up to become a musician himself, and both he and his brother Aza came into the studio to sing harmonies with Ferguson. She says, "Singing this song with Tavi and Aza, now that they are young adults, was an honor, and a high point in my life as a songwriter."
Other album highlights include "Cat and Piggy," with its acoustic, upbeat, bluegrassy feel, featuring a cast of quirky animals and a robust sing-along chorus. Replete with klezmer touches and even a hint of Kurt Weill, the album's title track is set in a magical place where it's completely acceptable to be grumpy. "The Puppy Song (You and I)" is whimsical and buoyant, with an infectious chorus about the joys of friendship, loving puppies, and just being yourself. "Do It Again," a terrific classic rock bop, is all about enthusiasm for life, while "Up and Down" is a playful romp into NOLA-style jazz territory, with horns and chorus in ¾ time.
::: CARRIE FERGUSON :::
Carrie Ferguson grew up playing an enormous, upright, chocolate-brown piano inherited from the family of one of her father's third grade students. This piano, built from the parts of several old pianos by students in a local instrument-building workshop, had a darkly booming, slightly furry quality to it, not unlike the weather outside in her hometown of Arcata on the North Coast of California. In order to write good music, the piano had to be played the way the instrument itself demanded, which to Ferguson's ear meant sticking to the lower two-thirds of the keyboard and using plenty of rolling arpeggios and minor chords. Ferguson credits the stubborn and sonorous voice of her childhood piano, combined with the perpetual fog and exhilarating clamminess of coastal Northern California, as instilling in her the baseline aesthetic of melancholic optimism that still permeates her words and music.
Currently living in Northampton, MA, Carrie Ferguson's original songs range from playfully jubilant and whimsical, to soaring pop, country-tinged folk, and straight up rock. Ferguson's band, a rotating squad of players from the Pioneer Valley, uses a shifting palette of instruments and voices to create live shows that are joyful affairs, full of humor and warmth, beautifully showcasing her haunting melodies, and smart, gorgeous lyrics.
Ferguson's numerous awards include a Gold Award in the 2020 Mid-Atlantic Songwriting Contest and First Place in the 2020 New England Songwriting Competition for "Tavi's Song." The New England Songwriting Competition honored "Cat and Piggy" as a finalist in 2019, and "Wooden Nickel" from Ferguson's Americana album, The List of Whales, was a finalist in the New England Songwriting Competition in 2017.
Ferguson has opened for Patty Larkin, Catie Curtis, Charles Neville, Cheryl Wheeler, Livingston Taylor, Chely Wright, Jill Sobule, and Laura Love, among others.
Previous albums include Piti Theatre and Carrie Ferguson's Greatest Bits Vol. 1 (2015, for kids and families), The List of Whales (2013, for adults), and Riding on the Back of the Wind (2010, for adults).
The Grumpytime Club will be available digitally at Apple Music, iTunes, Spotify, Bandcamp, Soundcloud and other online platforms. Physical CDs will be available at Carrie Ferguson's live shows or through her website: www.carriefergusonmusic.com
ABOUT SHEA THEATER ARTS CENTER
The Shea is a theater which keeps reinventing itself. Established in 1927 by Denis Shea, this up-to-date movie theater was designed in the "Spanish" style so popular in the Hollywood of the twenties. That time is still vivid in the minds of some Turners Falls residents as a time of five cent matinees, movie serials and (in the thirties) dish nights, when you could see a movie and add a piece of "Depression Glass" or china to your table setting.
Nowadays, The Shea provides performance space for a variety of attractions designed to appeal to the widest range of tastes. Musical offerings include folk, pop, rock, swing, jazz, country and traditional. Theatrical productions encompass musical comedy, drama, comedy, and political satire. In addition, audiences can take advantage of magic shows, children's shows and silent film revivals.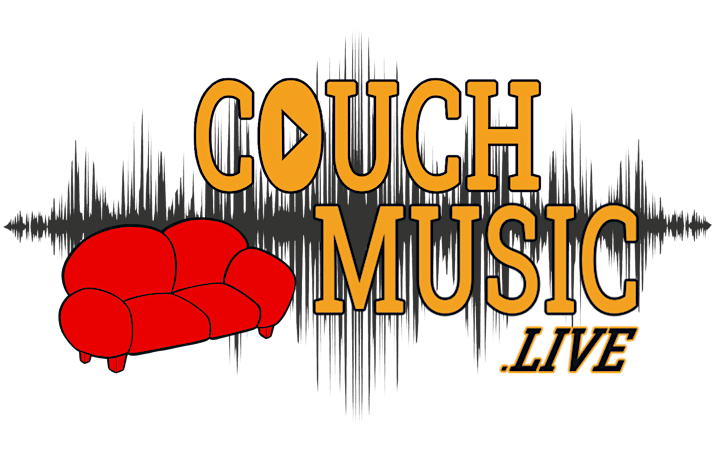 ABOUT CouchMusic.Live
CouchMusic.Live is the independent music lover's guide to virtual live music experiences from around the corner and across the web. As a livestreaming cooperative, the CouchMusic team brings together industry professionals from around the US with one common purpose - to provide a platform for artists, fans, venues, promoters, and labels to come together and to build a resilient community in the new frontier of the suddenly digitized live music arena. The site currently features a blog of livestream previews and reviews, a high quality virtual venue featuring some of our favorite performers, and curated listings of streams by both local and mainstream musicians. The organization strives to shed light on the importance of the grassroots scene, especially within the context of this challenging time. By connecting the silos of the industry and beyond, we aim to be an inclusive and empowering force of good in a world desperately needing guidance towards a path of unity and respect.
KEEP IT SAFE
The safety of the artist and venue/production staff are our #1 priority. All CouchMusic.Live shows are socially distanced and follow best practices for preventative measures, such as mask wearing and hand washing. It is our goal to provide artists and venues an opportunity to keep bringing live music to the world while still staying safe. We support common sense safety measures that protect us all and, ultimately, ensure that we can continue to present shows like this into the future.
Organizer of Carrie Ferguson & Friends - The Grumpytime Club - Album Release