Description
This learning module contains information covering basic professionalism for an A.C.E. Accredited Cleaning Expert from the Academy of Cleaning Excellence.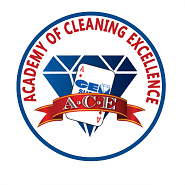 ---


---
Those students wanting an ISSA CITS Certificate, select the ISSA Certification registration option above.





---
---
The A.C.E. Frontline Series of courses is designed for frontline staff members and is ISSA verified for either
Building Service Contractors or

In-House Services in the cleaning industry.

Subjects covered in this module;
Carpet maintenance Programs
Dry Soil Removal

Spotting

Low Moisture Routine Cleaning

Low Moisture Restoration Cleaning

Wet Carpet Cleaning

Encapsulation Cleaning

Wet Cleaning of Carpets
This is a 3 hour module, with an open-book exam at the end and

completes one of 8 modules required for a frontline Technician to achieve the A.C.E. Accredited Cleaning Expert Certification or the ISSA Frontline Master certification.
This module will include some 'hands on' time with students and equipment. NO OPEN TOED SHOES.


Refreshments, workbook, pen, and WiFi is provided.
Instructor:
David Thompson, Director; Academy of Cleaning Excellence, ISSA Accredited Certification Trainer and Author of "The New Generation of Cleaning".