Event Information
Location
Dante Event Center Formerly The Dante Club
2330 Fair Oaks Boulevard
Sacramento, CA 95825
Au Revoir but not Good Bye
About this event
Everything has a shelf life. For this reason, we must act on ideas and dreams as quickly as possible because they will not live forever; nothing does.
And so it is not with sadness, but with extreme joy, over having been part of one of the most positive and meaningful things I've ever done that I announce that on June 27, 2022, the Sacramento Jazz Cooperative will bring to you, it's final concert, Carolyne Swayze and Company or Friends. "Friends" are all the people, agencies and organization who have worked with us to keep the music playing over the last six years. Joining me, and fittingly so, will be the Joe Gilman Trio. Few people know how helpful Joe has been to the success of SJC. I don't think in six years, even up to this last show, has he ever said no, always finding a way to help. And he isn't alone; so many others have contributed unselfishly to help the cause without asking for anything in return. You know who you are.
I will forever be indebted to the instrumentalists, singers, photographers, sound, video, sponsors, donors, and members of SJC upon whose shoulders we have stood as we set out on our mission to preserve classic jazz as a cultural American art form.
If you are SJC alumni, meaning you've performed with us during the last seven years, and would like to join us on tune or two, drop me a line at sjc@thesjc.org. There will be no admission charge to SJC alumni who perform, but you must be registered ahead of time to keep some order. We hope to see as many of you as possible.
Until we meet again, Au Revoir. We did our best to keep the music playing.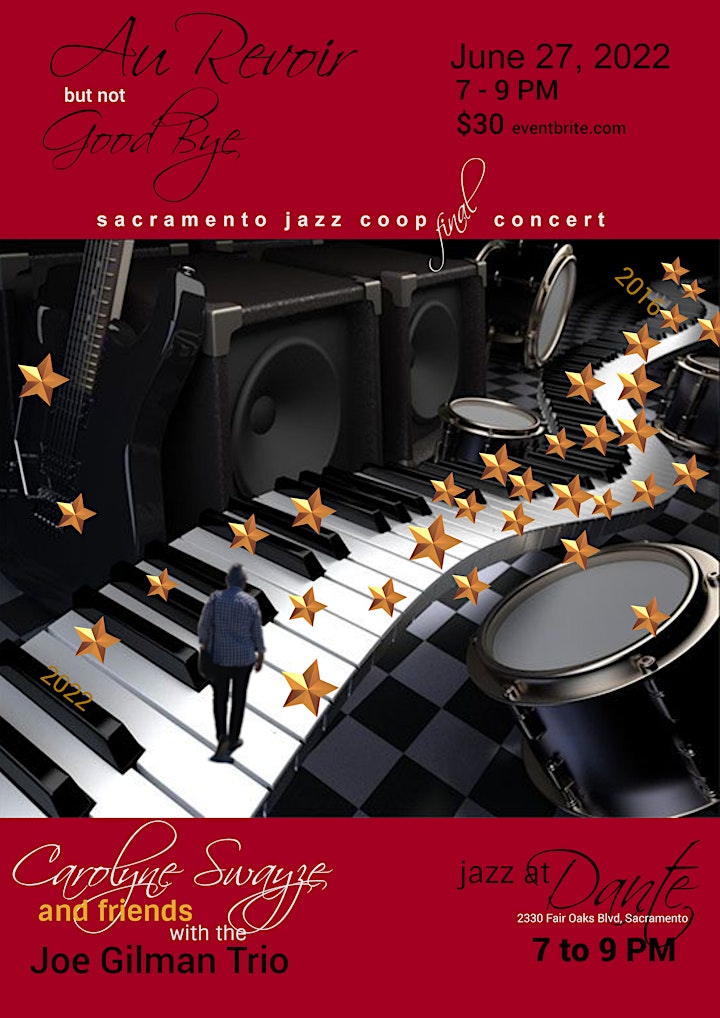 Date and time
Location
Dante Event Center Formerly The Dante Club
2330 Fair Oaks Boulevard
Sacramento, CA 95825
Refund policy