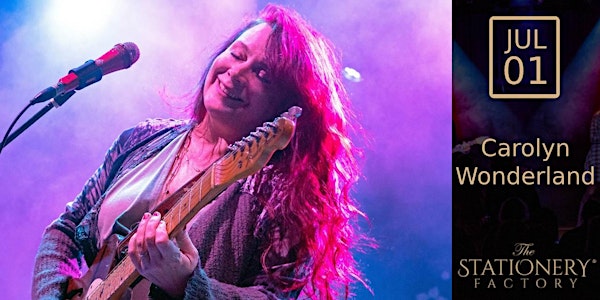 Carolyn Wonderland at The Stationery Factory
Ringing in the Summer Show
Location
The Stationery Factory
63 Flansburg Avenue
Dalton, MA 01226
Multi-instrumentalist and singer Carolyn Wonderland brings her unique blend of country and blues to The Stationery Factory
About this event
Music is in her blood - Carolyn grew up playing her mother's vintage guitars when other girls were dressing dolls. As a teenager, she was a staple at many venues in her hometown of Houston, landing a gig at the age of 15 at the renowned Fitzgerald's. Her passion hasn't slowed in the years since, with her musical mix of Texas country and good ole' fashioned blues weaving together crooning melodies reminiscent of Janis Joplin and guitar licks in line with Stevie-Ray Vaughn.
If you're a lover of the blues and of soulful & powerful women, this is the show for you!
Tickets start at 20$ for general admission with premium seating options available for 28$.