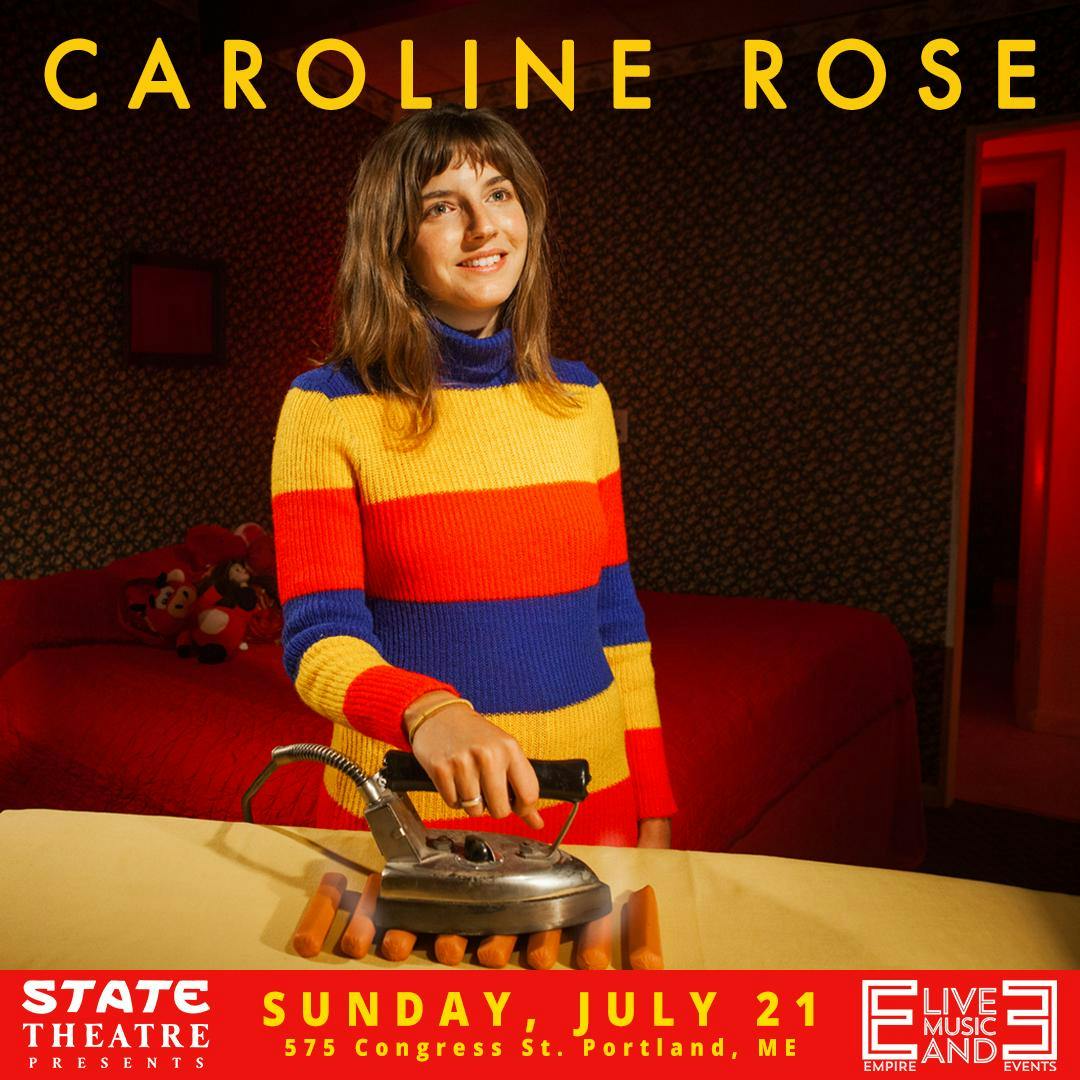 About this Event
State Theatre & Empire present
Caroline Rose
ON SALE: Friday, April 19 @ 12:00pm est.
Doors @ 9pm | 18+ w/ valid ID
$15 in advance | $18 day of show
"On her self-assured second album, this singer-songwriter uses her mordant wit to confront serious subjects, exorcising trauma with hooks and humor." - Pitchfork (7.6 out of 10)
"Rose has a newly loosed imagination and a flair for exaggerating the absurdities we're living with, and the way she's put them to use is a timely gift." - NPR Music
"This records has the force of true originality…" - NPR Music
"Caroline Rose sharpens her musical attack along with her wit on her second album" - Rolling Stone
"Loner has a similar draw—it's a deft blend of rockabilly and synth-pop glossed with a thick coat of soul that is fast, fun, guttural, screaming, smirking." - Rolling Stone
"On LONER, Rose's sound has expanded in a zillion directions, each track bursting with ideas and personality." - Stereogum "Artist to Watch"
"In an era of endless, ear-numbing streams, LONER grabs your chin and commands your eyes." - Consequence of Sound
"...a bold, kaleidoscopic collection that propels Rose far beyond the fetching rockabilly of her debut" - Consequence of Sound
"Rose's fine new album LONER finds the New York-based singer-songwriter exploring an entirely new musical aesthetic without sacrificing any of the mischievous spark that coursed through her earlier work. Rose has ditched roots-rock in favor of a punchier, studio-powered pop sound, packed with danceable beats, prominent synths, big choruses and plenty of swagger. She remains unafraid of singing about serious subjects (capitalism, sexism, death, etc.) but on LONER, she delivers it through a bold, candy-colored filter that's always intriguing and often irresistible." - Paste Magazine
"Rose is a joy to behold . . . LONER whacks the listener swiftly upside the head with our red-clad protagonist's winning charisma, leaving ya dizzy and begging for more." - Under The Radar (8.5/10)
"Loner has a similar draw—it's a deft blend of rockabilly and synth-pop glossed with a thick coat of soul that is fast, fun, guttural, screaming, smirking." - Vinyl Me, Please
"This record has the force of true originality…" - Flood Magazine
"LONER is the pop record that has been surging inside Rose and the urgency and electricity that vibrate from it are enough to confirm: She's arrived and she's not going anywhere." - No Depression
https://www.carolinerosemusic.com/
https://www.youtube.com/watch?v=zzIfmtKSLTE
https://open.spotify.com/artist/06W84OT2eFUNVwG85UsxJw?si=EMuJ9-d0TOyBhWkWfhWLvA
Performers
Date and Time
Location
Refund Policy