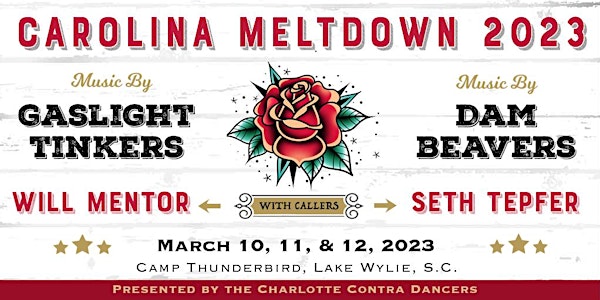 Carolina Meltdown 2023 - Rowdy Rockabilly Reunion
Carolina Meltdown Contra Dance Returns! Awesome bands: Gaslight Tinkers and Dam Beavers Awesomer callers: Will Mentor and Seth Tepfer
When and where
Location
Camp Thunderbird Lake Wylie SC 1 Thunderbird Lane Lake Wylie, SC 29710
Refund Policy
Refunds up to 7 days before event
Eventbrite's fee is nonrefundable.
About this event
Welcome to Carolina Meltdown 2023!
We've changed our name, but not the fun.
Our 2023 theme is Rowdy Rockabilly Reunion!
It's been 3 years, so get ready for the Saturday night Rowdy Rockin' Reunion! Break out your poodle skirts, saddle shoes, leather jackets, pomade and dance the night away to our great lineup. No squares! No Pat Boone impersonators!
The Awesome Bands
Gaslight Tinkers - The Gaslight Tinkers' blend of global rhythms creates a joyously danceable sound around a core of traditional New England old time and celtic fiddle music, merging boundless positive energy with melody and song. Since its formation in 2012 the band has lit up the East Coast, the West Coast, and the Caribbean, headlining clubs, dances, and major festivals. Playing what The Valley Advocate describes as "Music that consistently fizzes and pops with unexpected textures and turns," The Gaslight Tinkers' shows are packed with delightful surprises, elated crowds, and exuberant musicianship. The sound and energy of Audrey, Jopey, Garrett, and Peter are universally irresistible.
The Dam Beavers - are Ben Schreiber on fiddle, Scotty Leach on piano, and Ness Smith-Savedoff on drums. With roots in a wide variety of styles and genres, their music comprises an eclectic mix of old and new, familiar and unfamiliar. Let the current sweep you away as the Dam Beavers build a dam of rhythm beneath your feet.
The Awesomer Callers
Will Mentor - is a contra and square dance caller from Northern Vermont known for his clear teaching, upbeat wit, and relaxed stage presence. He loves to choreograph evenings with a variety of dances and tempos that at times surprise and always delight, all the while keeping intact his guiding principle as a caller: "It's about the dancers!"
Seth Tepfer - Seth Tepfer teaches adults and children to dance in less than 60 seconds. He calls dances for adults and children like you've never seen before. Known for his infectious energy, his short walk-thru's, and his 'hash-contras', Seth's warm enthusiasm is contagious, and gets everyone moving, smiling, and having a great time. Whatever the dance, you can be certain that all involved - novices and experienced dancers alike - will go away happy and eager to dance more!
The AWESOME SOUND
Ed Howe - the sound man and violin virtuoso
Schedule?
We are working hard on a schedule, which should be released as soon as it is firmed up. Thanks!
How can I contact the Organizer with questions?
Carol Deacon - ThreeDogFarm@comporium.net
(803) 517-6288
Please text message first, if possible.
Sleeping Arrangements?
We have enjoyed the close quarters cabins of Camp Thunderbird for many years of Meltdowns. This year, as a nod to lingering Covid concerns, we are not offering lodging options in the cabins. Many happy memories abound around bunkbeds and kid-sized showers but this year, we will make different memories. 2024 will see us rubbing elbows in the cabins and on the dance floor yet again!
Available are local hotels (Charlotte, NC near Carowinds, Fort Mill, SC and Rock Hill, SC). Camping is available at nearby McDowell Park (704/588-5224). Efforts are currently underway to see if we can reserve a block of rooms at local hotels - so check back here for more details as they are firmed up.
Also, feel free to reach out to your Charlotte area friends to see if they have space! Or make a new friend by posting on our Facebook page to see what the natives might have!
Remember NO CAMPING at Camp Thunderbird.
Dining?
Join us Friday for POTLUCK! Dinner begins at 6:30 pm. Bring your favorite food to share!
Need vegetarian, vegan, or gluten free? No problem - just let us know on your registration form!
Saturday lunch and dinner and Sunday Lunch are provided this year by Camp Thunderbird if you purchase the meal plan.
We have added a Cookie Break on Saturday night, so feel free to bring your favorite baked goods to share. Gluten free treats are always appreciated.
Where do I send my check if paying by check?
Charlotte Country Dancers c/o Carol Deacon
918 Blakeley Walk
Rock Hill, SC 29732
REFUND POLICY
50% refund minus $15 until 7 days before the dance (March 3rd)
No refund with 7 days of the dance.
What is the weather like in March?
Early spring in the Carolinas can be fickle and fantastic! Take a look at your favorite weather app a little closer to the event to be sure of an accurate forecast. But generally, it is lovely.
Playshops and Special Events?
• Waltz Workshop
• English Country Dance Playshop
• Callers' Workshop
• Challenging Contras
• RushFest - Emily Rush
• Morning Waltz
To insure that everyone has a positive dance experience, we ask that you read and agree to our dancer Code of Conduct.
Charlotte Country Dancers Code of Conduct
Charlotte Country Dancers includes and values dancers and guests of all ages, dance experience levels, sexual orientations, gender presentations, ethnicities, and abilities.
We are a consent-based dance community.
Dancers should ask and receive verbal consent before doing anything with a partner or neighbor beyond the moves of the dance dictated by the caller (e.g., "Do you like twirling?" "Can we swing like this?")
We encourage you to tell your partner about your preferences before the dance begins and to ask about theirs (e.g., "Which role would you like?" "Slow swing, please. I get dizzy easily.")
You may refuse any invitation to dance for any reason. If someone refuses your invitation to dance, just say "okay!" Then find another partner.
If someone is doing something you don't like, it's okay to say "Stop!" or "I don't like twirls." Or "Please move your hand towards the center of my back." or "You're swinging too close."
If you feel very unsafe or uncomfortable, you can leave the line. Your safety takes priority. If possible, try to leave at the back of the line.
A culture of consent includes not engaging in sexual harassment. Do not engage in sexual banter or innuendo, or comment on other dancers' appearances or any behavior that could be considered intimidation.
If anyone asks you to stop doing something, apologize and stop doing it.
If anyone makes you feel unsafe, uncomfortable, or embarrassed, you can address it with them during or after the dance. If you're not comfortable addressing it with them, we encourage you to approach one of the BOARD MEMBERS who will work with you to resolve the situation in a way that helps you feel safe and comfortable. This will typically involve the committee members reminding the dancer of our community standards, and asking them to change their behavior. For rare cases of serious or repeated breaches of standards, we reserve the right to suspend or ban a dancer.
Contra is a community founded on a love of dance and music and a desire to enjoy the respectful company of others. If however these norms are not being followed, CCD reserves the right to refuse admittance, or to ask an individual or individuals to leave our dance. Thank you for respecting this Code of Conduct and doing your part to maintain our joyful, safe and respectful community.  
Dance-Floor Etiquette
Contra dancers generally change partners after every dance. Please look to the sidelines for new dancers or those who are sitting out.
Give full attention to the caller, line up quickly, and take hands four on request. Do not talk while the caller is walking us through the dance.
The two dance roles in contra are usually called "gent" and "lady," but dancers are encouraged to dance whichever role(s) they prefer, and many dance both.
Contra dancing brings dancers into close contact with each other. Please:
● Do not wear scented products to our dance events. Many are allergic.
● If you have a cold, consider staying home for the evening.
● Watch out for other dancers around you—stay in your space and mind your elbows and feet. Heavy jewelry, unsecured long hair, and heavy shoes may be hazardous to others.
See you on the dance floor!