Description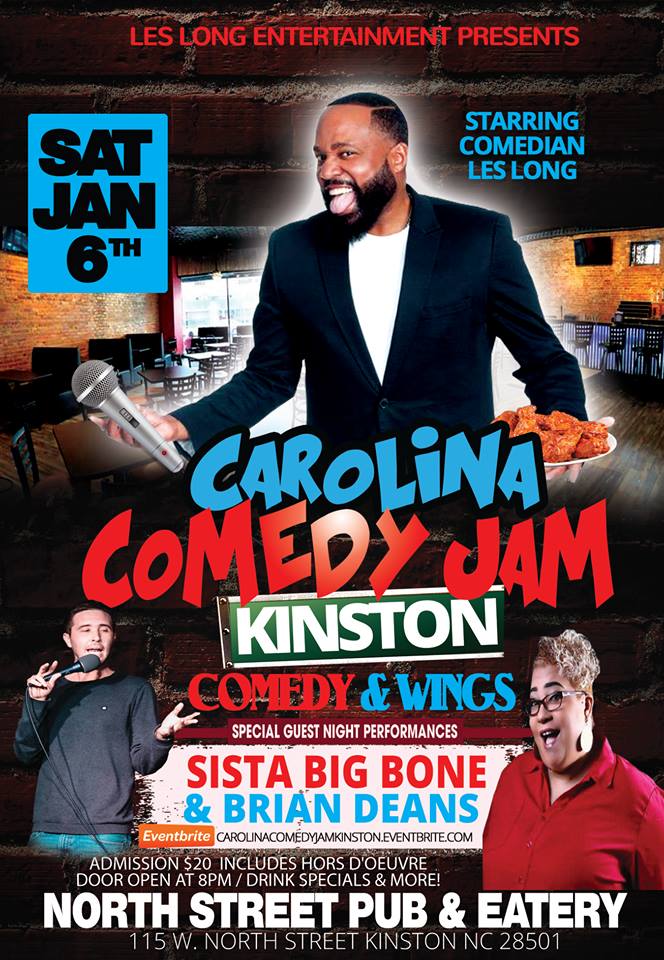 Les Long Entertainment Entertainment Presents
Carolina Comedy Jam Kinston
Comedy & Wings
Starring Comedian Les Long
Special Guest Performances
Sista Big Bone & Brian Deans
Saturday, 01/06/18
8:00 PM - 10:00 PM
$15 General Admission
$20 General Admission & Hors d'oeuvres
Drink Specials & More
North Street Pub and Eatery
15 W North Street
Kinston, North Carolina 28501
About Les Long
The future of family comedy, understands that every valuable lesson should be served with a healthy side of laughter! A lifelong jokester, he was destined to be a performer from the time that first Knock Knock tumbled out of his mouth. His unique brand of clean comedy relies on hilarity, not vulgarity. His acts embody the strong morals that he lives by, turning the rib-splitting stories of his own life into comedic gold. This native of Louisburg, North Carolina has turned his natural gift of gab into a hilarious and unprecedented style of comedy.
Best known for his act "Who's A Raggedy Christian?", Les's standup routine has graced the stage at thousands of colleges, conventions, conferences, and churches across the country. This insightful and uproarious routine is about Christians who eat and breathe Christianity but don't always live by it. Their faith may be strong, but the practice is, well... a bit raggedy. Here to entertain and enrich, he has left countless audiences breathless with laughter.
About Tara Sharp
Since 2008 Sista Big Bone has been perfecting her craft and has become one of the funniest and most energetic comics in the country. She has entertained audiences all over the East Coast. Her quick wit on-stage character always sends club patrons home wanting more of Sista Big Bone.
Sista Big Bone started her career in Raleigh NC. While working (mostly wasting) her days away in a call center, her co-workers dared her to try her hand at her lifelong dream of making people laugh. She stepped on stage for the first time at a Metro lounge in Raleigh for open mic night.
Since then Sista Big Bone will be preparing the world for her one women show coming in 2013. Sista Big Bone made her way into acting with ISTA Productions with her role as Bella in "The Waiting Room". Check out her Facebook for more upcoming projects (link hidden).
She has graced the stage with many of the greatest. Jay Anthony Brown, Hope Flood, Michael Blackson, Tyler Craig, and a few others.
Sista Big bone will always give thanks to God and all he has done in her life and to the love of her life Putt for being by her side through thick and thin and also for the love and support of her family.